Introduction
The share price of ARC Group Worldwide, Inc. (NASDAQ:ARCW) may be ready to tumble after its recent meteoric rise. 3D Analytics has completed a thorough review of ARCW and determined the stock is significantly overvalued due to hype. We hereby assign a SELL rating on the stock with an $8.25 price target.
A peer group comparison shows ARCW is significantly overvalued
By comparing ARCW's P/E ratio to those of 3D printing companies, Seeking Alpha contributor "Supertrades" (aka "Superman") determined in a recent article that "ARCW could be valued at $50-70 a share." Making a comparison between ARCW and high-growth 3D printer manufacturers such as 3D Systems Corp. (NYSE:DDD) and Stratasys Ltd. (NASDAQ:SSYS) is bogus and is misleading investors to assign a higher valuation to ARCW. Though ARCW utilizes 3D printing technology, it does not develop, manufacture or market 3D printers.
ARCW is a manufacturing company. A more apt comparison would be to similar manufacturing companies such as SIFCO Industries (NYSEMKT:SIF) and Barnes Group Inc. (NYSE:B). Barnes Group does all types of injection molding in a variety of industries, and SIFCO Industries manufactures forged components for aerospace and energy applications.

ARCW is overvalued when comparing both P/E and P/S multiples. ARCW also has the lowest profit margin and extremely high debt, making it appear even more overvalued. Using SIF P/E ratio, ARCW would be valued around $11 per share; using B P/E ratio, ARCW would be valued at $5.5 per share. Based on our peer-group comparison, we hereby assign a SELL rating on ARCW with an $8.25 price target.
Fiscal year results are not impressive
Many investors are under the impression ARCW is growing rapidly, but analysis of its 10-K filing reveals this so-called growth is not organic and is attributed to a reverse-acquisition scheme. This makes the growth figures look attractive when, in fact, they are far from it.
ARC Group Worldwide, Inc. (formerly known as ARC Wireless) was engineered using a reverse-acquisition process in which Brean Murray Carret Group became the majority shareholder. As a result of this 2012 reverse acquisition, the company grew from being solely a manufacturer of wireless hardware to primarily a manufacturer of precision components, flanges and fittings. The size of this acquisition was huge, as ARCW's manufacturing sales dwarf those of the wireless division, making it extremely important to adjust all growth figures to reflect the differences from before and after the acquisition. In return for higher sales, ARCW took on massive amounts of debt to fund the reverse acquisition.
On Oct. 4, 2013, the company announced its fourth-quarter and full fiscal-year results. In the press release, the company highlighted that "fourth quarter reported Net Revenues grew 153.7% over the fourth quarter of the prior year. Full fiscal year reported Net Revenues grew 125.3% over prior year results." That same press release also states that "fourth-quarter and full-year results are driven by ... the reverse acquisition between ARC and Quadrant Metals Technologies (QMT) and the acquisition of Advanced Forming Technologies, Inc. (AFT) and AFT-Hungary Kft., (AFT-H)." The growth that ARCW highlighted is not from organic growth, but instead was attributed to the reverse acquisition. Within the 10-K, the report by ARCW's independent accounting firm paints a completely different growth picture.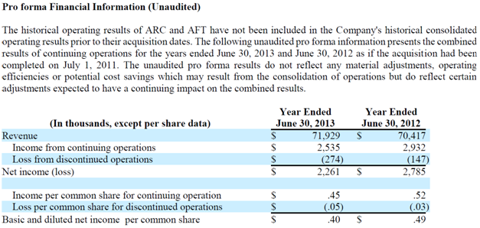 If the acquisition had been completed on July 1, 2011, ARCW's fiscal-year revenue growth would be 2 percent, and its EPS growth would be -19 percent. These growth figures are in stark contrast to those cited in ARCW's press release for its fiscal-year results. We believe the figures cited by ARCW's independent accounting firm provide investors with a true reflection of ARCW's fiscal year-over-year growth.
The latest 10-K also reveals the company relies heavily on only four customers. These four customers comprise 37.3 percent of ARCW's sales. The loss of one of these customers could have a crippling impact on ARCW's future financials.
Q1 results are not impressive
On Nov. 13, 2013, ARCW reported first-quarter fiscal 2013 results. In the press release, the company highlighted that "net revenue increased 38.1% to $18.4 million, compared to $13.3 million in the prior year period [and] record Adjusted Earnings Per Share (Adjusted EPS) of $0.34." Within that Q1 press release, the company included a table to show record adjusted EPS of $0.34 by using Non-GAAP accounting. If ARCW had used the GAAP $0.22 EPS number within the 10-Q, it would not have been a record quarter.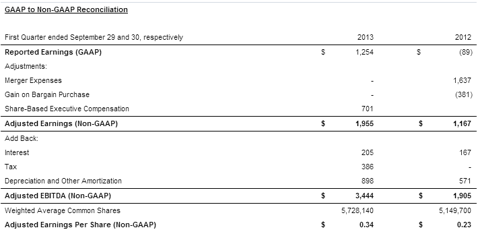 The acquisition was completed on Aug. 8, 2012. Therefore, adjustments need to be made before comparing the latest Q1 earnings to the prior year's quarter. Taking the revenue figure of $71,929, as if the acquisition had been completed on July 1, 2011, we calculate that sales for the quarter ending on Sept. 30, 2012, should have been $16,924 instead of the $13,481 figure shown. For the quarter ending on Sept. 30, 2012, ARCW booked $1,637 in merger expenses, which is a one-time charge against earnings. If the merger expenses are removed, net income would have been $1,532 or $.30 per share.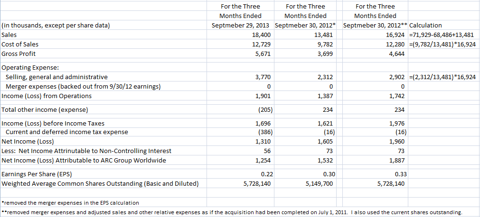 Using our adjusted sales of $16,924 and adjusted EPS of $.30, we conclude that ARCW had revenue growth of 8.7 percent and negative EPS growth of -26 percent for the first quarter of 2013. Our growth figures greatly contrast ARCW's Q1 press release. We believe our growth figures provide investors with a true reflection of the quarterly year-over-year growth for ARCW.
ARCW growth compared to its peers

With ARCW trading at a much higher valuation than those of its peers, one would expect ARCW to have significantly higher growth. After making the necessary adjustments to ARCW's revenues and earnings to compensate for the acquisition, we find that ARCW lacks in all four categories. Therefore, we conclude that ARCW should not have higher valuation multiples than those of its peers.
Brean Murray Carret Group involvement in ARCW
In 2008, Hassan Nemazee and the investment bank Brean Murray Carret entered into a financial-advisory and business-consulting arrangement with ARCW. The 10-K filed in 2009 states, "on January 23, 2009 ARC Wireless Solutions, Inc. ("ARC") entered into a financial advisory engagement (the "Agreement") with Quadrant Management, Inc. (the "Advisor"). Quadrant Management, Inc. is under common control with Brean, an entity that, together with Mr. Hassan Nemazee ("Nemazee"), beneficially owns 849,369 [shares], or 27.48%, of the Company's common stock." Nemazee and Alan Quasha were co-chairs of Brean Murray Carret around that time. In 2010, Nemazee was charged with fraud.
Brean Murray Carret has ties to penny-stock promotions and frauds, two of which are listed below:
Bizzingo (OTC:BIZZ) was promoted in 2012 as being the next Facebook (NASDAQ:FB). Brean Murray Carret assisted BIZZ in fundraising and strategic acquisitions and was well compensated for its efforts. The BIZZ 10-Q, filed on April 16, 2012, states "on February 10, 2012 the Company entered into a one year agreement with Brean Murray, Carret & Co., a FINRA registered broker-dealer ("BMC"),as its exclusive corporate finance advisor and investment banker. Upon execution of the agreement, the Company is to issue BMC a non-refundable retainer consisting of 650,000 shares of Company Common Stock to provide business consulting and capital placement services. The Company shall also pay BMC seven percent (7%) of any gross proceeds received by the Company in connection with a public or private offering of equity including convertible debt and convertible preferred equity" At the peak of the promotion, BIZZ reached a high price of .58 but now trades around .03 per share.
Puda Coal, Inc. (NYSEMKT:PUDA) is a Chinese coal company which traded on the NYSE Amex stock exchange. It was taken public through a reverse merger in which Brean Murray Carret raised $14.5 million for Puda Coal, Inc. In March 2011, Brean Murray Carret had a buy rating and raised their price target on PUDA. PUDA ended up being a fraud, and the SEC suspended the stock. PUDA went from about $12 per share before to the halt to a measly $0.01 today.
ARCW investors are warned: Brean Murray Carret's track record with other stocks is a red flag.
Conclusion
Many investors were misled into buying ARCW for the wrong reasons. Lack of organic growth combined with a small number of key customers and a high amount of debt make it very risky to invest in ARCW, especially when its stock is trading at these lofty levels. We hereby assign a SELL rating on the stock with an $8.25 price target. We believe this price target is more than fair given ARCW's lower growth and additional risks in comparison to its peers.
Disclosure: I am short ARCW. I wrote this article myself, and it expresses my own opinions. I am not receiving compensation for it. I have no business relationship with any company whose stock is mentioned in this article.