Intel (NASDAQ:INTC) is trading at a serious undervaluation as compared to its competitors and based on its financial performance over the last ten years. The market seems to be continually second guessing the company and underestimating its growth. As one of the leading tech stock picks of the 90's and early 2000's, it seems odd that Intel is not being valued more aggressively. But investors should never rely on past performance as a market for future success. When confronted with a stock like Intel which seems to be trading at very low multiples, a concern must always be that the prospective shareholder may be simply buying a value trap. Just because a stock is trading cheap does not mean that it will deliver adequate appreciation in comparison to its risk.
This article will examine why Intel has fallen out of favor within the investing community and why it is currently valued so cheaply. In addition we will look at the future prospects for the company. In the end, we will use this information to try to estimate Intel's adequate market value.
Investor Attention
Any finance class will tell you that a stock price is a function of investors perception of the company's growth prospects and the discounted cash flows of future earnings. Any successful investor will tell you that the stock market is rarely perfect and investor emotion and buzz often trumps financial calculations. It's a sad truth, and in this kind of a market, it is more relevant than ever. This line of reasoning is especially appropriate when examining Intel's stagnant stock price over the last 12 years.
"I'd be a bum on the street with a tin cup if the markets were efficient "
From the year 1990 to 2000, Intel was a fast growing company. Intel's stock experienced an increase of almost 4000%. The stock paid 30 quarterly dividends totaling 17.68 cents ($0.176875 in total dividends) and split 4 times. Without going into excessive detail, I think most investors can agree that Intel was a red hot stock and investors were fighting to own shares in the rapidly growing and prosperous company. The dividends were so tiny that they could almost be considered null.
The graph below shows Intel's stock performance in the 1990's.

But something happened at the turn of the century. Since 2000, Intel has remained a fast growing company. The stock has paid 55 quarterly dividends totaling $5.91 and split once. But the share price is down by 40% since 2000, despite a share buyback program that has repurchased and retired over $72 billion worth of shares. The numbers are truly staggering. The stock has been hovering around the $20 mark for the last 13 years.
The graph below shows Intel stocks lost decade.

So, what really changed for Intel in the year 2000, when all this trouble seems to have started? The short answer is, investor sentiment. After the 2000 tech bust, all technology related companies experienced massive devaluations and intense suspicion from the investing public. Most of the companies that went broke were weak, thinly capitalized, unprofitable and terribly managed. Intel shared none of those characteristics, but it was carried out in the tide along with all the others as investors fled the tech arena. And 13 years later, investors have still not returned to the company, despite consistently strong growth, a dominant market position and a host of aggressive shareholder value proposals.
In the year 2001 Intel had revenue of $26.54 billion and earnings per share of $0.19. In 2012, the same company had revenue of 53.34 billion and earnings per share of $2.13. Yet the stock price is down 40%. These numbers clearly show that Intel is not a broken company at all, but it simply has a broken stock, caused by negative investor perception and apathy. But, this will eventually change. Smart investors will be taking advantage of this immense market undervaluation in Intel shares by accumulating the stock and being patient. Intel has a steadily increasing dividend, currently paying 22.5 cents per share quarterly, as well as a well established share buyback program. Shareholders are being paid handsomely to wait until the general market forces shares higher.
The chart below shows how Intel's market capitalization has been reduced by nearly 65% since 2000, even as revenue, profits and the dividend have all increased dramatically..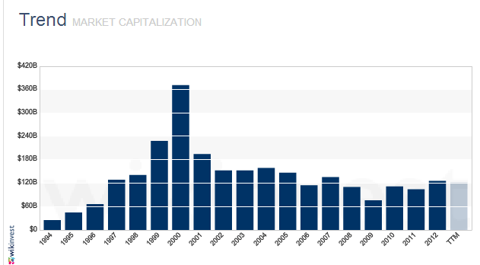 Intel's Path To $40 Per Share
The negative sentiment surrounding Intel's stock price and the apathy that investors show towards Intel's growth and income prospects cannot last forever. As Intel continues executing its business strategy and expanding its market share, its stock price will eventually grow into the company's earnings per share value. There are two major catalysts which will drive Intel's shares dramatically higher in the future.
"In the short run, the market is a voting machine but in the long run it is a weighing machine."
Multiple Expansion
Intel cannot stay cheap forever and with a small amount of multiple expansion it will not take much for the company to see a dramatic increase in its stock price. The chart below shows Intel's price to earnings ratio, price to sales ratio and price to book value ratio as compared to its competitor Qualcomm (NASDAQ:QCOM). Intel's ratios are lower across the board. Meanwhile Intel has a similar return on equity ratio and a far higher dividend yield.

If Intel would be priced by investors at similar valuations as Qualcomm, its stock price would be considerably higher. For example, at a P/E ratio of 17.7, Intel shares would be valued at about $35. At a price to sales ratio of 4.88, Intel shares would be worth almost $50. And at a price to book ratio of 3.37, Intel would be trading at $37.50. Averaging these assumed share prices, you will arrive at an average of $40 per share. This would also correspond to Intel offering a similar dividend yield as Qualcomm. As investors see the true value and growth prospects for Intel, shares will rise to these valuations and likely higher.
For the purpose of this example, I have used Qualcomm as a proxy for Intel's future multiple expectations. When reconciling Intel's financials with the industry average for companies in the semiconductor sector, you would arrive at similar values. Furthermore, it should be noted that Advanced Micro Devices (NASDAQ:AMD) is one of Intel's closest competitors, but since the company seems to be perpetually in financial distress and its ratios are often severely disjointed, it would not have been beneficial to use in a direct comparison.
New Product Offerings
The competitive landscape has become somewhat stronger in the semiconductor sector and this has had a negative effect on investors perception of Intel. While Intel was the unrivaled semiconductor and processor king throughout the 90's, it has faced pressure in recent years. AMD has been leading the competitive charge by offering lower cost processors and in the mobile chip market both Qualcomm and ARM Holdings (NASDAQ:ARMH) released a string of well received low consumption processor units.
But while Intel might have let some of its market share erode, it has recently announced some revolutionary chips and processors which will redefine the industry and form the basis for huge future growth.
Intel invested billions of dollars to develop its newest Haswell family of microprocessors. These chips offer some of the lowest power consumption in the industry while delivering unmatched computational power. In the same way that the Pentium line defined the personal computer market for a decade, these new Haswell chips will be the benchmark processors for years to come. And chips based on the Haswell architecture have an extremely wide range of uses. From PC's to laptops, ultrabooks to tablets. Haswell chips have even been chosen as the processors of choice to power Google's (NASDAQ:GOOG) latest line of Chromebook computers being launched by Acer and Toshiba. Furthermore, Intel scored a major win when Samsung chose to use Intel's x86 processors in the new Galaxy Tab 3 line of tablets, whereas they were previously exclusively using ARM based chips.
Intel will be able to leverage its strong relationships with computer manufacturers to introduce Haswell chips into almost every device imaginable. And whereas AMD was making inroads in the lower end processor market, with Haswell, Intel will be able to offer a superior product and a similar price, thereby eliminating any competitive advantage AMD might have had. Effectively, Intel might finally be able to put AMD out of business. And given the fact that AMD has posted a string of losses in the last year and its stock price is trading in the low $3 range, it probably will not take much effort for Intel to push the company over the brink.
Intel's other main focus is the smartphone market. Currently, chips based off ARM's architecture have managed to capture about 95% of this market, however, Intel unveiled a plan to aggressively market their processors within the smartphone arena. Intel has unveiled its newest low power consumption microprocessor line, named Medfield to rave reviews. When compared to the leading ARM based processors, Intel's Medflield processors "generally used far less energy." Intel, which currently has its processors in less than 2% of smartphones worldwide has recently announced partnerships with Motorola and Lenovo and is working on relationships with LG, Sony, ZTE, Huawei, Kyocera, and Sanyo.
Motorola, which is now owned by Google, will be the lead smartphone maker using Intel's newest generation of chips. Google has already fully incorporated Haswell chips into it's Chromebook devices and now that it has chosen Intel's Medfield architecture as its mobile phone processors of choice, it will likely not be long before other Android based phone manufacturers join.
Conclusion
Intel was, and still is a fast growing company. While competition for its core market has intensified, Intel is still the market leading manufacturer of semiconductors and processors. As soon as investor sentiment changes, just a little bit, and the market acknowledges Intel's huge growth prospects and benchmark setting products, the stock price will appreciate greatly. While the stock currently trades at about $24.5 per share, this is a dramatic undervaluation compared to its competitors and seems completely unwarranted. A more realistic price target would be $40. One thing is clear, Intel will be actively pursuing all avenues of growth for its newest lines of low power consumption chips. Whereas the company was late to enter the tablet and mobile device market, it is now entering with full force and offering products superior to the competition. Given the huge size of the mobile device market, even if Intel is only able to carve out a marginal share, the opportunity will still be huge. Going forward, Intel will work enter and steal market share away from ARM Holdings in the mobile market. This will be a major catalyst for growth and help to drive the stock price higher.
Disclosure: I have no positions in any stocks mentioned, and no plans to initiate any positions within the next 72 hours. I wrote this article myself, and it expresses my own opinions. I am not receiving compensation for it (other than from Seeking Alpha). I have no business relationship with any company whose stock is mentioned in this article.