General Electric (NYSE:GE), the biggest American conglomerate, is continuing its transformation into a more industrial focused company. At a recently held GE Capital investor day, GE reaffirmed its long-term roadmap to reduce GE Capital's ("GECC") share of earnings of the total company to 30% by 2015 (48% in 2013E). The company announced its plans to divest its North American ("NA") Retail Finance ("RF") business in two-steps by end of 2015. In the first step GE intends to IPO 20% of NA RF business in 2014. While in the second step, which will be completed in 2015, General Electric will split remaining NA RF holdings via a tax-free distribution to electing GE stockholders. It is important to note here that a significant proportion of the RF assets are private label cards, which are considered a very high quality business.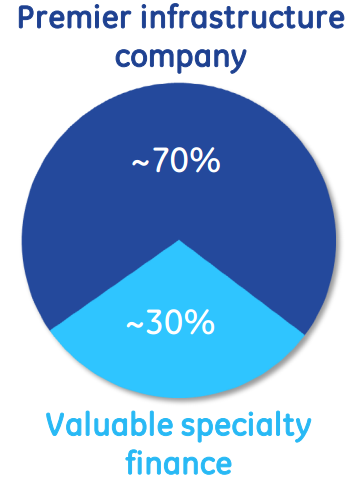 Source: Company Documents
The company expects $0.02 dilution from IPO in 2014 and then a maximum of $0.20 adjustment to earnings in 2015 from the distribution to shareholders. However, the interesting part is the company expects to fully offset the $0.22 of lost earnings of Retail Finance via share repurchases and more aggressive cost-cutting actions. Moreover, GE is targeting EPS growth in the next 2 years (inclusive of the loss of earnings from the spin); driven mainly by cost reductions, share buybacks, and upside from late-cycle end-market tailwinds. Given the expected earnings reductions at GE Capital, this is definitely a positive surprise and shows how well the company is executing its transformation plan.
General Electric's large-cap industrial peers are catching up on industrial spend and generating mid-to-high single digit EPS growth, this growth outlook should put GE industrial near the top of the list of large-cap EPS growers. Investors have long demanded GE to trim its finance business, and post-spin GE stock should appeal to investors as one of the higher quality and a cleaner way to play the industrial infrastructure cycle. Moreover, GE is expected to reduce GECC further particularly the real estate assets and non U.S. consumer finance businesses. The company is comfortable with its captive finance businesses and mid-market lending but the rest of the portfolio is set for exit.
Portfolio Mix - Increased Focus On The Core
The Retail Finance divestiture should result in the resumption of the GE Capital earnings growth, as GECC's core businesses have reached a point of equilibrium where core originations are offsetting planned run-off. The conglomerate expects volume to increase by 6% to $195 billion in 2013 and register another increase next year. This should help the company reduce its consumer footprint and shift the GECC balance sheet more towards the targeted mix of 76% commercial lending and 24% consumer lending, and increase the emphasis on GE's core middle market lending. As of 3Q13 commercial lending accounts for 61%. GE's middle market lending operations have strong competitive advantage, including its origination capabilities, experience and knowledge of collateral, and the differentiated ability to offer access to GE best practices with its GE Capital customers.
Source: Company Documents
GE Capital International And Real Estate Assets
While the competitors restructure and retrench, GE Capital is gaining share in the international market. The core business continues to perform well and is taking advantage of a structurally weaker European banking system, asset expertise, and GE's global footprint and cross-border capabilities. Moreover, initiatives are in place to optimize banks & consumer exposure, as well as leverage existing GE infrastructure and expertise to penetrate new markets.
GE Capital's net income so far in 4Q13 is trending above the $2.0 billion target, partially due to the expected sale of Swiss Consumer Finance business. The sale of a Thailand JV should also add to the gain. These gains should more than offset a decline in real estate equity due to fewer property sales in the quarter.
In the real estate segment, GE continues to focus on lending as it cuts the segment's business through asset sales. The segment returned to profit in 2011 and has been a driver of growth in 2013. YTD the company has sold $7.0 billion of real estate equity; this is on top of $2.0 sold last year. These sales generated substantial one-time gains but are unlikely to repeat in 2014. The sale of NBCU office sale to Comcast contributed the largest gain of $500 million and to put it into context this one gain only represents 1/3 of real estate's YTD profit. The company still owns $15 billion of real estate and should exit these properties in the coming years.
Cost Efficiencies Through Simplification
General Electric is aggressively cutting costs and as part of its ambitious 'Simplification' process the company plans to reduce its SG&A to just 12% of sales compared to 17.5% in 2012 and ~16% in 2013. Via a combination of ERP consolidation, rationalization of the supply chain footprint, a step-up in share services, and a reduction in the number of P&Ls the company will save $0.5 billion in 4Q13, another $1.0 in 2014, and $0.5 billion in 2015. In total, the company is expected to yield $1.5 billion of structural SG&A cost reduction over the next two years, on top of the $1.5 billion realized during 2013.
Source: Company Documents
Conclusion
We have a buy rating on General Electric. Since the financial crisis, GE has significantly reshaped GECC's balance sheet and capital structure and has become a stronger and more secure financial entity by disposing of lower-return assets and diversifying its funding. The company continues to transform GECC into a smaller, better regulated, better capitalized, and more focused business and take portfolio actions to attract larger investor base. The spin-off of the company's North American consumer lending unit is the last step of the transformation of the portfolio of GE Capital.
In a challenging slow growth environment, GE is taking the matters in its own hands and making its own luck. Despite of loss of earnings at GE Capital, the company is targeting double-digit industrial operating profit growth in each of the next two years fueled by late-cycle and simplification efforts including reduction of SG&A to 12% of revenues in 2016 from 17.5% in 2012. The $0.22 loss of Retail Finance income should be offset by the cost reductions and benefits from share repurchases; whereas, core growth in the industrials business provides upside.
GE Capital is also taking share in the international market as competitors restructure and re-trench. The real estate segment also continues to add to profit. The segment remains focused on core competencies and continues to avoid the higher beta real estate markets, such as construction lending, land lending, and condo development. Driven by continued focus on portfolio restructuring, cost cutting measures, risk management, and improving macro environment, the company continues to shrink the size and improve the overall quality of the GECC portfolio. We have been saying this for long; GE back to its roots is a compelling investment opportunity. The company's valuation also remains very attractive; it is trading at a discount to its large-cap peers and pays a sector high dividend yield of 2.8%.
Disclosure: I have no positions in any stocks mentioned, and no plans to initiate any positions within the next 72 hours. I wrote this article myself, and it expresses my own opinions. I am not receiving compensation for it (other than from Seeking Alpha). I have no business relationship with any company whose stock is mentioned in this article.