Conclusion: Gabelli Utility Trust's (NYSE:GUT) perpetual year-end premium does not appear to be supported by its mediocre investment performance. GUT's average historical premium since its inception is 27.5% and its average historical NAV total return ("NAVTtlRtn") is 8.4%.
Based on a sample ("Sample") of 178 closed-end funds (CEF), the average historical discount was 5.1% and the average historical NAVTtlRtrn was 10.5%.
Therefore, GUT's spread between its premium and the Sample's discount is 32.6%, while its spread between its average historical NAVTtlRtrn and the Sample's is a negative 2.1%. So, investors are paying a significant premium for GUT management's below average investment returns.
A Picture is Worth Lots of Words: The chart below illustrates each CEF's average historical premium/discount (red circle) versus its respective NAVTtlRtrn (green diamond) in the Sample. GUT's premium and NAVTtlRtrn are highlighted. (Click to enlarge)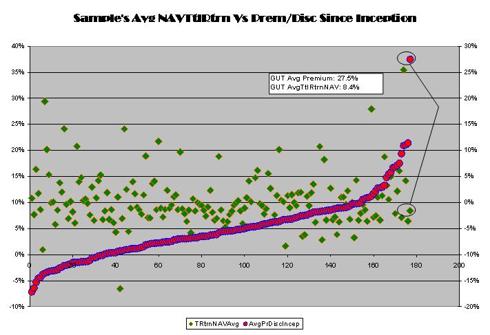 How Can This Be? There are potentially three reasons for GUT's current excessive stock valuation.
The first is that GUT has an attractive yield. Its current monthly annualized distribution yield is 8.1%. However, approximately 89% of the yield is composed of a return of capital (ROC). So, GUT's current distribution yield, based on its investment returns, is less than 1.0%.
Secondly, anxious investors may turn to conservative investments such as utilities in times of market turmoil. However, there are four other CEFs that focus on utilities that may be better comparative values -- URH, [[GLU]], [[UTF]] and UTG.
Thirdly, Mario J. Gabelli is a well known investment advisor and television personality—a smart, likable guy. There is some value to the Gabelli brand. However, just like many consumer products, there are many acceptable non-brand alternatives at lower costs.
Current Premium of 77%: While GUT's average historical premium is 27.5%, investors currently purchasing the stock are paying a whopping premium of 77% more than its intrinsic asset value—the highest in the CEF market segment. If GUT's current price was to gravitate back to its average premium (27.5%), it would result in a 28% drop in the stock price.
Rights Offering? Late last year GUT raised investors' consciousness regarding a potential "rights" offering. GUT has launched three previous rights offerings. (See:"Why GUT's Rights Offerings Better for Advisor than Shareholders" (1/13/10))
One for You, Two for Me: From the investment advisor's point of view, a rights offering would raise its advisory fees as such fees are based on a percentage of assets under management. The assets would grow with the proceeds of the rights offering. However, from an investor's point of view, participation in a rights offering at this premium level could range from being "push" to being very unprofitable. The latter would be the case if the current premium collapses.
To be a profitable investment, investors would have to bet on a continuation of this excessively high premium, or a strong advance in the NAV to compensate for any premium decline.
Love that Home Cooking: If a rights' offering is launched, Gamco Investors, Inc, Gabelli's investment arm, should commit itself to purchasing all the unsubscribed rights. This would go a long way to convince GUT's current investors that a well respected investment manager, like Gamco, with good understanding of GUT, strongly believes this is a good investment at these levels.
Caveats: The Sample represents 178 CEFs out of a potential CEF universe of 600 plus. An analysis of the whole CEF universe may result in a different conclusion.
Disclosure: Disclosure: Neither long nor short GUT, but befuddled by its valuation