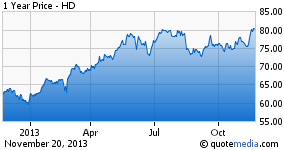 Shares of Home Depot (NYSE:HD) continue to trade near all time highs after the largest U.S. home-improvement retailer reported a solid set of third quarter results.
While the operational performance is very strong, comparables will become more difficult while the potential for operating sales leverage will diminish. Add to that the very high shareholder payouts, which result in a built-up in leverage in the good times, and all signs are on green already.
I cannot find any other reasons why shares could increase any further, therefore I remain on the sidelines.
Third Quarter Results
Home Depot generated third quarter revenues of $19.47 billion, up 7.4% on the year before. Analysts were looking for sales of $19.2 billion on average.
Net earnings saw spectacular growth as well, increasing by 42.7% to $1.35 billion. Thanks to share repurchases, GAAP earnings per share rose by 50.8% to $0.95 per share. Analysts were looking for earnings of just $0.89 per share.
CEO and Chairman Frank Blake commented on the third quarter performance, "Our third quarter results reflect the continuing improvement in the housing market and our solid operational performance. I would like to thank our associates for their hard work and dedication."
Looking Into The Results ...
The reported revenue growth is entirely attributable to strong comparable store sales growth which totaled 7.4%, driven by a strong performance of the U.S. stores which reported sales growth of 8.2%. Analysts were looking for comparable store sales growth of 5.9%.
The strong sales performance boosted gross margins which increased by 35 basis points to 34.9% of total revenues. Yet the operating performance has been truly great. Absolute operating expenses in dollars fell despite the solid growth. As a percentage of revenues, expenses fell by 187 basis points to 23.1% of total sales.
Note that last year the company did incur charges of $165 million related to the closure of seven stores in China. Even when excluding this, earnings growth was impressive and by far outpaced revenue growth.
All of this combined with lower average tax rates fueled net earnings growth, while earnings per share saw another boost from share repurchases, marking a very strong quarter.
... And Forward Into The Final Quarter
Based on the strong results full year comparable sales growth is seen at 5.6% and at 7.0% on a 52-week like for like basis.
Full year diluted earnings per share are seen up by 24%, expected to come in around $3.72 per share. The guidance assumes $2.1 billion in share repurchases in the final quarter, marking total repurchases of $6.4 billion for the year.
Previously, Home Depot guided for earnings of $3.60 per share for the full year, while analysts expectations have already risen to $3.70 per share.
Valuation
Home Depot ended its third quarter with $4.85 billion in cash and equivalents. Total debt stands at $16.01 billion, resulting in a large net debt position of around $11 billion.
Revenues for the first nine months of the year came in at $61.12 billion, up 8.2% on the year before. Net earnings came in at $4.37 billion, up 24.4%, with diluted earnings per share coming in at $3.02 per share.
Trading around $81 per share, the market values Home Depot at $116.5 billion. Revenues for the full year could come in around $80 billion as earnings are seen just above the $5 billion mark. This values the company at 1.4 times annual revenues and 23 times annual earnings.
Home Depot currently pays a quarterly dividend of $0.39 per share for an annual dividend yield of 1.9%.
Some Historical Perspective
Long term investors in Home Depot have made a great investment, especially in recent years as management has positioned the firm well to benefit from the recovery in the housing market, while taking market share from Lowe's (NYSE:LOW).
While shares fell from $40 in 2007 to lows of $20 during the crisis, they have roughly quadrupled ever since, trading around all time highs at current levels in the low eighties.
Between the fiscal 2009 and 2013, Home Depot is set to grow revenues by a cumulative 20% to around $80 billion. Net earnings nearly doubled from $2.7 billion in 2009 to $5.1 billion in 2013. On top of that, earnings per share saw an extra boost as the company retired roughly one in every six shares outstanding over the same time period.
Investment Thesis
Home Depot benefited from a strong housing market, combined with strong operational performance. The largest home improvement retail chain reported a 4.0% increase in transactions totaling 344.3 million sales tickets. Average ticket prices rose by 3.2% to $56.27.
Home Depot believes that the momentum is very solid now, and a hick-up in interest rates won't scare away consumers in their desire to remodel kitchens, bathrooms and their gardens. Consumers are furthermore trading up and searching for innovation with consumers shopping from LED Lighting from Cree (NASDAQ:CREE) among others, and tools being operates with lithium batteries.
Home Depot is having a strong year, raising the full year outlook for a third time in a row. After shares have already returned some 30% year to date, shares are trading in their low eighties at the moment. Back in August, when shares were trading at $75 per share after reporting its second quarter results, I last took a look at Home Depot's prospects.
Ever since, comparable sales have slowed down, although they remain very impressive. Combined with significant improvements in the efficiency of operations and a shareholder friendly financial strategy, shares have seen a lot of support.
Yet it I believe Home Depot is being a bit too aggressive to return cash to its investors. The company is already spending more cash on repurchases, compared to what it earns. Add to that the significant dividend payments, and the net debt position is increasing in good economic times, a warning sign to me.
With very strong market conditions, strong shareholder payouts and a valuation at 23 times earnings, the market is too enthusiastic to my opinion. The prospects for operating leverage becomes more difficult given the strong recent performance, as the company cannot increase cash flows to shareholders faster than its current pace.
I remain on the sidelines as the stock continues to price in a lot of good news, a bit too much to my taste.
Disclosure: I have no positions in any stocks mentioned, and no plans to initiate any positions within the next 72 hours. I wrote this article myself, and it expresses my own opinions. I am not receiving compensation for it (other than from Seeking Alpha). I have no business relationship with any company whose stock is mentioned in this article.