Retail drug store chain Rite Aid (NYSE:RAD) is still struggling with integration issues from its acquisition of Brooks Eckerd Drug Stores, as it continues to close under-performing locations and find the right merchandise mix to compete with larger rivals Walgreens (WAG) and CVS Caremark (NYSE:CVS).
The company said that same-store sales fell 2.1% in January, for the 8th consecutive monthly decline, while total sales fell 3.3% to $1.913 Billion from the year-ago period. For the fiscal year-to-date total sales are down 2.1% and same-store sales have decreased 0.6%. Rite Aid has reported 10 consecutive quarterly losses totaling over $4.3 Billion since the ill-timed acquisition, and the retailer is hoping a change in leadership will help reverse its fortunes. Current COO John T. Standley will replace CEO Mary Sammons, who has led the company since 2003, effective June 24th.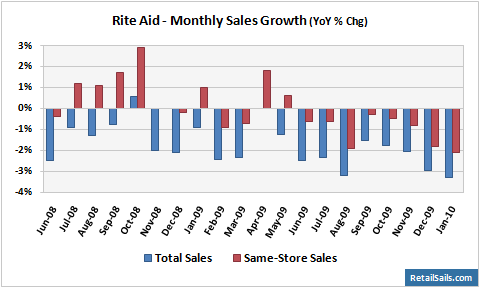 Comparable pharmacy growth, which held up well throughout the recession, has weakened in the past couple of months posting declines of 2.1% in January and 1.5% in December. Front-end performance continues to lag, and with a 2.1% same-store drop in January has now shown 9 consecutive monthly declines. Year-to-date, same-store pharmacy sales have increased 0.5% while comparable front-end sales have decreased 2.8%.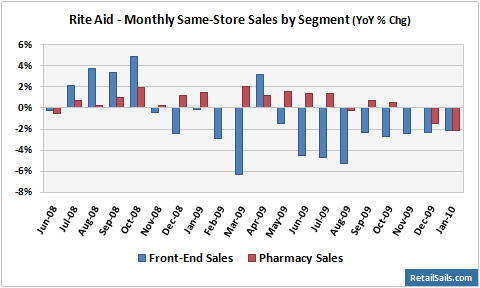 Since the Eckerd acquisition in June 2007, Rite Aid has closed close to 400 stores, laid off more than 10% of the workforce, and has made meaningful headway in lightening its debt load. However, performance continues to significantly lag the competition, and all of the cost-cutting has yet to contribute much to the bottom line. The weakness is in stark contrast to that of Walgreens, set to report monthly results early next week, who has only reported 2 slight same-store sales declines over the past 2 years.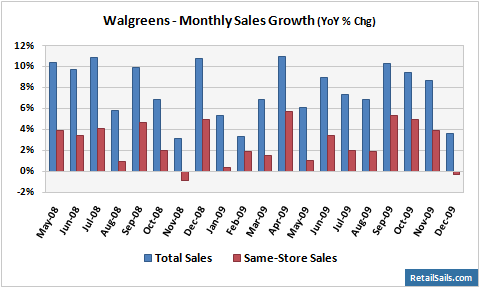 Disclosure: No Positions