Chesapeake Energy Corp. (NYSE:CHK) is the 2nd largest producer of natural gas and the 11th largest producer of oil and NGLs in the US. CHK holds leading positions in the Eagle Ford, Utica, Granite Wash, Cleveland, Tonkawa, Mississippi Lime, and Niobrara unconventional liquids fields, and the Marcellus, Haynesville/Bossier, and Barnett unconventional natural gas shale plays. All of its fields total 13 million net acres of leasehold, which is far more than CHK's competitors. CHK also has substantial marketing and oilfield services businesses through its subsidiaries. Plus it pays a 1.37% dividend, which will likely increase significantly once CHK gets its debt below $10B. It sees itself as a future oil and gas major, and investors can expect its dividend to be on a par with Exxon Mobil's (NYSE:XOM) - 2.66% - and Chevron's (NYSE:CVX) - 3.28%.
Among CHK's plethora of good news recently, it has also had some bad news. Due mostly to the precipitous drop in natural gas prices in 2012, CHK reduced its reserves 17% or 3.099 tcfe to 15.690 tcfe at the end of 2012 from 18.789 tcfe at the end of 2011. CHK actually grew reserves on a "real" tcfe basis. This is more obvious when you realize CHK had to write down 5.414 tcfe due to the drop in natural gas prices alone. Of course, these write downs were temporary. The price of natural gas has rebounded somewhat in 2013, and many expect it to climb a lot further in future years. Eventually CHK's "real" reserves will be accounted much higher than they are currently. Further CHK produced 1.422 tcfe in 2012, and it divested 1.347 tcfe of estimated proved reserves in 2012. When you consider all of these losses together they total up to -8.183 tcfe. Then it is a lot easier to see that CHK did a tremendous job of increasing proved reserves via development activities by more than 5 tcfe for FY2012. This was a tremendous result.
Another bad news element is the expected decrease in oil production in Q4 2013 by about 9,000 bpd from Q3 2013 levels. However, this bad news is also misleading. Part of the former production was due to inventory reduction, which had built up. Part was due to the loss of production from assets that were sold at the end of July. Further weather and infrastructure issues slightly reduced oil volumes for October (Q4 2013) in the Eagle Ford, which provided about 95,000 boe/d (68% oil = 64,600 bpd of oil production) in Q3 2013. An "explanation" always sounds weak, but in this case it does adequately explain the lowered oil production estimates. You have to expect some losses in production if you sell a significant part of production (and have other problems as well). The good news is that the problems are temporary, and production is still growing rapidly long term. In fact the production growth chart below more than adequately demonstrates the tremendous growth in the Eagle Ford production in the last few years. This growth shows no signs of abating soon.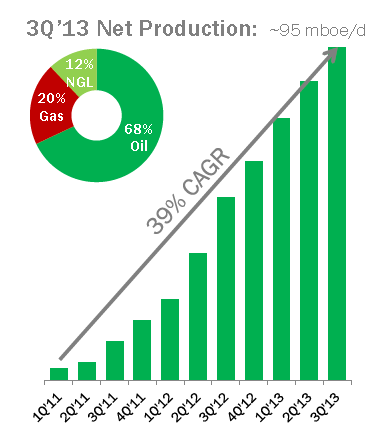 Besides the negatives mentioned above, there were many positives. Adjusted earnings per fully diluted share were up 330% year over year in Q3 2013. Adjusted EBITDA was up 29% year over year. Operating cash flow was up 22% year over year. Total oil production was up 23% year over year to 120,000 bpd, and the liquids mix was up to 27% of production from 21% in Q3 2012. Liquids revenues grew to 65% of total revenues.
CHK increased its full year oil production target by 2 million barrels to 40 - 42 million barrels. This is a 28% - 34% increase in production year over year. Meanwhile CHK reduced its total capex by 57% year over year to $1.5B for Q3 2013 and $5.70B - $6.05B for FY2013. All this was accomplished with $3.6B in asset sales through September 30, 2013, which subtracted from production. CHK's total asset sales figure for 2013 had already grown to $4.2B by earlier November 2013. This exceeds CHK's minimum plan for asset sales for 2013. For FY2014 CHK plans to develop a plan that requires no asset sales, although it will probably still continue to divest more non-core assets. Those monies will likely go directly into paying down debt.
This last is not the only better management move that CHK is making. It has been reducing its total workforce by 20%. In order to do this, it has implemented new operational processes to reduce costs, increase efficiencies, and enhance returns on capital. It is planning to focus on its highest rate of return plays. It will try to more effectively capture supply chain efficiencies and economies of scale. It plans to reduce well costs and operating expenses. As an example it plans to increase pad drilling. This allows drilling rigs to be moved to new drill sites on the same pad without disassembly and reassembly. This is both a time and money saver. CHK also plans to utilize hedging more extensively to provide greater cash flow predictability. The following chart shows CHK's progress toward more pad drilling in recent years.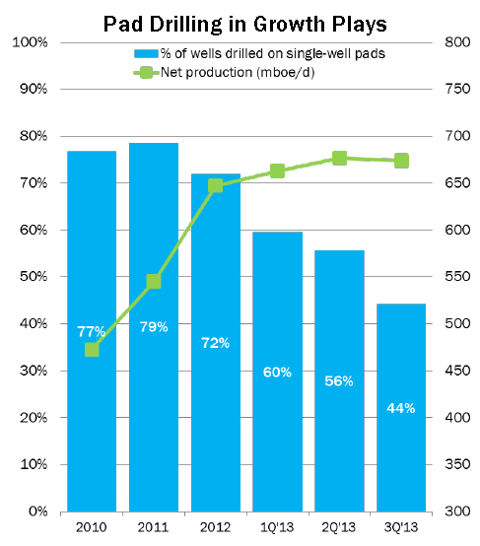 The following chart shows CHK's increasing devotion to more highly profitable liquids development plays.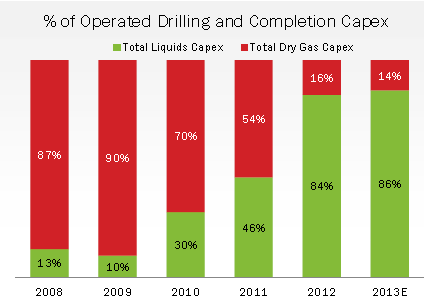 CHK is moving toward better financial results in the near future. It has made substantial improvements already. It still has almost all of its great development properties - 13 million net acres. With its consistent improvement over the last year, it has accrued a debt rating improvement from Moody's to stable from negative, and Moody's reaffirmed CHK's Ba2 rating (June 4, 2013). CHK is still growing rapidly, but it is growing more astutely and more fiscally responsibly now. The rapid oil production growth may take a step back in Q4 due to a sale in Q3 2013, but CHK expects it to resume at a fast pace in 2014. CHK is a great long term buy.
The two year chart of CHK provides some technical direction for this trade.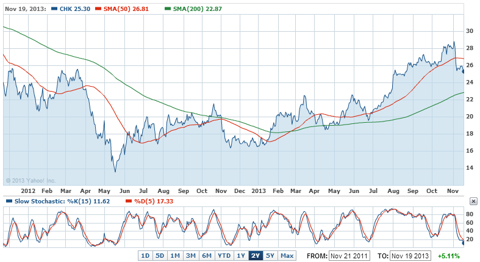 The slow stochastic sub chart shows that CHK is at oversold levels. The main chart shows that CHK is in a long-term uptrend. Given the earnings news it is reasonable to expect this uptrend to continue. The guidance for a decrease in oil production in Q4 2013 seems to have caused a sell off in the stock. However, this decrease is assuredly temporary. Rapid oil production growth should resume in 2014, and the recent drop may present a good buying opportunity.
CHK has a PE of 18.97 and an FPE of 11.88. It has an average analyst five-year EPS growth estimate per annum of 57.94%. This makes CHK a cheap stock at its current price. It is a great long-term buy with its great assets and its much more fiscally responsible new management team. Now it has the best of both worlds. It has assets from known oil and gas guru Aubrey McClendon, and it has fiscally responsible management from Archie Dunham and Robert Lawler. CAPS rates CHK of four stars (a buy).
The only worry in buying CHK is that the overall market may be near a significant pullback. CHK's stock price would likely fall with the overall market on such a pullback. The Beta is 1.74. With this in mind, it might be prudent to average into this stock over the next year. If some of your holdings go down temporarily at some point, they should still do well long term. The company's assets are tremendous, and I don't think anything can derail this less and less risky juggernaut. If you think in a five plus year time frame, natural gas prices will likely improve significantly too. This would pump up CHK's natural gas reserves, its revenues, and its EPS. It would also pump up CHK's 1.37% dividend. Again CHK is a great long-term buy.
NOTE: Some of the fundamental financial information above is from Yahoo Finance.
Good Luck Trading.
Disclosure: I have no positions in any stocks mentioned, but may initiate a long position in CHK over the next 72 hours. I wrote this article myself, and it expresses my own opinions. I am not receiving compensation for it (other than from Seeking Alpha). I have no business relationship with any company whose stock is mentioned in this article.