On November 19th at 1:32 PM Seeking Alpha's Market Currents put out this report, "Chanos vs. Buffett on Exxon". And when you opened the link you saw this.
Chanos Bearish on Exxon
Exxon (XOM -0.2%) "increasingly looks like a value trap," says Jim Chanos at the Reuters Summit. "For many of the oil majors, it is becoming increasingly difficult to finance buybacks and dividends as cash flows decline ... It isn't the same cash flow generating business it used to be."
So this has all the makings of a war between one of the world's top short sellers vs. the world's greatest long term investor, and I thought it would be interesting to run a free cash flow analysis on Exxon Mobil and see what turns up.
In this article I present a real time quantitative analysis of Exxon Mobil that demonstrates the power of free cash flow in the investment process and I give an opinion on how an investor should act based on my research.
This analysis will use the following six free cash flow ratios:
CapFlow
FROIC
Price to Mycroft Free Cash Flow
Mycroft/Michaelis Growth Rate
Free Cash Flow Payout Ratio
Free Cash Flow Reinvestment Rate
Those new to this analysis can find an introduction by going here that will explain in detail how each of these ratios is calculated. When used together, these unique ratios will generate a quantitative picture of a company's underlying fundamentals, including strengths and weaknesses.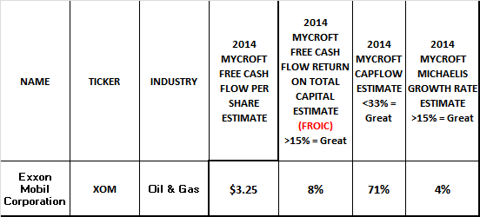 The "2014 Mycroft Free Cash Flow Per Share" estimate in the table above was generated by taking the trailing twelve months (NYSE:TTM) free cash flow result for Exxon Mobil and then adding my Mycroft Michaelis Growth Rate into the equation in order to generate forward looking estimates for 2014. That growth rate is generated by using my FROIC ratio (Free Cash Flow Return on Invested Capital). Basically FROIC tells us how efficient operations are as it zeros in on how much free cash flow is generated for every $1 of total capital employed. Exxon Mobil has a FROIC of 8%, which means that for every $100 of invested capital, they generate $8 in free cash flow. Now my Mycroft/Michaelis Ratio takes that 8% and multiplies it by the firm's free cash flow reinvestment rate. The reinvestment rate that I use is a free cash flow reinvestment rate instead of the standard one used by analysts that simply uses net income:
Free Cash Flow Reinvestment Rate = 100% - (Free Cash Flow Payout Ratio).
Or;
Free Cash Flow Reinvestment Rate = 100% - (Total Dividend/Total Free Cash Flow).
By replacing net income in the payout and reinvestment ratios with free cash flow, I am thus able to make my analysis more precise by incorporating capital spending (Cap Ex) into the equation.
Therefore from this we can determine that Exxon Mobil has a reinvestment rate of 18% and went on to use 82% of its free cash flow to pay out its dividend. Thus by taking 8% (FROIC) x 18% = 1.4%. From there we add the dividend yield of 2.6% and we have a Mycroft/Michaelis growth rate of 1.4% + 2.6% = 4%.
Exxon Mobil's Mycroft Free Cash Flow per share of $3.25 was generated by taking its TTM free cash flow per share and multiplying it by (100% + 4% or 1.04). Once we have our result, we then take its current market price of $95.41 and divide it by $3.25 and get a Price to Mycroft Free Cash Flow result of 29.36. I consider a Price to Mycroft Free Cash Flow per share result of less than 15 to be good for purchase, and anything under 7.5 to be excellent.

The higher you go above 15, the more overvalued a company becomes. I use a Price to Mycroft Free Cash Flow per share result of 22.5 as my sell price, and 45 as my short price.
An appropriately priced stock should trade around a Price to Mycroft Free Cash Flow per share result of 15. This benchmark result was determined by backtesting.
Buy (opinion) = A Price to Mycroft Free Cash Flow per share result of less than 7.5 is considered excellent (50% below the initial Hold level), and anything under 15 is attractive.
The result I give as my Buy opinion in the table above uses a Price to Mycroft Free Cash Flow per share result of 7.5.
Hold (opinion) = 15 to 22.5 (I use 15 in the table).
Sell (opinion) = 22.5 or higher (50% above the initial Hold level). (I use 22.5 in the table).
Short (opinion) = 45 or greater. The Price to Mycroft Free Cash Flow per share result of 45 was determined by going back to the peak of the market (in the year 2000) and averaging the Price to Free Cash Flow per share results for the key players at that time. (I use 45 in the table).
Therefore with Exxon Mobil having a Price to Mycroft Free Cash Flow number of 29.36 it is definitely a sell according to my research.
The CapFlow ratio result that you see in our first table above is an original ratio I created in order to tell me how much Capital Spending is used as a percentage of Cash Flow. A result of less than 33% is considered ideal and with Exxon Mobil coming in at just 71%, means that just 29% of the company's cash flow is actually free cash flow and can be used to buy back stock.
In conclusion Mr. Buffett's purchase of Exxon Mobil has left a great majority of my fellow analysts putting in long hours trying to figure out why he bought the stock. With WTI crude oil in a free fall, as the chart below shows, Exxon Mobil's margins are surely going to shrink going forward, so that rules out future margin growth as a possible reason for his purchase.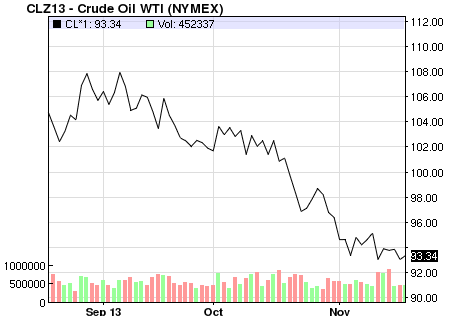 If it's not that then he must be seeing some kind of consistency in Exxon Mobil's free cash flow generation. But as the table below shows the only thing that has been consistently growing in Exxon Mobil's cash flow statement has been its capital spending.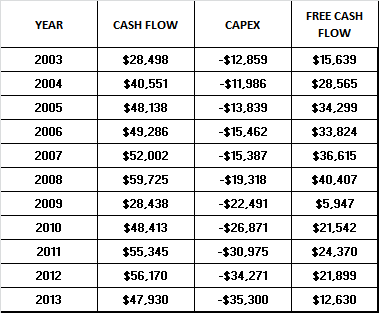 The 2013 TTM cash flow is almost equal to its 2005 results, while its capital spending is 155% more than it was then. In the last five years alone Exxon Mobil has spent over $150 billion in capital spending and they have little to show for it, as free cash flow is about 31% of what it was in 2008.
So if we look at this from a completely objective point of view it looks like Mr. Chanos has got the facts and figures right on Exxon Mobil, but only time will tell and I for one am going to watch with anticipation to see how this will all play out and I can't wait to find out what Mr. Buffett is seeing that everyone else is blind to.
Disclosure: I have no positions in any stocks mentioned, and no plans to initiate any positions within the next 72 hours. I wrote this article myself, and it expresses my own opinions. I am not receiving compensation for it (other than from Seeking Alpha). I have no business relationship with any company whose stock is mentioned in this article.