Late last week, a 13F filing by Berkshire Hathaway (BRK.A, BRK.B) disclosed a new stake forty million share stake in ExxonMobil (NYSE:XOM) totaling $3.7 billion, marking the largest new public holding for the Buffett-led conglomerate in the past two years. Given the long-run successful track record of the Oracle of Omaha, I wanted to offer a few thoughts on this transaction as I did following Berkshire Hathaway's earlier 2013 purchases of Heinz and NV Energy (NVE). The graph below depicts the long-run total return of Berkshire Hathaway relative to the S&P 500 (SPY) over the past twenty-five years, demonstrating why investors should pause and examine moves by a great investment mind.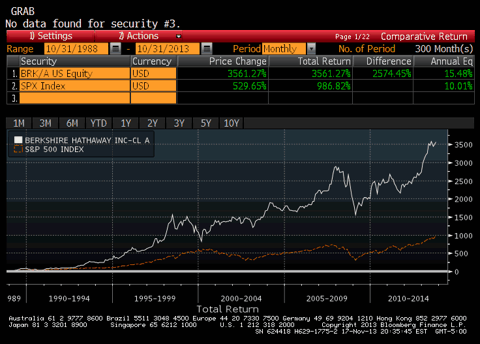 Source: Bloomberg
When a $3bn Investment is an Underweight
While Berkshire Hathaway's ExxonMobil purchase totaling $3.7 billion is a hefty bet, it represents less than 1% of the oil giant's $414 billion market capitalization. The Exxon Mobil stake is now Buffett's seventh largest public equity position at 3.8% of the company's public equity portfolio. Of course, Buffett also buys entire companies - as witnessed by the aforementioned $5.6bn takeover of NV Energy by Berkshire Hathaway's MidAmerican Energy unit in June. Berkshire Hathaway also takes large stakes in private companies or facilitates taking companies private as its $12 billion stake in Heinz in February demonstrated. Neither of these types of transactions are reflected in its public securities portfolio where ExxonMobil ranks seventh. The $3.7 billion ExxonMobil stake is just 0.8% of the total assets on Berkshire Hathaway's balance sheet as of the most recent quarter-end. Exxon Mobil represents 2.6% of the S&P 500 as the index's second largest holding. While a $3.7 billion bet is a sizeable wager, it may remarkably still constitute an underweight on the balance sheet of Berkshire Hathaway.
Buffett & Low Volatility Stocks
Warren Buffett is not an indexer, or the long-run outperformance depicted in the first graph in this article would not have been generated. While the ExxonMobil bet may be construed as an overweight relative to the company's public equity portfolio or an underweight relative to its entire balance sheet, the purchase is certainly consistent with how Buffett has outperformed over long time intervals.
In my January 2013 article "Making Buffet's Alpha Your Own", I built on academic research by managers at the hedge fund AQR Capital Management to demonstrate that Buffett's extraordinary long-run outperformance can be boiled down to his early understanding that applying leverage to low volatility businesses generates alpha. I detailed the fact that applying the 1.6 turns of leverage that the AQR researchers determined that Berkshire had traditionally employed to the S&P Low Volatility Index (SPLV) replicated the returns of Berkshire Hathaway historically.
Berkshire Hathaway has continued its focus on low volatility companies in 2013. When Berkshire Hathaway joined with 3G Capital to purchase Heinz, the food company was the fifteenth largest constituent in the S&P Low Volatility Index. NV Energy, while not a member of the S&P 500 and thusly excluded from the Low Volatility Index, had a trailing twelve month beta of just 0.73 relative to the S&P 500 at the time of the deal announcement. Continuing this trend, Exxon Mobil is currently the eighth largest holding in the S&P Low Volatility Index, and this transaction certainly fits the long-run profile of leveraging low volatility companies, an idea Seeking Alpha readers should consider replicating as part of their investment plan.
Buffett & Energy Companies
Of the other ninety-nine wealthiest people in the world, x made their fortunes in the commodity super cycle that featured a demand shock from rapid Chinese economic growth. As I described in the paragraphs above, Buffett largely made his money levering up high quality, low volatility companies through low cost holding company debt and float from his large insurance subsidiaries.
His track record in energy companies has been mixed at best. In 2008, Buffett quadrupled his company's stake in ConocoPhillips as a play on future energy levels shortly before the Great Recession hammered oil and gas prices. While Buffett has had great success in his MidAmerican utility, a foray into the debt of highly levered Texas utility Energy Future Holdings turned into a disaster as natural gas prices, which set the marginal cost of energy prices in that market, remained depressed and left the company struggling to service its debt. Buffett has also had major wins in the space, including an 880% return and $3.6bn gain on his PetroChina stake between 2002 and 2008, and more recently sizeable gains on his new stake in Canadian oil sands company Suncor (NYSE:SU). Buffett also had a quick 44% two-year gain on ExxonMobil back in 1985, but given that the company has since grown to be the world's second most valuable company by market capitalization, he likely regrets taking his chips off the table too soon.
Is ExxonMobil Under-levered?
How is Exxon Mobil such a low volatility equity given its reliance on profits from cyclical oil and gas? The company maintains a fortress balance sheet. ExxonMobil is one of only four American companies with AAA ratings at the two major nationally recognized statistical rating organizations, joining Automatic Data Processing (NASDAQ:ADP), Johnson and Johnson (NYSE:JNJ), and Microsoft (NASDAQ:MSFT).
ExxonMobil has $16bn of net debt, but relative to nearly $60bn of EBITDA over the last twelve months, the company boasts a mere 0.27x of net leverage. Compare this ratio to A1/A rated ConocoPhillips (NYSE:COP) who has nearly the exact same level of gross debt, nearly $1.5 billion less cash, but generated only one-third of the EBITDA of ExxonMobil over the last twelve months.
One would think that the better balance sheet at ExxonMobil must command far better financing rates. It is a little difficult to tell because it has been several years since ExxonMobil even brought new debt to market, but existing twenty-five year debt from the ExxonMobil/XTO Energy transaction trades at roughly 95bps to the interpolated yield curve. Similar tenor ConocoPhillips debt, albeit at a lower premium to par, trades at roughly 105bps to the interpolated yield curve. Assuming a new issue from both companies at a par dollar price, maybe ExxonMobil has a 0.2% financing advantage because of its stronger balance sheet. The company would have to issue $38bn of debt to have the same type of leverage in which ConocoPhillips operates.
The company may have a minute financing advantage, but it gives this advantage up due to its higher effective tax rate. Interest expense on corporate debt is tax deductible and it is an easy (and probably controversial) argument to make that at least a portion of the $31bn of income tax expense ($24bn of cash taxes) that ExxonMobil registered in 2012 should have been absorbed through this debt tax shield. That $38bn of proportionately less debt that ExxonMobil operates with could have lowered taxes by over half a billion a year (assuming 4% interest cost and 35% tax rate), or roughly 5% of the level of the $10bn of dividends paid.
ExxonMobil could likely issue ten-year debt at roughly the same credit spread as the recent Aa3/AA- rated Coca-Cola (NYSE:KO) new issue of 0.7% for debt that yields 3.5%. Tax-effecting the debt for the tax deductibility yields an after-tax cost of 2.3% to the issuer. If inflation averages 2.3% over the next ten years, then the company could issue debt at a real after-tax cost of zero. The proceeds from this debt could be used to buy back shares with an earnings yield (earnings per share/share price) of 7.9%, reducing the share count such that shareholders have a proportionately larger share of the company's earnings. The company could issue five year debt at roughly 1.85%, which is less than the company's indicated dividend yield of 2.66% before even factoring in the tax benefit. The company could issue debt and buy back shares and send out less money from lower dividends on the reduced share count than it would have to pay its bondholders. Skeptics of this approach would say that this higher debt level will increase the costs of potential financial distress, and that a more highly levered balance sheet necessitates a higher discount rate on its artificially boosted earnings per share. At low incremental levels of debt, I do not buy that argument. The bond market is not demanding much of a credit risk premium for ConocoPhillips' proportionately higher debt levels as compensation for its higher credit risk.
Buying at a Discount?
Those highlighted sentences in the last section indicate that I believe that there is value to be created by even a minor increase in financial leverage. Given the size of the company, do not expect shareholder activism to drive those changes. Even Buffett now owns less than one percent of the float. Absent changes in financial policy, is the company cheap? As recently as early 2010, Exxon Mobil was trading atop the S&P 500 at roughly 17x trailing earnings. At a trailing P/E multiple of 12.7x today, the stock is at roughly a quarter discount to the broader market, and has a forward multiple in the lowest quintile amongst S&P 500 companies. While this is a fairly simplistic view of relative valuation, sometimes investment decisions are best boiled down to the basics. I leave readers with two simple facts. When the S&P 500 has produced a negative return over the last twenty-five years, ExxonMobil has never underperformed the broad market gauge. If you are looking for a company with an attractive valuation and inherent downside protection, ExxonMobil fits that bill. When ExxonMobil was Berkshire's third largest holding at the end of 1994, it had lagged the S&P 500 by 15% over the trailing four years (56% cumulative total return versus 41% total return for XOM), roughly half of what it has lagged in 2012-2013 (48% vs 18%). In those next two years, 1995 and 1996, the company produced its best two year stock performance of the last twenty-five years.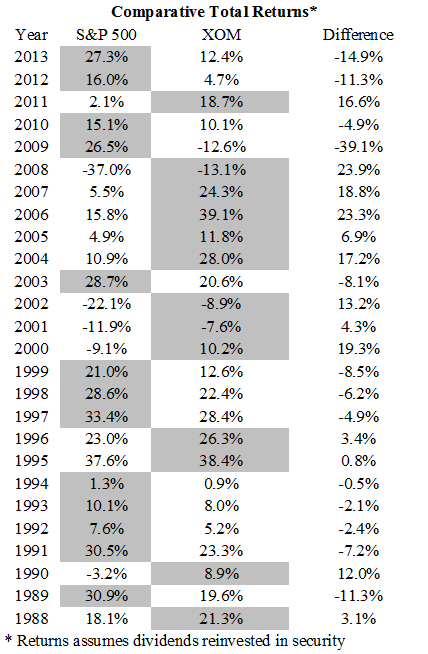 Summary
Whether you have the view that he is overweight or underweight ExxonMobil at Berkshire Hathaway, Warren Buffett has bought a high quality, low volatility company with downside protection onto Berkshire Hathaway's modestly levered balance sheet at a discounted price relative to the broader market that ExxonMobil has underperformed over the past two years.
Disclosure: I have no positions in any stocks mentioned, and no plans to initiate any positions within the next 72 hours. I wrote this article myself, and it expresses my own opinions. I am not receiving compensation for it (other than from Seeking Alpha). I have no business relationship with any company whose stock is mentioned in this article.