This week, the Peoples Republic of China announced bold reforms needed to maintain economic growth. Among the stated goals are the increased domestic consumption of its own products and relaxation of the one-child rule. Although details are sketchy, these initiatives could positively affect the buying power of the Chinese middle class. This article focuses on two small-cap companies in the consumer discretionary realm that should benefit directly from these reforms.
Chinese stocks have not boomed in the past four years, despite the 8% annual growth in the behemoth Communist country. As the U.S. stock market has doubled, the Hang Seng Index sits at the same level it was in November of 2009. However, during the past couple years the Hang Seng has been consolidating with higher lows. The revenues and earnings for many companies have been growing with the Chinese GDP, but their stock prices are awaiting a breakout. While the valuations of U.S. stocks are stretching their justification, many of the Chinese enterprises have become cheap compared to their fundamentals. It could be that 2014 will be the year the Chinese market booms again, and the new initiatives nearly assure the government will be rooting for that result.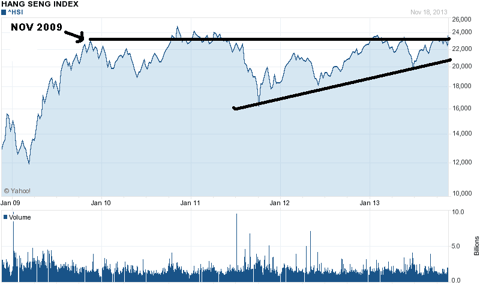 Most active traders have taken a ride on the Chinese bandwagon over the past decade, and many of U.S. were thrown to the side of the road. Even the profitable investments have been intensely volatile, and the fear of unethical accounting, corruption and other surprises gave little comfort that our money was safe. What finally threw me were investments in companies with high earnings growth…and even higher accounts receivables growth. I cannot complain as my own net worth is about 30% higher due to an 8-month spin on the Chinese bandwagon in 2003. I am now ready to get back on board.
By relaxing the one-child rule, more students in China equates to more schools. There are a number of ways to invest in Chinese education stocks, but my crazy-cheap selection is Xueda Education Group (NYSE:XUE). For starters, XUE has a $340MM market cap at its current price of $5.09 per share, and it has $250MM in cash ($3.80/share) and no debt. Some of that cash is prepayment for its tutoring services, but the company has generated in the first nine months of 2013 about $ .58 per share in cash flow, thanks to minimal accounts receivable. The stock is selling at less than 10 times its cash flow, minimizing concerns about inflated EPS reporting due to accounting stunts. During those nine months, revenue is up 19% and net income is up 95%, per Tuesday's earnings report. The company is in the interesting niche of operating tutoring centers for students, which is culturally aligned with the focus of Chinese families on educational achievement.
Chinese children must pass strict testing to qualify for advancement in the educational system, so the tutoring is a high-value service. Even if XUE doubles in price it will still maintain better book value, growth rates and EPS than others in its sector, such as institutional favorite New Oriental Education (NYSE:EDU) and red-hot China Distance Education (NYSE:DL). The latter is similar in size to XUE and also sold for $5 per share six months ago. It is now $14.
More consumption by the Chinese middle class means more spending by teens and mothers on clothing. Ever-Glory International Group (NYSEMKT:EVK) is a clothing manufacturer and retailer with a PE of about 8. The low valuation is not the result of mediocre performance. In addition to contract manufacturing of clothing for major U.S. and European retailers, EVK operates 644 LA GO GO clothing stores in China, with increasing same-store sales. In its last earnings report, EVK announced a 54% revenue increase and a 74% bump in EPS. I suspect that some of the income improvement is from better cotton commodity prices, which can be variable for clothing manufacturers. However, the company is planning an aggressive expansion of its retail operations in China with more stores, and it is outsourcing some manufacturing since labor wages in China are rising. EVK's sales are an astounding five times its market cap. For instance, The Gap (NYSE:GPS) has sales that are less than the market cap.
A substantial advantage that EVK has over most retail competitors is that it is vertically integrated. Because it directly controls the sourcing of raw materials, manufacturing, design and marketing, Ever-Glory can get new products on the shelves in about three months after identifying a style change or popular trend. Competitors typically require five months minimum, so the LA GO GO stores can consistently be on the "leading edge." The biggest knock on Ever-Glory is that the insiders control 75% of the outstanding shares, and institutional ownership is negligible. Nonetheless, it does trade on average more than 30,000 shares per day, and the stock price has more than doubled in 2013. To catch up with its value metrics, it would need to double again.
Conclusion.
Although U.S. stocks have performed better than Chinese equities over the past four years, it appears a wide divergence in value has developed as a result. Given the continuation of high growth in the Chinese economy, as well as new initiatives to spur domestic spending, it appears that undervalued Chinese stocks could very well outperform pricey equities in the U.S. market in 2014. The consumer discretionary sector is the direct target of the new government initiatives. While small cap Chinese equities are historically among the riskiest propositions in the investing world, a basket of companies with fundamental value and growth tailwinds may be appropriate for investors seeking diversification from what is typically in their 401k plan. If Xueda Education does no more than close the value gap between it and other Chinese companies in the Education sector, it will reward investors generously. Ever-Glory International is a substantial supplier to large retailers outside China, and should benefit from government initiatives to increase consumer demand within China.
As details of the new initiatives become more clear, we will be selecting other small cap Chinese companies to add to the basket. This could be our top performing portfolio in the coming year.
Disclosure: I am long XUE. I wrote this article myself, and it expresses my own opinions. I am not receiving compensation for it (other than from Seeking Alpha). I have no business relationship with any company whose stock is mentioned in this article. We do not know the circumstances, risk tolerance or investment objectives of our readers. There is no guarantee that any investment mentioned in this article will be profitable or appropriate for readers.