Back in March 2013, Johnson and Johnson (NYSE:JNJ) was trading around $81. At the time, we wrote a report on Johnson and Johnson based on its 2012 financial data. Our DCF model suggested that JNJ's intrinsic equity value was around $86-$92, assuming an earnings growth rate of 4.5%-5% (What Is Johnson & Johnson's Fair Value After Invokana Approval?). Fast-forwarding to November 2013, JNJ is now trading at $95, a little above our price target for 2013. With three quarters' financial data available for JNJ and certainties on several drug approvals, we have sufficient information to estimate JNJ's intrinsic value for 2014.
We first provide updates on several regulatory approvals for JNJ drugs, clinical trial data, and estimated sales growth for key products. On the expense side, recent charges from Hip-implant litigation settlements will cost JNJ $2.5B. We then discuss the assumptions used for our financial projections, as well as key financial ratios for JNJ.
Our analysis indicates that JNJ's revenues could grow from $74B in 2014 to $86B in 2018, whereas the adjusted earnings per share (EPS) could increase from $6.6 to $8.6. These represent CAGRs of 4% and 6% for revenues and EPS, respectively. The DCF model suggests an intrinsic value for JNJ at $105. Thus, with the stock currently trading at $95, it is being traded at a 10% discount of its intrinsic value. The stock also provides a 2.8% dividend yield, and is thus appealing to both growth and income investors.
Updates on drug approvals
As of September 2013, JNJ has gained several regulatory approvals of its drugs by the FDA and European Commission.
In Q2 and Q3, SIMPONI (golimumab) was approved by the FDA and EC for the treatment of moderate to severe active ulcerative colitis in adult patients. Additionally, the FDA approved SIMPONI for infusions for the treatment of adults with moderate to severe active rheumatoid arthritis in combination with methotrexate.
In Q3, STELARA (ustekinumab) was approved by both regulatory agencies for the treatment of adult patients (18 years or older) with active psoriatic arthritis.
In Q1 and Q3, respectively, the FDA and the EC approved INVOKANA® (canagliflozin) for the treatment of adults with type 2 diabetes mellitus, to improve glycemic control.
In addition, the European Commission approved the use of VELCADE® (bortezomib) as a first-line therapy for adult patients with previously-untreated multiple myeloma.
Revenues Projection for Existing Drugs
Financial data before 2012 are based on the JNJ 2012 annual report Feb2013. For 2013 data estimates, we used JNJ's third quarter financial data (JNJ 10Q 3Q2013). The data from 2014 to 2018 are projections based on JNJ's historical data or revenue estimates.
Remicade is JNJ's best-selling drug with $6.1B sales in 2012 and an estimated increase to $6.6B, a 7.5% growth rate. However, considering its patent expiration in 2018 and crowding out by newer drugs such as Simponi and Stelara in the autoimmune space, we assume a more modest 3% growth rate going forward to $7.6B in 2018.
Simponi and Stelara have gained momentum in autoimmune diseases since their approval. Their combined sales are $1.6B and may approach $2.35B in 2013, a 45% increase y/y. We estimate its sales growth rate will gradually reduce from the current 45% to a modest 8% over 5 years. This represents sales of $3B in 2015 to $4.7B in 2018.
Velcade is now approved for broader multiple myeloma patients including the treatment-naïve population. Its sales in 2012 were $1.5B. However, its sales in 2013 appear to have plateaued. Going forward, Velcade will also face competition from Celgene's (NASDAQ:CELG) multiple myeloma franchise, which includes existing drugs such as lenalidomide and revlimid, as well as the newly approved pomalidomide (FDA approved pomalidomide Feb2013). Based on these factors, we assign a modest 3% baseline growth rate for Velcade for the next 5 years, with sales at $1.5B in 2014 and $1.75B in 2018.
Invega has had strong growth since its approval in 2006 for schizophrenia. Its sales were $1.3B in 2012 and could reach $1.77B in 2013. We assign a gradual slowdown of its growth rate from 20% to 8% within the next 4 years, with estimated sales of $2.3B in 2014 to $3.5B in 2018.
Zytiga was approved in 2011 and 2012 by the FDA as the 2nd and 1st line of treatment for prostate cancer. Although it is directly competing with Medivation's (NASDAQ:MDVN) Xtandi, its sales are still in a high growth stage. Its sales increased from $300M (2011) to $960M (2012) and may register an estimated $1.6B in 2013, representing a growth rate of 300% and 66%, respectively. We assign a gradual slowdown of its growth rate from its current level to 8% within the next 4 years, with estimated sales of $2.1B in 2014 to $3.3B in 2018.
Revenues Projection for New Drugs Approved Since 2012
New drugs launched since 2012 include Xarelto, Invokana (canagliflozin), and Sirturo (bedaquiline). Xalrelto has been approved for the prevention of deep vein thrombosis (DVT) and for reducing the risk of stroke and systemic embolism in patients with atrial fibrillation. It had sales of $190M in its first year of launch and could reach $790M in 2013. We assign a gradual slowdown of its growth rate from 40% to 10% within the next 4 years, with estimated sales of $1.1B in 2014 to $2B in 2018.
Invokana (canagliflozin) was approved by the FDA for the treatment of type 2 diabetes on March 29, 2013. We estimate sales of $150M in 2013 and growing to $1.7B in 2018.
Sirturo (bedaquiline) is an oral treatment for pulmonary, multi-drug resistant tuberculosis (MDR-TB) in adults. The market size is not huge. We estimate its sales may reach $500M in 2018.
Ibrutinib is a Btk inhibitor that JNJ co-develops with Pharmacyclics (NASDAQ:PCYC). PCYC filed NDAs in July 2013 seeking regulatory approvals for chronic lymphocytic leukemia (CLL) and mantle cell lymphoma (MCL). In November of 2013, the FDA approved its use in MCL (Ibrutinib approved for MCL). It is also likely that ibrutinib will receive approval for CLL in coming months. If everything goes as planned, PCYC and JNJ could start generating commercial revenues from ibrutinib in 2014. JNJ will share 50% of net profits from ibrutinib sales with PCYC. Based on our estimates, ibrutinib alone could bring in commercial revenues of $380M (2014) to $3.1B (2017) for CLL, MCL, and one other indication. These translate into about $190M (2013) to $1.5B (2017) in revenues for JNJ.
The remaining pharmaceutical drugs will either experience slow growth or face competition. So, we assigned them an annual 4% decline in growth rate. We used a 3% baseline growth for medical devices and consumer products as their growth is relatively stable and in line with GDP growth.
Altogether, the estimated total revenues for JNJ will increase from $71B in 2013 to $87B in 2018, representing a compound annual growth rate (CAGR) of approximately 4%.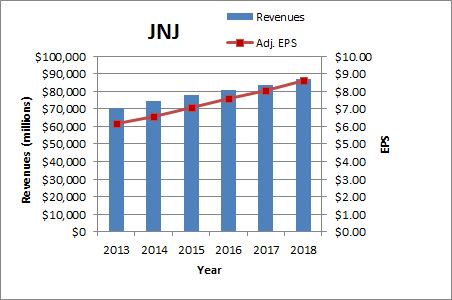 Other Income Statement Items
On the expense side, we used JNJ's historical gross margin and EBIT margin as a guide. Its cost of goods sold (COGS) and selling and general administration (SG&A) expenses were about 30% and 43% of net sales, respectively. We also assumed its effective tax rate staying at 20% going forward.
JNJ recently announced a settlement agreement to compensate patients who had surgery to replace their ASR Hip System developed by Depuy, now a subsidiary of JNJ (JNJ $2.5M Hip settlement). The settlement is valued at $2.5B, which JNJ is likely to write-down in its incoming statement. We have factored in potential litigation charges averaging $1.6B per year throughout the 5-year projection period.
Interest expenses were derived from our projected debt and interest schedules. Overall, JNJ's long-term debt balance could reduce from $11B to $5B unless the company issues debt for operation or acquisition purpose. The average interest rate for JNJ's debt is approximately 5%.
Our income statement projects adjusted earnings per share at $6.17 (2013), $6.59 (2014), $7.09 (2015), $7.59 (2016), $8.05 (2017), and $8.8 (2018).
Cash Flows
JNJ's cash flows from operations (CFO) are estimated to be between $18B and $23B from 2014 to 2018. Capital expenditures are $3.7B to $4.8B, representing an average of 21% of CFO. Therefore, its free cash flows are in the range of $14B~$18B. These free cash flow numbers are used to derive JNJ intrinsic value (see below).
JNJ will pay $2.64 in dividends per share ($7.3 total) in 2013. In our projections, we assumed that JNJ would increase its dividend by 7% and buy back $3B worth of common stock every year. The combined cash requirements will be $10B-$12B from 2014 to 2018, which can be comfortably funded by its free cash flow.
Summary of financial ratios and growth rates
Going forward, JNJ's gross profit margin, earnings-before-Interest-and-tax (EBIT) margin, and net profit margin will be 70%, 28%, and 20% respectively. Its average return on invested capital (ROIC), return on equity (ROE), and return on assets (ROA) are 24%, 22%, and 11%, respectively. These ratios suggest that JNJ has great operating efficiencies and its profitability based on return on investment is within the industry average.

Overall, JNJ has a strong balance sheet. Over the next five years, JNJ could maintain a total debt to total capitalization at 18%. Its interest coverage ratios are in the range of 40x-50x. This suggests that the company has the ability to service its debt.

Overall Valuation
We utilized the Discounted Free Cash Flow model to derive JNJ's intrinsic equity value. Based on our free cash flow numbers from 2014 to 2018 and a long-term growth rate of 5%, the estimated per share stock value is ~$104. Apparently, the fair value is greatly impacted by the long-term growth rate. For instance, a 5.5% growth rate would elevate the fair value to $114, whereas a slower rate at 4.5% would reduce the value to $98. We believe JNJ is capable of maintaining a 5% long-term growth rate, mostly attributable to new drugs approved within the last five years.
JNJ is currently traded at $95 as of 11/20/2013. This price represents a 10% discount to its intrinsic value and 15.4x multiple to 2013 adjusted earnings. With a 2.8% dividend yield and a sustainable 5% growth rate, JNJ is appealing to both income and growth investors for the long term.
References:
Disclosure: I am long JNJ, PCYC. I wrote this article myself, and it expresses my own opinions. I am not receiving compensation for it (other than from Seeking Alpha). I have no business relationship with any company whose stock is mentioned in this article.