By Paul Carton
The signs of improvement we found in our December consumer survey have continued gaining momentum. ChangeWave's January 5-12 survey of 2,776 U.S. consumers points to a surge in spending going forward.
Nearly three in 10 U.S. consumers (29%) now say they'll spend more over the next 90 days than they did a year ago – up four points since the previous survey in December. While 31% still say they'll spend less – that's a major six-point improvement from previously.
As the following chart shows, the net 10-point improvement is the biggest in eight months and points to the best overall spending environment of the past two years.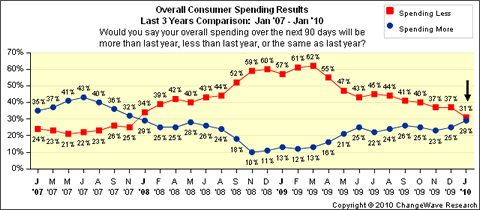 Where are things improving? The uptick in consumer spending cuts across all income levels, with household repairs/improvements and automobiles the biggest beneficiaries. With the exception of a seasonal decline in consumer electronics, spending for the other categories remains steady compared to last month's survey.
Importantly, spending among all categories is up compared to a year ago.
Household repairs/improvements is seeing its first real uptick in four months – with 31% now saying they'll spend more on household repairs going forward, compared to 16% less – a net seven-point improvement since December.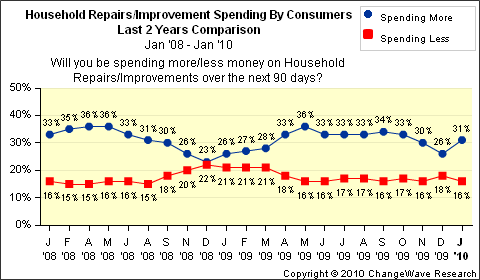 Automobile spending is showing an uptick for the first time since the Cash for Clunkers program ended last summer – up a net two points over the past 30 days.
Consumer electronics spending has dropped back since the holidays due to normal seasonal decline. Better than one in five (22%) say they'll spend more on consumer electronics going forward, compared to 30% who say less – a net six points worse than the previous survey, but a huge 18-point improvement over a year ago.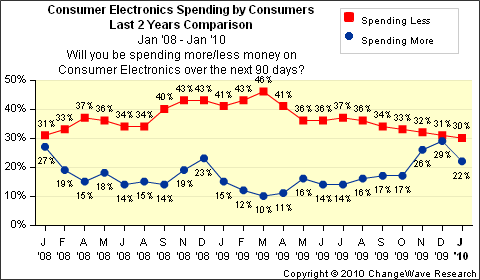 We also asked consumers about their current impressions of the economy and found a big improvement in consumer sentiment and expectations since our December survey.
A total of 36% now think the overall direction of the U.S. economy is going to improve over the next 90 days, while just 23% believe it will worsen. That's a net 17-point improvement since December and the highest level of optimism we've seen since we began asking this question in September 2007.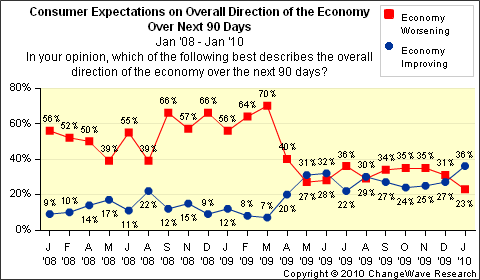 The post-holiday slowdown in electronics spending is having an impact on home entertainment retailers. After experiencing its biggest surge ever in a ChangeWave survey, Amazon (NASDAQ:AMZN) finds itself down slightly from its December peak.
Better than one in three (34%) now say they'll shop there for home entertainment and computer networking products over the next 90 days. Although two points less than in December, this is still a huge 10 points above the year-ago level.
Industry leader Best Buy (NYSE:BBY) also has experienced a decline, with 38% saying they'll shop there for home entertainment and computer networking products going forward – down six points since December. We registered a similar decline for Best Buy after the 2008 holiday season.
As part of the seasonal dip in electronics spending, we're seeing a slowdown in planned PC buying among consumers. A total of 8% plan to buy a laptop in the next 90 days and 5% a desktop – each down two points since December.
Despite the big surge in overall spending for January, there are few signs of major improvements for the big retailers. For example, Costco (NASDAQ:COST) and Wal-Mart (NYSE:WMT) – momentum leaders throughout the holidays – have each registered a downtick from their December highs. Nonetheless, they still lead among retailers in terms of spending growth going forward.
Bottom line: The party's not over, as the signs of improvement we found in our November and December consumer surveys have continued gaining momentum in January.
While our latest survey points to the best overall spending environment in two years – including upticks for household repairs and autos – tempering factors include a seasonal slowdown in electronics and few new signs of momentum among big U.S. retailers.
Nonetheless, the improved 90-day outlook is a positive sign for the economy and a wonderful way to begin the new year.
Jean Crumrine co-wrote this article.
Disclosure: No positions