The first point we need to make is that there never was an official "Nifty Fifty" list. The closest to any official list was Kidder Peabody's monthly list of the 50 big Board stocks with the highest P/E multiples, which Forbes magazine referred to over the years as the "Nifty Fifty."
We believe that lessons can be learned from the early 1970s, when institutional investors were infatuated by a small list of "one-decision" stocks of companies so appealing that they should always be bought and never sold, regardless of valuation. Examples of these "Super Stocks" were Avon Products (NYSE:AVP) , Walt Disney (NYSE:DIS), McDonald's (NYSE:MCD), Polaroid and Xerox (NYSE:XRX). Each of these was a leader in its market with a strong balance sheet, high margins and endless double-digit revenue growth.
What the learned investors of this era failed to take to heart was: "A great company is not necessarily a great investment." Regardless of how good or poor a company's management is, no matter how bright or bleak its prospects, at the end of the day the attractiveness of a company's stock depends on its valuation. At certain times a super company's stock price is expensive, and at certain times a poor company's stock price is undervalued relative to its growth rate or book value.
So how high were these "Band of Brothers" back in late 1972? Well, Polaroid sold on 91 times earnings; Xerox, 49 times; and Avon for 65 times. Some would say they were priced to perfection, but from their 1972 to 1973 highs to their 1974 lows, Polaroid fell by 91%, Xerox fell 71, and Avon fell by 86%.
The two price to sales ratio charts for Avon And Xerox illustrate why "A great company is not necessarily a great investment." (Click to enlarge)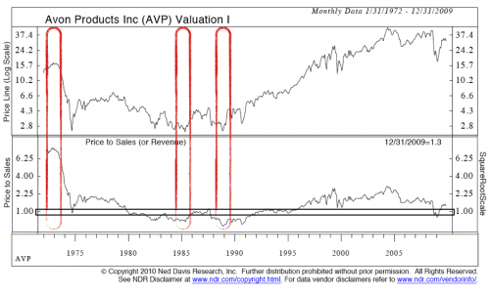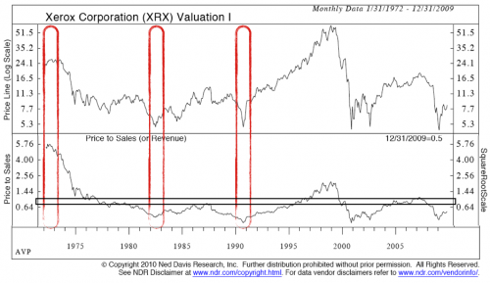 Chart Source: Ned Davis Research
Avon in 1972 sold on a P/S of well over $6. That is to say infatuated investors were wiling to pay over $6 for every $1 of Avon sales. There could have been good reasons, such as high expected revenue growth or high margins, and we concede that valuation by P/S is not perfect, but it prompts investors to revisit the question of, "why am I paying $6 for every $1 worth of Avon's sales?"
Over the next 15 years Avon fell from $16 to just under $3, and went from super model to bag lady. At this point, its P/S had fallen to 50 cents on the Dollar (0.5), and investors should having been taking their slide rules out and filling their boots, as the shares rose just over 12 times over the next 20 years. The same mistakes and missed opportunities were made with Xerox.
Avon and Xerox's investment stories in the early 1970s were very different, and the cause of their respective failures to deliver the expected revenue growth was driven by technological changes (Xerox) and demographic changes (Avon).
The key lesson of this blog, whether talking about the early 1970s or today, is that the underused P/S ratio is still a key investment tool for valuing companies because it helps remind investors "why they are paying over $1 for a company's sales." History suggests that investors need to have good reasons.
In a future blog we will look at those Nifty Fifty stocks that outperformed the market from the late top of 1972. There were 16 (4 in the P/E bracket of 40 to 100 and 12 in the P/E bracket of 15 to 39).
Disclosure: No Positions