On November 5, Emerson Electric (EMR) declared a modest 1% year-over-year increase in sales to $24.7 billion amidst bumpy global economic conditions in its 2013 fiscal yearly results. Its process management and climate technologies segments were the major contributors with revenue growth of 5.0% and 6.0% respectively in the fourth quarter of 2013. Due to strong operations and its rich cash position, management decided to increase the quarterly dividend to $0.43 per share payable on December 10, 2013 from $0.41 per share last quarter.
More acquisitions on the way
I think that process management's solid growth will continue in the next year with increasing business activity in North America. In a move to strengthen its process management segment, Emerson agreed to buy privately held company, Virgo Valves and Controls, a leading provider of ball valves and automation systems based in India on September 24. Virgo specializes in manufacturing a variety of valves for the global oil, gas, power, and mining industries with manufacturing facility in Europe, U.S., and India. The company had sales of $250 million in 2012, and 80% came from overseas operations in more than 60 countries. I sees Virgo leadership as a great fit for Emerson's business complementing its Fischer control valve business. Emerson's leading position in process management will allow it to expand Virgo's valves through its global sales channels.
Emerson also acquired Enardo LLC, a manufacturer of safety and environmental control equipment for oil and gas and other industries on October 4, 2013. Enardo had around $65 million in sales in 2012 and has expertise in tank vapor control application, which complements Emerson's Fisher Regulator product.
Vapor control products limit unwanted vapor emissions by maintaining pressure in storage tanks and protect against accidental ignition, while Fisher regulators are used to compensate for variation in tank pressure to supply gas at a constant pressure. This acquisition will expand Emerson's storage tank solutions for the oil and gas, petrochemical, and chemical industries.
I think both acquisitions will be a positive catalyst for Emerson's growth in 2014, since organic orders haven't contributed meaningful growth. It's going to increase its merger & acquisition activity and plans to spend $1.5 billion in acquisitions in 2014. I expect a greater proportion of this will be allocated to process management, as process management's share of profits is growing, and this should be a positive catalyst for Emerson next year.
Tapping pervasive sensing market
Emerson is also focusing on the pervasive sensing market, leveraging on its leadership in wireless technology. Pervasive Sensor is a sensor that transmits data in the plant network for monitoring performance and requires no maintenance. Pervasive sensing allows refineries and chemical plants to access data related to the functioning of the plant, allowing the plant it to improve the safety, reliability, and profitability of operations. Physical installation of sensors in oil and gas, refining, chemical, etc. plants has been very difficult and expensive, but with the help of wireless technology, companies can install affordable sensors to monitor the operations. Software solutions are also available that are embedded in sensors to provide better insight and information for better performance.
Emerson's products are designed to use wireless technology, rather than embedding wireless applications in the existing products separately. Emerson has been providing customers with value for their money through lower cost of deployment and reliable installations in sensing applications. There is a growing demand for sensing in the global process market and industrial market due to environmental rules and regulations. It estimates that the pervasive sensing market will double in ten years from the existing $16 billion traditional measurement market. Emerson is investing significantly in pervasive sensing, and the company expects that it will succeed in capturing the market due to its success in wireless business. Moving towards pervasive sensing is a step away from its traditional process control, energy efficiency, and safety issues, and its strategy will maintain its leadership position in the measurement market.
Dividend Analysis
In the fourth quarter of 2013, Emerson witnessed strong cash flow due to improvements in receivables. Due to strong cash flow and its better cash position, Emerson increased its quarterly dividend to $0.43 per share this quarter, from $0.41 paid in the last quarter. This converts to $1.72 dividend on an annualized basis and a dividend yield of 2.57%. This is the first dividend increase in the last 15 months for Emerson, which signifies Emerson's strong cash flow growth in fiscal year 2013.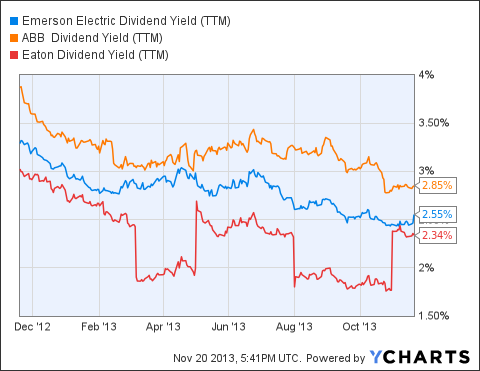 EMR Dividend Yield (TTM) data by YCharts
On the other hand, Emerson's competitors also have a long history of paying dividends; Eaton Corporation (ETN) announced a quarterly dividend payment of $0.42 per share, which is to be paid on November 22, 2013. This is the fourth quarter that Eaton has paid the same dividend. At the current stock price of $72.30, Eaton's dividend yield is 2.33%. In its recent quarter results, Eaton had a record cash flow of $704 million, and its operating cash-flow for the last 12 months stood at $2.1 billion. The healthy cash flow is mainly due to strong sales from its electrical products segment, which increased by 98% year over year to $1.8 billion.
Having enough cash on its balance sheet also allowed ABB Ltd. (ABB) to reward income investors with an incremental dividend. The company increased its yearly dividend to approx. $0.73 per share, an increase of 4.2% over its previous year. This is the fourth consecutive year the company was able to increase its dividend, growing from $0.44 per share to $0.73 per share.
Bottom-line
Emerson is one of the strong, diversified electronics company, as it has built a reputation of differentiated technology and best-in-class product offerings across a range of markets. Through acquisitions of Virgo Valves and Controls and Enardo, Emerson plans to innovate and strengthen its offering in process management. The pervasive sensing marketing opens up a huge opportunity and leverages on its capabilities in measurement technology. I recommend buying this stock.


Disclosure: I have no positions in any stocks mentioned, and no plans to initiate any positions within the next 72 hours. I wrote this article myself, and it expresses my own opinions. I am not receiving compensation for it (other than from Seeking Alpha). I have no business relationship with any company whose stock is mentioned in this article.