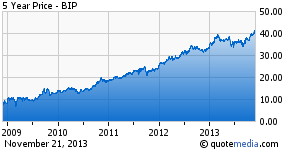 Brookfield Infrastructure Partners (NYSE:BIP) operates long-life infrastructure assets with strong barriers to entry that generate stable cash flows over the long-term, making it a compelling investment for long-term income investors. Its business model provides a high levels of predictability and stability, which should provide therefore stable and predictable income stream for investors for the foreseeable future. Currently, it offers a dividend yield of 4.27%, which is clearly attractive. Brookfield Infrastructure has a market capitalization of about $8 billion, and its units are traded on the New York Stock Exchange.
Brookfield Infrastructure Partners was established by Brookfield Asset Management (NYSE:BAM), a global asset manager with over $175 billion of assets under management with a focus on real estate, power, infrastructure, and private equity. Brookfield Infrastructure is a Bermuda exempted limited partnership that was established in 2007, and spun-off from Brookfield and listed in January 2008. Currently, Brookfield has an approximate 30% interest in Brookfield Infrastructure. The partnership does not employ any of the employees who carry out its management, being their services provided under the Master Service Agreement with Brookfield.
Brookfield Infrastructure's business consists of the ownership and operation of utilities, transport and energy assets in North and South America, Australia, Asia, and Europe. It has three operating platforms based on their underlying economic drivers and it also intend to seek acquisitions in other infrastructure sectors with similar attributes. Its total assets amount to about $11.8 billion. In Utilities, its asset types include regulated terminal, electricity transmission, and regulated distribution. In Transport, it includes ports, railroads, and toll roads. In Energy, it includes energy transmission storage, distribution and storage, and district energy. It also owns timber assets in North America.
Brookfield Infrastructure owns a balanced portfolio of infrastructure assets that are diversified by sector and by geography. Its business has a low-risk profile, given that about 89% of its cash flow comes from regulated or contracted activities and 70% is indexed to inflation. This business profile makes the partnership a perfect fit for income investors who seek an attractive yield which should be sustainable over the long-term due to the partnerships' nature of stable cash-flows over the long haul. By sector, the partnerships' capital is mainly allocated to transport and utilities. By geography, South America is the largest market accounting for about 35% of its capital. Currently, it has a strong backlog of about $5 billion of potential organic growth projects under consideration, which can boost its growth in the next few years. Going forward, Brookfield Infrastructure will grow mainly trough asset acquisitions, the partnership targets primarily acquisitions that add on to its operating platforms and extend to new geographies.
Regarding its financial performance, its revenues were slightly higher than $2 billion in 2012, an increase of 22.5% from the previous year due to investments completed during the year. Its net income stood at $106 million, representing a profit margin of 5.2%. Brookfield Infrastructure targets a total annual return of 12% to 15% on the infrastructure assets that it owns, over the long-term. A key performance measure for Brookfield Infrastructure is adjusted funds from operations yield [AFFO yield], which is defined as FFO less maintenance capital expenditures dividend by invested capital. The partnership believes this measure better reflect the sustainable return on capital it has deployed. Over the past three years, its AFFO yield has been between 14% to 16%, which is at the top of its target range.
Regarding its distributions, Brookfield Infrastructure considers that funds from operations [FFO] is the best measure to access its distribution sustainability. If it is successful in growing its FFO per unit, it will be able to increase distributions to its unitholders. As its infrastructure assets require relatively minimal maintenance capital expenditures, FFO is equal to net income plus depreciation and other smaller adjustments, as shown in the following table.
The partnership has been able to increase steadily FFO over the past few years, which also led to higher distributions to unitholders. Its FFO increased by 18% in 2012 and almost doubled in 2011, which is quite impressive. During the first nine months of 2013, FFO was above $500 million increasing by more than 50% from the same period of 2012.Over the long-term, Brookfield Infrastructure believes it can achieve FFO/unit growth of about 10% annually, coming primarily from inflation, new investments, and re-invested cash flows.
The partnerships' distribution policy is for a payout of between 60% to 70% of its FFO. Its distributions were $1.50 per unit in 2012, an increase of 13% from the $1.32 distributed in the previous year. Its payout was only 62% of FFO in 2012, at the bottom of its target range. At the beginning of 2013, it increased its quarterly distributions to $0.43 per unit, an increase of 14.7% from the previous distribution, supported by its strong FFO growth. Its annual distribution growth target is between 5% to 9%.
On the other hand, Brookfield Infrastructure's debt levels are high given that its net debt was about $6.7 billion as of September 30, 2013. Its net debt-to-capitalization ratio is about 48%. However, this is acceptable due to the partnerships' long-term assets and its average debt term to maturity of almost 10 years and moreover it doesn't have significant debt maturities during the next five years, making its high debt levels clearly manageable.
Conclusion
Brookfield Infrastructure Partners offers a good value proposition for income investors due to long-term assets, stable cash flows, and high visibility of cash flow generation over the long-term. As Brookfield Infrastructure has increased its distribution at a lower rate than FFO and its payout ratio target is acceptable given its long-term assets, its distributions appear to be sustainable and offer relatively good growth prospects over the coming years, making it a very compelling investment for long-term investors.
Disclosure: I have no positions in any stocks mentioned, but may initiate a long position in BIP over the next 72 hours. I wrote this article myself, and it expresses my own opinions. I am not receiving compensation for it (other than from Seeking Alpha). I have no business relationship with any company whose stock is mentioned in this article.