The Oceanstone Fund is rated 5 stars from Morningstar. It has that prestigious rating for a very good reason: it has outperformed the S&P 500 index by over 30% since its inception in 2006. The reason you likely have not heard of this unbelievable performance is the small size of the fund. When it last reported, it had net assets of $35.8 million, positively tiny for a mutual fund. The fund is no load, and has an advisory fee of 1.8%, which is on the high side, but reasonable for a fund of that size with outsized performance. The fund is managed by James Wang, and does not have to file its positions with the SEC due to its small size. However, they do publish a letter twice a year on their website with their positions.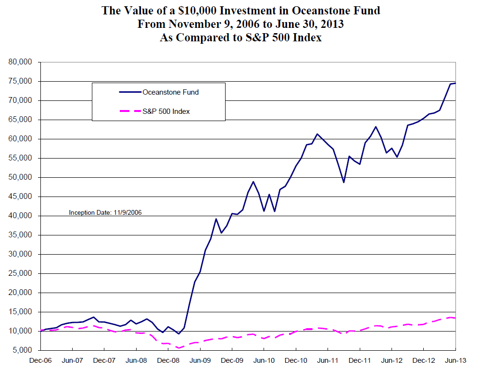 Source: Oceanstone Funds Annual Report June 30, 2013
For those who prefer to do their own investing, as opposed to using funds, even those with excellent records, I'm including a brief thesis for the fund's top three holdings. I should make it clear that these arguments are my own, and not representative of why the fund's manager bought the stocks.
ITT Technological Services (ESI)
ITT runs post secondary programs in a variety of fields, targeted to adult learners. You may have seen their television commercials. The entire for-profit post secondary sector was badly hurt by changes to the rules for Federal student loans, and ESI was no exception. The stock declined from a five-year high of over $125 per share to a 52-week low of $11.69 per share earlier this year. The company has started to turn around its enrollment, with new student rates flat in the last quarter. This should allow its profitability to stabilize, and time passing makes new regulatory changes less likely.
Rite Aid is a drugstore chain, which has had a slew of issues over the last number of years, and is highly indebted. However, the company has lately had improving results, and its EV/EBITDA is half that of rival Walgreens (WAG), according to this article from another Seeking Alpha author. If operational improvements continue, the debt will provide significant leverage to the stock price, but that leverage cuts both ways, and the company would be at significant risk in a downside scenario.
Triple-S Management is the largest health insurer in Puerto Rico and the US Virgin Islands, and trades at a substantial discount to competitors in the continental US, as noted here. However, GTS will not benefit from Obamacare in the same way as mainland health insurers, as Puerto Rico residents are not mandated to purchase health insurance, which is a risk factor specific to it that does not affect the comparable companies. The economy in Puerto Rico has also been extremely poor, which does not help the company.
These three companies were the three largest positions in the Oceanstone fund as of their last report, and ESI and RAD are both up substantially since then. All three have significant potential to re-rate their valuation higher, but (as with most cheap stocks) significant risk factors as well.
Disclosure: I am long ESI, GTS. I wrote this article myself, and it expresses my own opinions. I am not receiving compensation for it (other than from Seeking Alpha). I have no business relationship with any company whose stock is mentioned in this article.