One of my biggest lessons in life was when I was sitting at the black jack table in Las Vegas. It was 1988 and I was just out of college and I had around $500 in cash (or chips).
I was new to blackjack and I knew enough about gambling to be dangerous. I had been sitting at the table around an hour and I was starting to lose, fast. The dealer was keeping all of the face cards and I was looking long in the face. Then I got a break - two eights - and the dealer had a ten and a five. I knew it was my turn; the book says split 'em.
However, I only had around two hundred dollars left in chips. I had fifty dollar riding leaving me only one hundred and fifty dollars of cushion. I started sweating…then I heard a voice from afar say:
Boy, scared money never wins.
I thought to myself, "what the heck is he talking about?" I know money has no emotion, let alone the greenbacks couldn't help me win the bet. But then it hit me - The old dude was not talking about money, he was talking about me. He was suggesting that I need to trust my instinct and forget about the potential loss…just take the emotion out of the bet. So I did.
I placed fifty dollars beside the eight's and the dealer split the cards. Then, the dealer tossed the next card. It was a two of spades. Then I thought, "I'm not backing down" and I doubled down. I placed two-twenty five dollar chips beside the two and waited for my card. The dealer looked at me and smiled while he tossed the card. The Queen of Hearts saved me - I was in good shape with twenty. Then the dealer threw out a nine to compliment the other eight, that's seventeen.
Now, I'll admit, I was scared. I mean, I was trying to trust myself but I also knew that this could wipe me out and I would have to spend two days at the pool if I lost the bet. We all know the feeling of loss and I could not resist the thoughts of panic thinking that the dealer could draw a six (or twenty one total) and send me packing. OK, without reliving one of the biggest lessons in life, I'll tell you what happened.
A King of Hearts flew from the shoe. In other words, the dealer busted. Anxiety turned to excitement. Fear turned to Fortune. I learned a valuable lesson that day - Trust yourself and nobody else.
Ignore Mr. Market - Scared Money Never Wins
First, let me assure you, I'm not a gambler. I like to occasionally look at a card when I'm in Las Vegas but with five kids in or preparing for college, all I can do is to "protect my principal at all costs." In fact - and we can save this for another day - I have already witnessed enough failure in life to gamble and now my DNA is wired such that my appreciation for value is hard to convey to those who have not experienced failure or who can't fully understand the reasons I no longer follow the speculative crowd.
Needless to say, the scared money concept was one of the most valuable lessons in my life. There's definitely a correlation between "scared money" and Mr. Market - or commonly referred to as the "crowd." Much of what set the legendary Ben Graham apart from others was his strong conviction that just because "the crowd" was pursuing a risky strategy, it should not suggest that such a strategy was less speculative than the facts indicate. Graham explained (in The Intelligent Investor):
You are neither right nor wrong because the crowd disagrees with you. You are right because the data and reasoning are right.
It all boils down to trusting yourself and arriving at your conclusions based on thorough analysis of the facts. Warren Buffett described his teacher and friend, Ben Graham as follows:
He was not swayed by what other people thought or how the world was feeling that day or anything of the sort.
Ignore the Crowd, Focus on Fundamentals
As I said, I'm not a gambler and I don't believe in market timing. As Graham said, "If an investor places his emphasis on timing, in the sense of forecasting, that person will end up as a speculator and with a speculator's financial results."
Realty Income (NYSE:O) is one of my favorite REITs. I have written quite a few articles on "The Monthly Dividend Company®" and over the course of the last few years the price of the shares has gone up and down. Here's what I mean: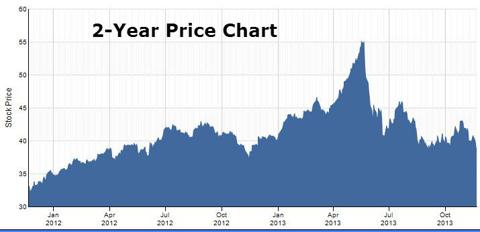 A few months back I started a position in Realty Income and although I was looking for an attractive entry price, I was also beginning to accumulate high-quality dividend stocks that I could own for the long term. I was not interested in scooping up shares on the cheap because I was ready to put money to work and begin building a nest egg for my family. Needless to say, price is important, however, I was looking to grow a sound portfolio of reliable income. My primary objective was to make sure that Realty Income was a reliable REIT that would not let me down in good times or bad. This chart (FASTGraph) below helped me determine that: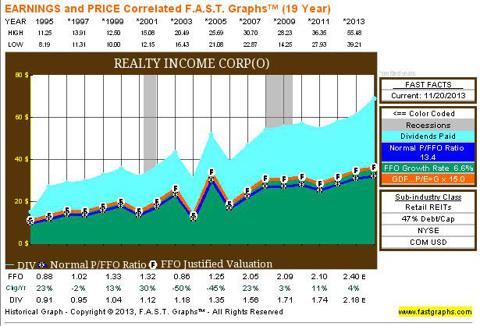 For those who use FASTGraphs, you will notice that I left the price line (the black line) off of the above chart. By doing so, I simply ignore Mr. Market and focus on earnings trends. I know that the price of the share are relevant; however, it's important to shut out "the crowd" first and build an intelligent analysis on fundamentals. Then I can decide…
Most know the history of Realty Income, but for those of you new to this stock, I will provide you with a brief summary: Founded in 1969 and listed in the NYSE in 1994, today the Triple Net REIT (owns single tenant assets) has 3,866 properties in 49 states and Puerto Rico. Here's a snapshot illustrating the broad diversification: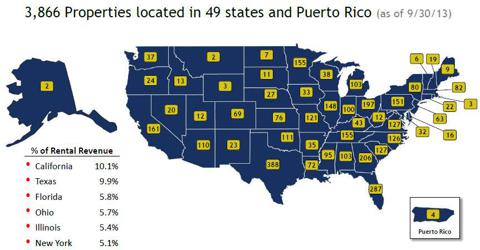 In addition to geographic diversification, Realty Income has a diverse property type allocation that includes retail (77.6%), Industrial & Distribution (11%), Office (6.3%), Agriculture (2.6%), and Manufacturing (2.5%).

As of Q3-13 Realty Income has 47 Industries: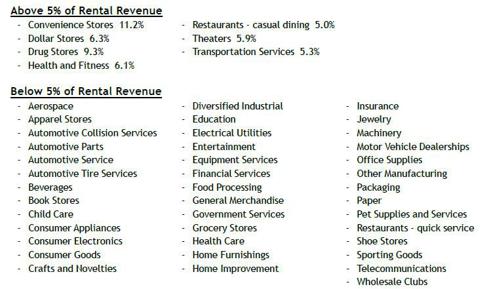 Here is snapshot of Realty Income's Largest Tenants: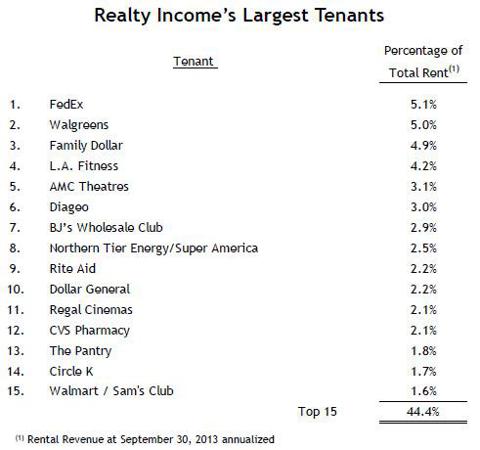 Excluding the acquisition in January (2013) of American Realty Capital Trust (NASDAQ:ARCT), Realty Income closed around $1.37 billion year-to-date (Q3-13) that consists of 404 properties.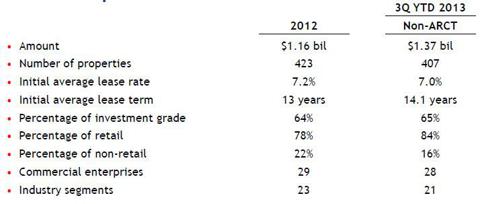 As noted, Realty Income acquired ARCT in January at a cost of $3.2 billion.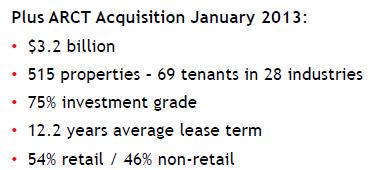 Realty Income's balance sheet is in excellent shape. The company has $4.15 billion in debt, $629 million in Preferred stock, and $8.9 billion in Common Stock. Debt metrics are solid: Debt Service Coverage is 3.5x. Fixed Charge Coverage is 2.9x. Dividend Payout Ratio is 89%. The company also has an investment grade balance sheet (BBB+ S&P).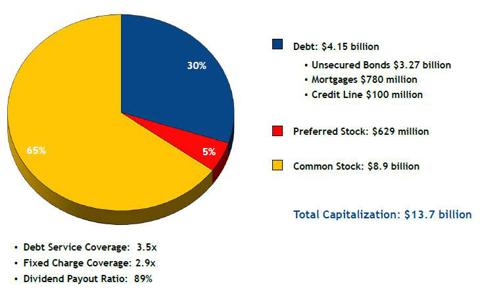 Realty Income's debt maturities are well-laddered: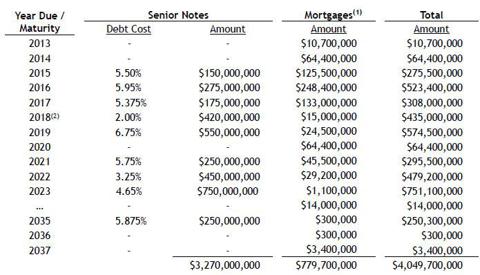 The company's occupancy rate has never dropped below 96% and the current occupancy is 98.1% (the highest since 2006).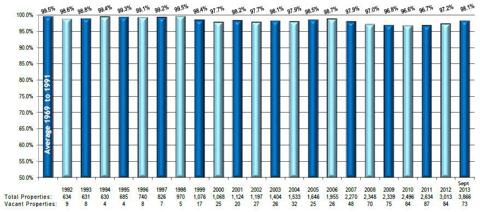 Realty Income generates around $805 million of recurring rental revenue and $50 million (a year) in free cash flow. As mentioned above, my decision to buy shares in Realty Income was primarily attributed to the sound fundamentals where the stalwart REIT has weathered multiple recessions and never cut a dividend. In fact, Realty Income has increased its dividend 73 times since 1994 - and every single year. The company has declared 519 consecutive monthly dividends.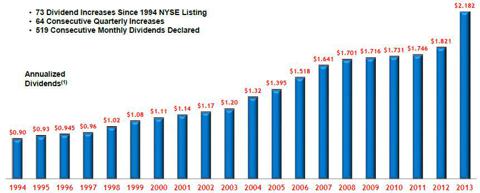 What Does Mr. Market Say?
Much like the phrase "scared money never wins," it's now time to take the emotion out of the investment decision. In other words, we have to rely first on the fundamentals and making our selection on sound valuation methodology. As Ben Graham explained, "You are neither right nor wrong because the crowd disagrees with you. You are right because the data and reasoning are right."
Realty Income should generate Funds from Operations (or FFO) of between $2.38 and $2.42 a share in 2013 - or 18% to 20%. In addition, the company has guided FFO per share of $2.53 to $2.58 per share in 2014 (5% to 8% growth).
Before discussing value, let me remind you of an article that I wrote back in April. Just a few weeks before Mr. Market delivered a low blow to Realty Income shares (on May 22nd), I wrote:
Realty Income's P/FFO multiple is 21.3x making the shares moderately expensive based upon the value of the company's cash distributions - or Funds from Operations - the standard metric for distributing to shareholders. It's clear that Realty Income delivers highly attractive earnings in the form of solid and consistent Funds from Operations (or FFO) and based on the highly predictable and consistent FFO growth, Mr. Market has placed a rather high multiple on the shares.
So as investors were backing up the truck for income, Realty Income was "soaring to climb to such a high altitude (in price) that it may need to catch its breath." Guess what, Realty Income had the wind knocked out of its sails, literally. This chart below sums up the beating: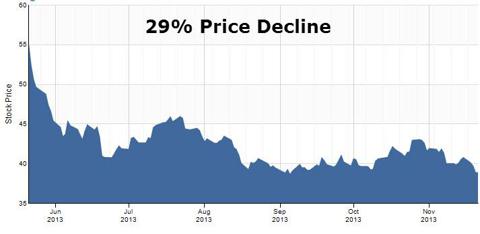 Now let's take a look at the FASTGraph that includes the price line (in black). As you can see that the shares have returned to fair value.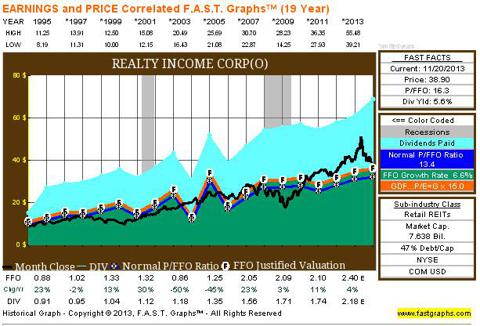 Zooming in, we can see that Realty Income is trading at $38.90 a share with a P/FFO multiple of 16.3x, giving investors an opportunity to "make hay while the sun is shining." I'm continuing to dollar cost average my shares. This concept of making equal purchases spread out over a longer period should prevent me from overpaying and help bring my investment to actual market levels.
Arguably, Realty Income is not a "blue ship on sale"; however, I'm not going to be swayed what by Mr. Market is telling me. In fact, it only stands to reason that Mr. Market is somewhat confused in labeling Realty Income as a bond when in fact the company is growing at a steady 5% annual clip. In other words, I like the cards he is dealing me and hope they keep coming my way.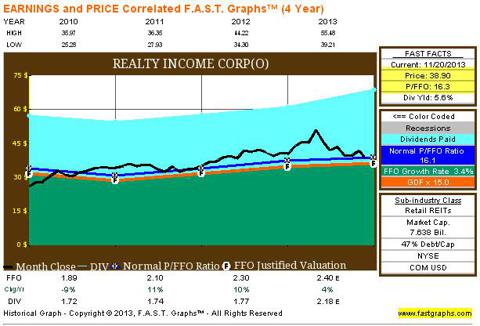 As we all know, the Graham disciple waits patiently for the storm to subside, knowing that a sunnier and more plentiful time is bound, as a law of nature, to resume in due course. It's time to ignore the threat of storms (rising interest rates) and focus on the sunny day.
At $38.90 a share, Realty Income brings a warm feeling - a margin of safety - that enables me to "sleep well at night" and wake up each and every day knowing that I'm building a large pile of free chips. You see, the most powerful force on the planet is called compounding and unlike the casinos in Vegas that give you free drinks, I have a more powerful potion - better than "scared many never wins" - that's called a "free share machine." I let my shares go to work each and every day and I sit back and watch the chips pile up…no fear here because scared money never wins.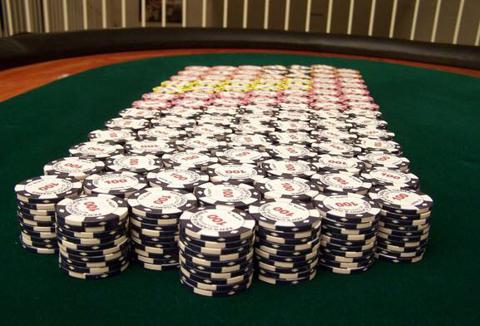 Check out my monthly newsletter, The Intelligent REIT Investor and my NEW 3D portfolio (coming in December).
Source: SNL Financial, FAST Graphs, and Realty Income November 2013 Investor Presentation.
Disclaimer: This article is intended to provide information to interested parties. As I have no knowledge of individual investor circumstances, goals, and/or portfolio concentration or diversification, readers are expected to complete their own due diligence before purchasing any stocks mentioned or recommended.
Disclosure: I am long O, ARCP, GPT, CSG, ROIC, STAG, CBL, VTR, HTA, UMH, DLR. I wrote this article myself, and it expresses my own opinions. I am not receiving compensation for it (other than from Seeking Alpha). I have no business relationship with any company whose stock is mentioned in this article.