There are basically three ways to position your investment assets. You can loan the money, use it to own something or hold it in reserve.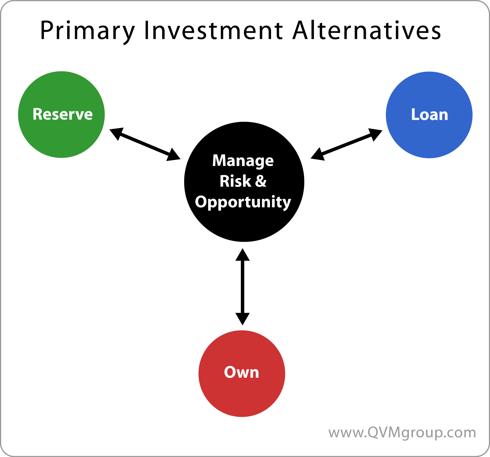 The Loaning, Owning or Reserving choice is the most critical choice you will make. It will probably have more impact on your overall results than the more granular allocations that you will make within these super-categories.
While there are different forms of loaning, bonds are the predominant loaning vehicles in most portfolios. Owning can include a variety of assets, but is predominantly through stocks in most portfolios.
Because of the sudden recent negative stock market action, our view is that we may be entering a period that is more than merely a pause that refreshes.
For those investors who cannot afford to see their portfolio experience significant value declines in the short-term to intermediate-term, such as those drawing on their portfolios to support lifestyle, we think a shift to a higher reserves and higher bonds allocation and toward lower stocks allocation would be prudent.
Investors who are not currently drawing, or soon to draw, on their portfolio; an off-calendar event driven rebalancing action by selling bonds to buy more stocks to restore target weights may be appropriate.
Money Flows
Looking at mutual funds to gauge money flows, there was a shift of $233.8 billion out of stock funds and $637.1 billion into money market funds through December in 2008, with a more modest $27.1 billion shift into bond funds. In 2009 through December, the outflow from stock funds was a much reduced $8.8 billion, while money market funds experienced a large $536.7 billion outflow and bond funds took in a net $374.6 billion.
One risk of increasing bond weights is being on the same side of the boat with everybody else, which can tip a boat over. If rates begin to rise, bond prices will decline. On the other hand, stocks are declining now.
The full 1.4MB 14 page PDF report discussing current stock and bond market conditions is available here.
Holdings Disclosure:
As of January 31, 2010, we have positions in BND and SPY in some managed accounts. We do not have positions in any other securities discussed in this document in any managed account.
Disclaimer:
Opinions expressed in this material and our disclosed positions are as of January 31, 2010. Our opinions and positions may change as subsequent conditions vary. We are a fee-only investment advisor, and are compensated only by our clients. We do not sell securities, and do not receive any form of revenue or incentive from any source other than directly from clients. We are not affiliated with any securities dealer, any fund, any fund sponsor or any company issuer of any security. All of our published material is for informational purposes only, and is not personal investment advice to any specific person for any particular purpose. We utilize information sources that we believe to be reliable, but do not warrant the accuracy of those sources or our analysis. Past performance is no guarantee of future performance, and there is no guarantee that any forecast will come to pass. Do not rely solely on this material when making an investment decision. Other factors may be important too. Investment involves risks of loss of capital. Consider seeking professional advice before implementing your portfolio ideas.