A member among Washington Mutual's (WAMUQ.PK) spurned retail investors used court room recordings, subpoenaed documentation, and the right of free speech to continue their fight against unjust corporate enrichment and improper government action.
Whereas Thomas Paine used a pamphlet in 1776 to challenge the authority of the British government, an individual named "WaMuQd" has turned to the power of the internet to publish his own take on the reality of Washington Mutual's seizure in September of 2008. In the ten minute video the author summarizes the plight of the shareholders as,
… not the story of a failed bank… [but] of people who lost everything and fought back.
According to the video,
After months of research we put together the WaMu Story which pieced together exactly what happened and showcased what we believe to be collusion between executives at JP Morgan Chase (NYSE:JPM) and key individuals in prominent roles of government agencies including the FDIC.…
It further states that, "… [JP Morgan] specifically plotted to wipe out the shareholders as part of its efforts of a government deal…."
The allegation is supported by an internal e-mail between Tim Main of JP Morgan's (JPM) Financial Institutions & Governments team and Charlie Scharf, CEO of Retail Financial Services at JP Morgan. The message indicates that as early as March 30th, 2008 JP Morgan was in talks with government agencies as to how to close the bank. The e-mail is simply subject lined as "Re: West". Project West was the name JP Morgan dubbed Washington Mutual, according to internal PowerPoint presentations that were uncovered via court subpoena.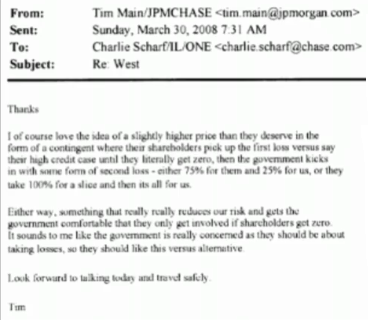 There is reason to believe that acquisition plans were in motion prior to that. A former JP Morgan employee who asked only to be named as "Terry" writes that JP Morgan's purchase plans for WaMu began as early as 2005.
I left JPM as an employee in 2007. In 2005 we already knew we were going to buy WaMu. I was told personally from [an assistant vice president] of the bank about the purchase. I'm sure this seizure was not on the up and up. Many of JPM business practices are legal but not ethical or moral, which led to my decision to leave the company after almost a decade.
The YouTube video is yet another stone thrown in what is quickly becoming a very bitter and personal chapter eleven bankruptcy. While most companies in bankruptcy quietly pass away, on Thursday a Delaware courtroom went into overflow as shareholders packed the seats in order to visibly display their resolve against attempts to disband and mute their efforts against JP Morgan and the FDIC.
"Everyone is fighting so hard to keep [the equity] down," stated Gregory A. Cross of Venable LLP, counsel to Washington Mutual's equity committee, at the hearing of whether or not to disband the group. He continued with, "The process is as important as the ultimate outcome of the case…" and that "…the integrity of the bankruptcy process rests in large measure to the committee structure [and] no outcome has any validity [if equity is ignored]."
After hearing over an hour of argumentation judge Mary F. Walrath ruled that the equity committee would stand.
This would not be the first time that an individual has waged war on corporate banking via YouTube. A month ago an independent website named MoveYourMoney.info published an emotional video that utilized parts from "It's A Wonderful Life" to encourage Americans to move their money from large corporations such as Bank of America (NYSE:BAC), Citibank (NYSE:C), and JP Morgan Chase into local community banks and credit unions. The video has done as well as Paine's Common Sense massing over 440,000 views since publication.
"The internet must remain a vestige of free speech, regardless of how this plays out in the end," states the WaMu video. It has received approximately 1,500 views in its first five hours of being posted.
YouTube is owned by Google (NASDAQ:GOOG) who acquired the company for $1.65 billion in 2006.
Disclosure: Author holds a long position in WAMUQ.PK