This is my maiden contribution to Seeking Alpha and I hope the thoughts I am about to share about the lessons learnt from my investment in AMRN helps fellow investors form their view about Amarin Corp (NASDAQ:AMRN).
I joined the bandwagon knowing close to nothing about EPAs and really invested in the excitement just after the FDA approved VASCEPA and bought in the hope (back then) that we would get NCE approval. I started to accumulate shares in AMRN after buying into the NCE approval, then subsequently script growth as the price went tanking, and eventually into the hope for the expanded label indication at the end of the year. All this time, the CEO Joseph Zakrzewski ("JZ") had been exercising his options in the company.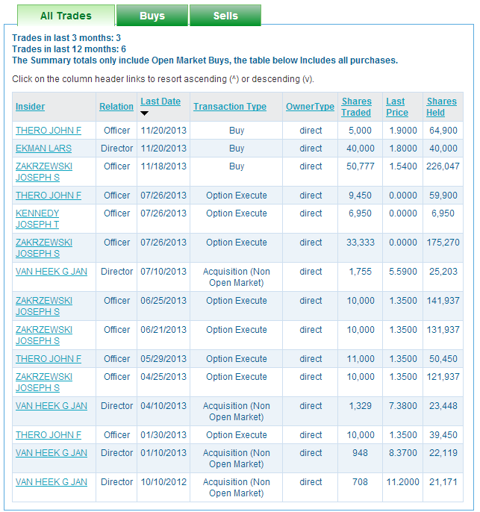 Source: http://www.nasdaq.com/symbol/amrn/insider-trades
Out of a lack of choice now that I am vested for better or worse in Amarin, I am taking a closer look to see where we go from here in terms of operations. For the purposes of this opinion piece, I would try to limit the speculative event-driven elements like whether FDA will ultimately approve the label expansion at year-end, and try to stay on the conservative track.
Up until recently, there has been nothing but frustration for the Long AMRN investor. The President, CEO and Dr Lars Ekman (a Director) have in the past week, accumulated shares of AMRN.
Background
A profile of the company can be found here. Essentially, Amarin Corporation markets Vascepa, a highly purified formulation of ethyl eicosapentaenoic acid (EPA).
Seeking Alpha contributor Black Gold has a descriptive background and context of the events that have led to AMRN steep stock price decline from a 52-week high of $12.90 to just under $2 which it now trades. Black Gold's article "The Red Flags And Resulting Lessons From The Fall Of Amarin" and numerous other articles on Seeking Alpha touches on the event driven risks and rewards that attract many to investing in pharmaceuticals. I would like to offer another perspective to help other investors form their view about AMRN, by analyzing the operations of their current core product and business, marketing and selling Vascepa pills.
The Amarin script
Scripts started off well and SA contributors like Quoth the Raven made some informed trade decisions leading up to the Adcom based on the growth in scripts.
Amarin in its recent Q3 2013 earnings call maintained this growth trend; Feb-Mar TRxs was 10,500, Q2 47,300 and Q3 74,500. QoQ growth was 57.5% which is strong, and another 3 main points to note coming from the reported results.
1. $8.4 million revenue was recognized in Q3 and YTD revenue was 16.2m. I took an average of 8.4m/74,500 and 7.8m/57,800 and I was surprised that average selling price per TRx was $112.75 in Q3 and $134.95 for the previous 5 months. This is a 16.45% decrease.
2. Gross profit margins is trending higher with economies of scale, and continues to trend upwards. Q1 45%, Q2, 48% and Q3 56% of net revenues. This is a healthy trend and the company expects steady state to be in the 79% to 80% range.
Just looking at the ASP decrease and the improving GPM, I am looking at a GP of $4.7 million in Q3 compared to $2.7 million in Q2. This still is (% terms) a respectable 74% improvement in Gross Profit.
3. Physician count based on the latest update was 13,000, company is targeting about 25,000 physicians (note in Q2, JZ estimated a 30,000 physician pool, I take this as a sign of management being less bullish but shall not speculate more). in Q2 over 9,000 physicians/clinicians was reported. This too, represents significant growth of 44%.
All in, in terms of script growth up to end September, we are seeing growth in the top-line despite discounting (perhaps to entice new adopters). This discounting in the long term may turn out to be even better for investors as prices creep back up to the USD150-200 I had been expecting through various representations by JZ and management early on.
Managing Costs
I will not discuss the overhang in terms of the interest costs for now, but focus more on the positives. SG&A is one of the key figures I will be looking at closely given the low cash position that we have. In Q3, SG&A was $28.3 million compared to $34.0 million in Q2. That is an improvement QoQ of 17% which is decent.
Further, management expects the full year net cash outflow from operations to be 80m. While I have reservations (given management's past representations about being positive on various events like NCE, buyout-turned-partnership, bullishness over the label expansion...) that this can be achieved, I also do not fully agree that cutting the sales force is a good move when educating the market right now is crucial in keeping the company afloat.
Critically, what does $80 million a year mean to me? It does not quite make sense at this point. Without explaining where this $80 million comes from, I am hard pressed to understand where the bulk of the reduced cash burn is coming from. Just a note, in Q3 cash outflow for the period was $44.9 million and Q2 was 52.8, and the full nine months was 157m!
So just where exactly is JZ and company leading us to?
The answer lies in having a low enough burn while being able to sustain REDUCE-IT and be able to launch a well-protected label expanded product in the near future. Just how much time do we have and do I necessary buy management's proposals? Here's what I think.
Recent Script Growth
Courtesy of TakeVascepa.com which stores weekly TRx data, we are able to clearly see a lack of growth in TRx both new and refills in the past weeks. No point stating figures, clearly, it is flat! Worse, over the same 6-week period, refills actually increased from 3,078 in Oct 4 to 3,411 in Nov 9.
Weekly Scripts:
Nov 9 TRx 6,276
Nov 2 TRx 6,234
Oct 25 TRx 6,208
Oct 18 TRx 6,239
Oct 11 TRx 6,215
Oct 4 TRx 6,255
I am already beginning to question the decision to lay off half the sales team.
Cash Burn or Break-even?
Let's give management the benefit of doubt and assume they are able to keep burn rate down to $80 million for the year. Here are some further assumptions:
1. ASP of 113
2. Gross margin of 70% (I'm taking 10% off what management expects)
3. 15% under reporting on current weekly TRx data of 6,300 which is about 7,400
The annual gross profit would be $30.4 million (70% of 113 x 52 weeks x 7,400) so AMRN burns cash at around $50 million a year (it has $226 million of cash as at 30 Sep and lots more in debt). Which to me raises a going concern risk.
I am guessing, and it is indeed a guess, that we are in a good position if AMRN becomes self-sustainable on current Vascepa sales while they continue efforts on R&D. For that to happen, keeping my assumptions in place, weekly scripts would have to be about 19,500.
And this is the crux of my article. I would be looking keenly every quarter going forward and checking up on management to see if they are keeping costs low as they have planned, and tracking the scripts growth.
We are talking about tripling TRx over the next year or so, and over the past 6 weeks, there is nothing to really get me excited about. However, this may all change with more Tier 2 conversions and upside considerations include any changes in the above assumptions and the big events like obtaining NCE or FDA approval (however remote).
Note: interestingly, Citi has a BUY on a $2.50 price target and assumes next year revenues to be $265 million (per my assumptions that makes it 45,000 weekly TRx). Source: TakeVascepa.com
Investment Thesis
For patient investors who are able to wait out for the label expansion (Anchor indication or REDUCE-IT) to be approved (likely to be in 2016), there is a tremendous upside potential if AMRN can manage cash, sustain the past quarters growth momentum and at the same time complete the REDUCE-IT trial.
Reward
The potential size of the US market is estimated to be huge, at 36 million population, for the Anchor indication while the Marine indication is 3.8 million. Lovaza which currently competes with Vascepa, has sales of $250 million in the last quarter alone.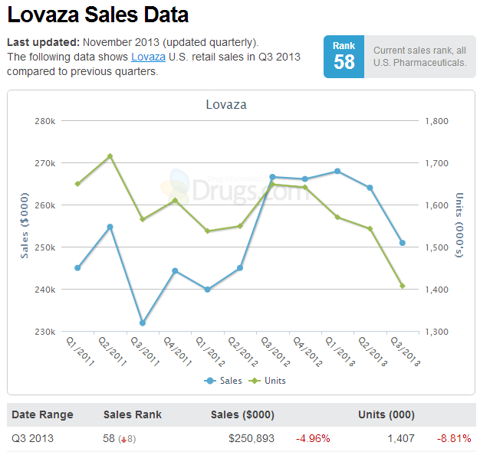 Source: http://www.drugs.com/stats/lovaza
Using the same assumptions as above, I estimate revenues for Anchor-expanded Vascepa to potentially hit about $6 billion per year (I multiplied Lovaza unit sales ten-fold at an average selling price of $113). To put things in perspective, this revenue estimate is over 20% of GSK and AZN's 2012 revenues.
With gross profit margin at 70%, gross profits would be a whopping $4.2 billion. I have a rough estimation that with about 30% of revenues for SG&A and other operating expenses, we have a net profit range of above $2 billion. AMRN has a market capitalization of over $300 million at present.
Risks
The biggest risk for me right now is the flattish growth in scripts. If AMRN faces significant issues with cash flow, the REDUCE-IT trial may have to discontinue. The next would be the risk of poor results from the trial, thereby limiting the label expansion.
I boldly assume that Vascepa under the present Marine indication, would come under severe pressure from generic Lovaza in 2015, which makes AMRN's success in the REDUCE-IT trial crucial to making the company a blockbuster.
Conclusion
For medium-term investors (2-3 years) I suggest looking to accumulate based on any indication of a pick up in sales of Vascepa.
Assuming we reach stable TRx sales of 20,000 per week, I will venture a risk-weighted bet that in a year or two from that point, the company would be in a stable financial position to carry on with Anchor. Any signs of margin and selling price improvement would further boost my confidence in AMRN as well.
Disclosure: I am long AMRN. I wrote this article myself, and it expresses my own opinions. I am not receiving compensation for it (other than from Seeking Alpha). I have no business relationship with any company whose stock is mentioned in this article.