Exchange Income Corporation [(OTCPK:EIFZF) (EIF.TO)] ("EIC" or "the company") is a diversified Canadian holding company focused in two niche markets, aviation and specialty manufacturing. Please note that trading of EIF.TO on the Toronto Stock Exchange is substantially more liquid.
On the aviation side of the house, EIC owns a collection of regional and charter airlines serving primarily small communities in the north of Canada, and recently acquired Regional One for $80 million, which is a distributor of regional aircraft, engines and parts. It is the largest acquisition to date for EIC, and is strategic in that Regional One acts as a hedge for rising maintenance and repair costs for the aircraft owned by EIC's airline subsidiaries.
The specialty manufacturing segment is comprised of makers of storage tanks for a variety of industries such as oil/gas, chemicals and utilities. Most importantly, the manufacturing segment includes WesTower, which is a designer, manufacturer and installer of wireless communication towers for telco clients in North America.
EIC shares recently suffered a large price correction due, in part, to an unfortunate airline crash at one of its regional airline holdings, Bearskin Airlines (for which the company is adequately insured), but mostly due to operational setbacks WesTower. WesTower is experiencing rapid growth, having enjoyed 400% revenue expansion since EIC acquired it in 2011. 2013 full-year revenue is expected to be around $500 million.
Rather than being a business in decline, EIC (through WesTower) is experiencing growing pains while managing rapid expansion, particularly with respect to a 3-year deal that was signed and recently extended with AT&T (NYSE:T).
In the most recent quarterly letter, management wrote:
The extreme growth at WesTower US has led to increased expenses and unacceptably low profit margins. This in turn has caused profits and cash flow results for the Company as a whole that are in line with the guidance given in our October 7 News Release but in no way do they meet the expectations of our Board, management team or most importantly our shareholders. While we are disappointed with the results of this quarter, we are not discouraged. The challenges we face at WesTower US are attributable to managing explosive revenue growth rather than declining demand. By the end of 2013, sales in WesTower US will have reached approximately 400% of the level they were at when we purchased the company or approximately $500 million. The change in the scope of WesTower's operation presents opportunities over the longer term despite the short-term challenges we face digesting the rapid growth.
The recent share price decline appears largely driven by a short-term earnings miss, landing EIC shares in bargain territory and making the risk/reward profile in owning these shares favorable as management focuses on operational execution.
[Note: Investors interested in EIC, should consider the shares that trade in Toronto for better volume.]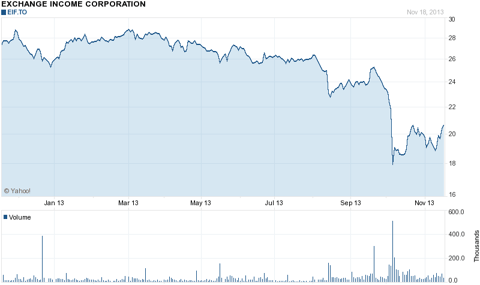 The Business
The EIC's cornerstone strategy is through disciplined acquisitions, generally in line with its core competencies in aviation and niche manufacturing. To that end, EIC has made a number of recent purchases, with WesTower in 2011 and Regional One in 2013 being the most recent and transformative acquisitions for EIC.
Management also stated its goal is never paying more than 5x TTM EBITDA for its acquisitions, and typically targets businesses in its 'circle of competence' with strong cash flows that are too small for the public market. Accordingly, EIC management has a history of prudent capital allocation and accretive transactions since going public in 2004.
Recently, EIC has grown rapidly as a result of the WesTower acquisition and other organic growth. The holding company will likely reach $1 billion in sales this year, a quadruple from $244 million just 3 years ago.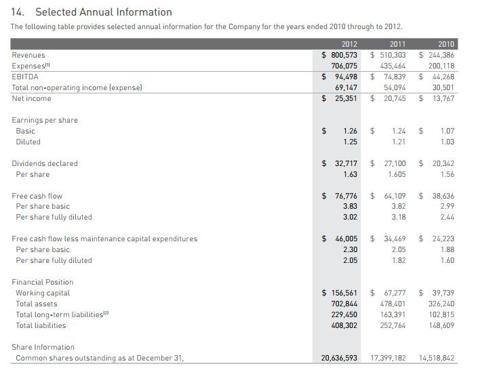 Because of the rapid growth at WesTower, there have been some operational setbacks as the business scales, and profits haven't kept pace with revenue growth (and which appears largely responsible for the recent price decline). I think those issues will correct over time, and I estimate the sustainable operating margin potential for WesTower is likely in the 10% range, well above the current run rate which was decremented by external advisory costs and temporary inefficiencies in staffing and procurement for its engagements.
As indicated above, management also recently closed a transaction to acquire Regional One for $80 million, EIC's largest acquisition ever. It looks like a good strategic fit for its aviation business, allowing EIC to vertically-integrate through Regional One's aircraft parts business and provides a hedge against increasing maintenance costs at the other subsidiaries.
As such, aside from last quarter's earnings miss, there are a lot of things to be bullish about EIC over the long-term: rapid growth at certain of its subsidiaries, diversification of its operating businesses, prudent capital allocators at the management level and a conservatively managed balance sheet.
Valuation
To estimate fair value for EIC shares, I think the appropriate way to assess underlying value is by analyzing each segment separately. However, I am mindful that there are number of recent transactions that make modeling the future state of this holding company difficult given the lack of reported results for recently acquired businesses.
With that caveat in mind, with respect to the aviation business, I assumed margins will remain steady given the consistent operating margins reported over the last couple of years. However, the Regional One business likely has a different margin profile than the commercial aviation businesses, so the model will need to be updated as the company releases more data regarding Regional One. Turning to the manufacturing segment, I assumed margins trend upward over the next couple of years, and normalize at around 10% in a steady state, mature phase for WesTower.
From a revenue growth perspective, I assumed the 10% revenue growth in the aviation segment (likely conservative given Regional One is growing at a 25% CAGR) and declining growth in the manufacturing segment from the high-teens to 10% as the WesTower business matures. Under each segment, I assumed a 3% terminal growth rate.
Using those assumptions and backing out holding company level debt and convertible debentures, my model indicates fair value for the equity to be in the $28 to $30 neighborhood.
Dividends
In addition to the potential for price appreciation, investors are paid to wait. Coincident with the recent price correction, EIC shares currently yield 8%. For income-oriented investors, the dividend history is long, steady and growing. While the setbacks at WesTower recently will bring the payout ratio to (temporary) high levels, I think the dividend is sustainable.
Management reiterated in its recent quarterly letter:
We have a 10 year track record of reliable performance and dividend growth. We pride ourselves that our dividend has been increased seven times over this period by a total of 56%. At no point has our dividend ever been suspended or reduced, and no such action is being contemplated as a result of the third quarter results. While the third quarter has been challenging as we make changes to better manage the growth achieved at WesTower, we are very excited about the future. It will take several quarters to return the margins at WesTower US to acceptable levels, but we have begun the process and look forward to seeing the results of these investments in people and processes in 2014.
If, however, management did determine that the dividend needed to be cut as a result of growing investment in WesTower, I expect that event would be a significant negative catalyst. Given management addressed the issue candidly in the investor letter and the fact that the EIC is comprised of numerous diversified and cash generative businesses, I think the likelihood of a dividend cut is diminished.
Risks
The main risk in owning EIC shares, in my view, is execution risk of managing significant growth, especially with respect to WesTower. Recently, WesTower CEO Mike Jarvis recently announced his retirement (but which was expected), and EIC named Steven Pickett the new CEO. I understand Mr. Pickett has a demonstrated track record of management experience at a number of telecommunications companies, and connections to diversify WesTower's revenue base.
Investors should watch the evolution of the operating margin in the manufacturing segment to assess the progress being made by management. I understand some non-recurring management consulting fees also put a drag on operating margins in the last few quarters, as WesTower sought to put the information systems in place to manage growth.
Given EIC's history of prudent allocation of capital, accretive transactions and leaving competent management in place to run the businesses, provides an indication of risk mitigation from a capital allocation and execution perspective. Finally, risk at the holding company level is mitigated by diversification of the operating businesses.
Conclusion
The market's short-term focus on profitability discounts too much the future potential of EIC's collection of businesses. In my view, many of the businesses contain sustainable business models in smaller, more remote markets, where competition from large competitors is also remote. While I don't particularly like the aviation business, management has a history of operating them profitably and the strategic Regional One acquisition should help negate the impact of costly aircraft maintenance and repair costs by driving those sales to Regional One.
As such, I think the recent sell-off was overdone and I'm looking for a $28 stock quote over the next 12 months, providing total return potential of around 30-40% (30% capital appreciation and 8% in dividends) as the market re-rates the earnings power and cash generation abilities of EIC. Downside risk should be mitigated as execution risk of managing the rapid growth at WesTower is reduced.
For investors with a long-term orientation, an affinity for dividends and an opportunistic approach to investing, EIC looks like a buy here with plenty of tarmac to run.
Disclosure: I have no positions in any stocks mentioned, but may initiate a long position in OTCPK:EIFZF over the next 72 hours. I wrote this article myself, and it expresses my own opinions. I am not receiving compensation for it (other than from Seeking Alpha). I have no business relationship with any company whose stock is mentioned in this article.