The debate over the past few years about Herbalife (NYSE:HLF) has been fascinating to watch but the most interesting part is how activist investor Bill Ackman continues to pound the table on it, though he has lost a considerable amount of money shorting it. Last month Mr. Ackman told MBA students at Oxford's Saïd Business School that the company would eventually close and go to $0 in market value, calling it a pyramid scheme. In his presentation, Ackman said, "I'll make a prediction. This business will be shut down. This business will collapse. I can't give you the precise date, but we will have made progress in that direction within 12 months. That's my prediction for today."
Given the controversial nature of this whole debate, I decided to crunch the numbers and see how the company holds up against a stringent free cash flow analysis.
This analysis will use the following six free cash flow ratios:
CapFlow
FROIC
Price to Mycroft Free Cash Flow
Mycroft/Michaelis Growth Rate
Free Cash Flow Payout Ratio
Free Cash Flow Reinvestment Rate
Those new to this analysis can find an introduction by going here that will explain in detail how each of these ratios is calculated. When used together, these unique ratios will generate a quantitative picture of a company's underlying fundamentals, including strengths and weaknesses.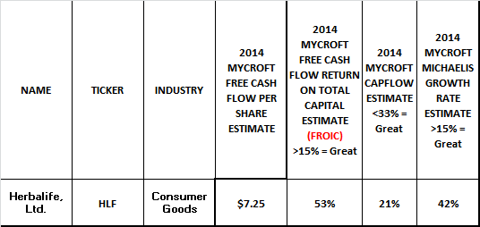 The "2014 Mycroft Free Cash Flow Per Share" estimate in the table above was generated by taking the trailing twelve months (NYSE:TTM) free cash flow result for Herbalife and then adding my Mycroft Michaelis Growth Rate into the equation in order to generate forward looking estimates for 2014. That growth rate is generated by using my FROIC ratio (Free Cash Flow Return on Invested Capital). Basically FROIC tells us how efficient operations are as it zeros in on how much free cash flow is generated for every $1 of total capital employed. Herbalife has a FROIC of 53%, which means that for every $100 of invested capital, they generate $53 in free cash flow. Now my Mycroft/Michaelis Ratio takes that 53% and multiplies it by the firm's free cash flow reinvestment rate. The reinvestment rate that I use is a free cash flow reinvestment rate instead of the standard one used by analysts that simply use net income:
Free Cash Flow Reinvestment Rate = 100% - (Free Cash Flow Payout Ratio).

Or;

Free Cash Flow Reinvestment Rate = 100% - (Total Dividend/Total Free Cash Flow).
By replacing net income in the payout and reinvestment ratios with free cash flow, I am thus able to make my analysis more precise by incorporating capital spending (Cap Ex) into the equation.
Therefore from this we can determine that Herbalife has a reinvestment rate of 77% and went on to use 23% of its free cash flow to pay out its dividend. Thus by taking 53% (FROIC) x 77% = 40.81%. From there we add the dividend yield of 1.7% and we have a Mycroft/Michaelis growth rate of 40.81% + 1.7% = 42.51% (rounded off to 43%).
Herbalife's Mycroft Free Cash Flow per share of $7.25 was generated by taking its TTM free cash flow per share and multiplying it by (100% + 43% or 1.43). Once we have our result, we then take its current market price of $70.24 and divide it by $7.25 and get a Price to Mycroft Free Cash Flow result of 9.69. I consider a Price to Mycroft Free Cash Flow per share result of less than 15 to be good for purchase, and anything under 7.5 to be excellent.

The higher you go above 15, the more overvalued a company becomes. I use a Price to Mycroft Free Cash Flow per share result of 22.5 as my sell price, and 45 as my short price.
An appropriately priced stock should trade around a Price to Mycroft Free Cash Flow per share result of 15. This benchmark result was determined by backtesting.
Buy (opinion) = A Price to Mycroft Free Cash Flow per share result of less than 7.5 is considered excellent (50% below the initial Hold level), and anything under 15 is attractive.
The result I give as my Buy opinion in the table above uses a Price to Mycroft Free Cash Flow per share result of 7.5.
Hold (opinion) = 15 to 22.5 (I use 15 in the table).
Sell (opinion) = 22.5 or higher (50% above the initial Hold level). (I use 22.5 in the table).
Short (opinion) = 45 or greater. The Price to Mycroft Free Cash Flow per share result of 45 was determined by going back to the peak of the market (in the year 2000) and averaging the Price to Free Cash Flow per share results for the key players at that time. (I use 45 in the table).
Herbalife with a Price to Mycroft Free Cash Flow number of 9.69 is very attractive right now.
The CapFlow ratio result that you see in our first table above is an original ratio I created in order to tell me how much Capital Spending is used as a percentage of Cash Flow. A result of less than 33% is considered ideal and with Herbalife coming in at just 21%, means that 79% of the company's cash flow is actually free cash flow and can be used to buy back stock, which I am a big fan of.
In conclusion, I am very impressed with how Herbalife easily passed our free cash flow examination and could find no evidence at all to justify any concerns about its financials. If you look at Seeking Alpha's Market Currents section, its seems that I am not the only one who thinks so.
Herbalife extends gains on more LBO chatter

Herbalife (HLF +6.7%) - which was already in rally mode on news Bill Stiritz has upped his stake and changed his 13G to a 13D - looks to be getting an extra boost from Charlie Gasparino, who says Temasek may "play a role" with the Post Holdings chief in a possible LBO for the embattled nutrition shake maker.

Gasparino cites "chatter" and says there's "no confirmation."

Herbalife +4.7% as Stiritz boosts stake

Ahead of Bill Ackman's latest salvo (coming Friday) against Herbalife (HLF+4.7%), the stock has its tail in the air after Bill Stiritz discloses upping his stake to 6.4% from 5% and changing his filing status to 13D from 13G, indicating an "activist" role.

Stiritz "plans to interact with (Herbalife) management to offer them, for their consideration, his views, advice and counsel for ways of promoting and furthering the company's shareholder interests," says the filing.
Disclosure: I have no positions in any stocks mentioned, and no plans to initiate any positions within the next 72 hours. I wrote this article myself, and it expresses my own opinions. I am not receiving compensation for it (other than from Seeking Alpha). I have no business relationship with any company whose stock is mentioned in this article.