Amazon (NASDAQ:AMZN) has had a great run over the last month, rising 18% from $310 to $366 since my first article on Amazon was published.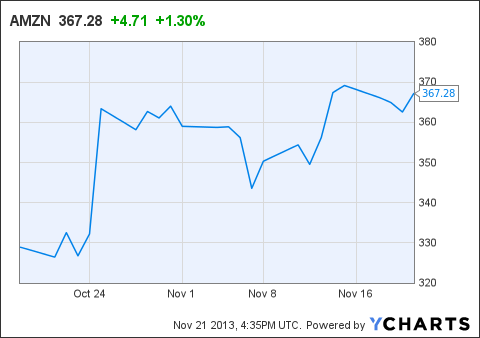 In that article I suggested Amazon's stock was worth at least $450, so do I still recommend buying into Amazon?
Well no. Not much has changed fundamentally since then but I have decided to revise my price target and buy recommendation for Amazon. This is because of two reasons. Firstly I want to change my valuation for Amazon, as my first one used rather sloppy analysis. The second reason is there has been a pretty sizable change in sentiment on Amazon, which makes being bullish on Amazon even more dangerous.
Valuation
In that previous article, I suggested it's helpful to think of Amazon as being made up of the following four pieces:
· Amazon Classic, which is Amazon's own products sold directly to the customer.
· An eBay (NASDAQ:EBAY) like third party marketplace platform for the sale of physical goods.
· An ecosystem play, similar to iTunes and Netflix (NASDAQ:NFLX), for the sale of content and apps.
· AWS and Amazon's embryonic ad exchange network.
I valued each of these pieces either directly, using my own estimates or other analysts' valuations; or by applying a multiple to how much profit one of these pieces could make if Amazon were to try and maximise earnings and growth, not just growth.
Consider Amazon's third party (3P) marketplace. This has the around the same gross merchandise value (GMV) as eBay (ex autos) - $68 billion. Previously, I said that eBay along with PayPal extracts nearly 5% margins from that turnover. To be more precise, eBay's profit is $2.7 billion on $65 billion in turnover, which is 4.2%. Unhappily for me, I assumed that since 90% of PayPal's users came from eBay that one could assume most of PayPal's revenue and profit also came from eBay.
However, only $50 billion of PayPal's $150 billion transaction revenues comes from eBay itself, the rest comes from other websites that have much higher transaction volume than the average eBay seller. So of PayPal's total $5.5 billion in revenue $3.6 billion comes outside of eBay. Given PayPal has operating margins of 20%, $700 million of operating profit is generated from that. eBay's tax rate is 15%, so $600 million net income comes from outside eBay's marketplace.
Taking that new information into account, eBay and PayPal only earn $2.1 billion net income from eBay's marketplace itself or 3.2% margin. This in turn means instead of being able to earn $3 billion as I suggested before, Amazon's third party marketplace will only be able to make $2.1 billion in profit.
This has a knock on effect on my estimate for how much profit Amazon Classic can generate. Amazon Classic is estimated to have the same gross merchandise value as its third party marketplace and I assumed that its earnings generating power should be the same as Amazon's third party marketplace. So I am required to reduce my potential earnings estimate for it from $3 billion to $2.1 billion as well.
Now is 3.2% an achievable margin for Amazon Classic? A 3.2% margin isn't too high - Wal-Mart (NYSE:WMT) has a 3.6% margin for example. Also, around 20% of Amazon Classic's revenue is media sales: books, DVD's,and video games that should yield quite decent margins.
In total that means Amazon can only generate $4.2 billion in net income from its physical goods selling platforms. Before I used a 25X multiple, I still think that's a reasonable multiple given that Amazon is increasing its GMV by around 25 -30% per year. That results in a $105 billion valuation for those two pieces.
AWS and Kindle
The rest of my valuation came from AWS and Amazon's content ecosystem. My $25 billion valuation of AWS came from an analyst while I estimated the same number for Amazon's content ecosystem and ad exchange. Has that changed at all?
My valuation for those two pieces remains the same. I did express some skepticism of AWS' valuation before based on what I considered the commodity nature of cloud computing, but since then I've learned that AWS operates its own marketplace for third party software. This should generate much higher margins than its own services, so I'm reassured to some extent on the valuation. Indeed $25 billion is only half of what Evercore Partners analyst Ken Sena values AWS at.
Now on to Amazon's content ecosystem play. This is Amazon's attempt to carve out a sustainable third ecosystem to compete with Apple's (NASDAQ:AAPL) iTunes and Google's (NASDAQ:GOOG) Play store. The Kindle Fire HDX tablets haven't exactly set the world on fire, but Mayday, Amazon's video help service, looks extremely promising. I'd also like to see how Amazon's rumored smartphones do before casting further judgment on Amazon's chances in this area.
The one thing I will note is that if Amazon does fail in its ecosystem play, it should be able to cut back on a lot of investment that supports this effort. This includes the TV and film rights it's buying and now producing for Amazon Instant Video, the R&D for the Kindle tablets - as well as the losses Amazon is incurring by discounting the tablets so heavily.
The only real danger in my view is that Amazon might still keep banging its head against the wall even if it becomes apparent that its ecosystem play is failing. In that case it would continue to pour resources down the drain.
Bullish sentiment
In the last few weeks Amazon and Jeff Bezos have received a huge amount of press coverage, a lot of it connected to Brad Stone's biography of the CEO. The last time Amazon received this much attention was back in the late 90's bubble when Bezos won Time Magazine's Man of the Year. When a company's CEO appears on a magazine cover, it's often a sign that a stock is near to a top. One further contrarian indicator was nearly achieved when SA's very own Amazon permabear Paulo Santos almost capitulated. This was reminiscent of when Whitney Tilson capitulated on Netflix shortly before Netflix would crash and burn.
Conclusion
Due to my sloppy analysis, for which I can only apologize, I'm changing my valuation of Amazon from $200 billion to $155 billion or from $450 to $340 per share. This new valuation assumes Amazon's underlying earnings power for its physical goods selling platforms is $4.2 billion per year. This is equivalent to Amazon hiking prices and cutting shipping subsidies by just over 3% on its $130 billion of gross merchandise value. It also assumes that one can attribute nearly a third of Amazon's valuation to the fast growing, but more speculative pieces of Amazon's business empire.
Disclosure: I have no positions in any stocks mentioned, and no plans to initiate any positions within the next 72 hours. I wrote this article myself, and it expresses my own opinions. I am not receiving compensation for it (other than from Seeking Alpha). I have no business relationship with any company whose stock is mentioned in this article.