While history provides interesting perspective to investors during the course of due diligence, I don't think it's wise to allow the past to cloud judgment on what might happen in the future. Let's face it, sometimes stocks that look like values today become value traps tomorrow and the "falling knives" of today sometimes become the market darlings of tomorrow. Thus it would seem more important to hone in on what may happen in the future, rather than dwell on what has happened in the past, despite the engaging context it may offer.
REIT/Rate Relation #1
Pertaining to REITs, there has been much speculation about what may or may not happen to the group as a whole in a rising rate environment. In Brad Thomas' latest article, he termed REIT sensitivity to interest rates an "urban legend" and a "myth," citing the fact that REITs have actually gained value during instances when the 10-year Treasury periodically rose over the past 17 years. While I found the data interesting, I'm not sure that it is overly telling, given that the general trend in interest rates for the past thirty years has been down.
Investors are obsessively preoccupied with what happens to the group when the trendline in the below chart does a complete reversal. In other words when rate movement becomes permanent, and not just temporary to the upside. Even yesterday after Fed minutes were released, most REITs took a knee jerk slide down as taper talk and rate rise fears modestly hit the sector once again. Why do investors fear rates so much?
10-Year Tbill (30 years)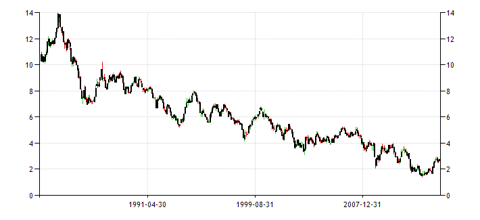 REIT Leverage Explained
Since one of the primary ways that REITs are able to expand their businesses is through leverage, borrowing costs either through secured or unsecured avenues can shift as rates move and companies mortgage additional property or refinance fixed debt. The current era of cheap money has provided somewhat of a boon for REIT expansion amid limited interest expense, yet the sullen economy has held back the ability of many REITs to robustly increase property NOI (net operating income). So even though REIT operating expansion, commonly measured by FFO (Funds From Operations) is taking place, I don't think that we can say that REITs are performing on all cylinders.
In a bustling economy, real estate landlords would be able to demand and command attractive contractual terms from tenants. Today, while rent growth does not appear unhealthy, it's not what one would expect to see in a booming lease environment. Building occupancy is by and large high, yet REIT operators aren't necessarily getting top dollar right now to fill buildings.
The continued wild card as investors evaluate the prospects of REITs going forward is what will happen to them as borrowing costs rise. What Brad wants you to believe is that when rates rise, the economy will be bustling and REITs will necessarily ride economic coattails, leading to his "scoreboard" of bullishness. While there could be some merit to that contention and REITs consequently may be able to gain NOI momentum, we also need to consider the fact that borrowing costs will rise. Additional interest expense, depending on a REITs leverage profile, could certainly eat into, offset, or quite possibly exceed anticipated NOI gains.
Given that we have no real historical perspective to draw upon as to what collectively happens to REITs when interest rates begin a protracted climb, I would think it prudent for investors to play it somewhat close to the vest with allocations. Brad suggested in the article that investors place a 30% ceiling on REIT allocation. My sense is that ceiling should be much lower, probably somewhere between 10%-20% for most diversified investors with average risk tolerances.
Though I would characterize my personal outlook on REITs as cautiously optimistic, I'm not blind to a more bearish outlook either. It is entirely possible that if the economy strengthens somewhat, enabling a higher rate environment, that leaseable real estate fundamentals may not necessarily tag along. Rising interest expense coupled with stagnant NOI would be the worst of possible worlds for REIT constituents.
REIT/Rate Relation #2
REITs have garnered much attention over the past several years due to the inflated yields that can be found relative to risk-free alternatives and investment grade fixed income. I believe that many but certainly not all REITs over the past five years have seen their valuations driven up rather disproportionately relative to their operating growth prospects simply due to their yields. The situation became rather excessive earlier this year as there was a feeding frenzy in REITs which quickly burned off by the end of the summer.
In a scenario where cash investment rates and fixed-income yields rise, risk averse investors who may have waded into the higher-risk, higher yield milieu of REITs may decide to forego the risk and move back to safer waters. This could especially occur if the more bearish REIT scenario that I posited above were to come to fruition. For now, 3-8% yield points and the potential for modest dividend growth seem to be satisfying yield starved investors, despite the heightened risk profile.
Today's REIT Realities
With investors becoming rightfully suspicious of forward operating output and with the perceived threat of higher rates, wholesale total return opportunity in REITs seems to be diminishing. Nevertheless, the relative income dependability of the group and more attractive valuations here at the end of the year make many sector constituents worth nibbling on in my view. I would expect tax loss selling to be a continued headwind on REIT pricing over the next month.
And though solid dividend coverage and low valuation may be commonly pointed out as redeeming factors in a buy decision, if one is concerned about higher rates, I would certainly not ignore debt levels, maturity, overall credit construct and credit ratings during due diligence. While a higher debt load would not necessarily pose reason to pass on a REIT, it could certainly signal a rougher road when and if interest expense were to rise.
As far as fundamentals go, I believe hotel REITs are among the most attractive and cheapest investments in the sector and offer fairly compelling total return potential. Upscale lodging provider LaSalle Hotels (NYSE:LHO) is my favorite name in the group, yet it and other hoteliers receive little attention from income investors due to their lower than average dividend yields.
Super Commercials
Commercial real estate operators continue to post steady if not robust numbers. American Realty (ARCP), which continues to gobble up properties left and right, is poised to become another 800 pound gorilla in the triple net space, alongside Realty Income (NYSE:O). I continue to feel that Nick Schorsch's acquisition strategy will pay dividends (both literally and figuratively) to investors over the coming years. Given the company's investment grade credit rating, valuation and dividend growth, the discount that it trades at compared to O is undeserved. Soon, as it ramps up and scales its recent acquisitions, and when the company proves a level of consistency to investors, the valuation gap between it and Realty Income should narrow.
Speaking of Realty Income, though I've been mostly negative on its valuation through the course of this year, I'm finally becoming somewhat constructive. Trading at a 2014 AFFO multiple of around 15, the company is still not cheap given its mid single digit operating growth. Yet especially for an income investor seeking stable based cash flows and a modest level of dividend growth, I think shares have finally become palatable. If the stock weakens much further due to end of year tax loss selling, I could see myself conceivably becoming a buyer.
Continuing to be my favorite commercial REIT and largest position, although it is a notably more aggressive and risky proposition, is NorthStar Realty Finance (NRF). A multi-pronged, "go anywhere" strategy has enabled the company to increase its dividend sequentially for the past nine quarters, a span in which its payout has doubled - you heard that right - doubled. The company may be able to continue the sequential increases in the year ahead if it so chooses, but at a likely lower rate. Still, with a current yield of 8.7% and intelligent, aggressive management, this continues to be an attractive total return vehicle with well above average dividend growth potential in my view.
Odds And Ends
As a rather volatile year comes to an end, I would keep a close eye on REIT trading activity as it is one of the few sectors where tax loss selling could create some irresistible holiday bargains. If I were a fund manager, I doubt that I'd want my year end to show large positions in underperforming REITs, thus don't be surprised if the downtrend slowly but surely continues. I'll be watching closely and would probably consider adding to existing positions or opening new ones if the selling causes any major down gaps.
To conclude, REIT sensitivity to higher interest rates may be a myth simply because there isn't enough data to draw a definitive correlation. However, I think it's quite reasonable and rationale to draw the inference that higher rates could cause cash flow disruption especially amongst higher levered or weakly positioned REITs as interest expense elevates amid weak NOI. If the myth turns out, in fact, to be a myth, then now is a great time to load up on the sector, if not, well, then we could be looking at some value traps.
As I get older and a bit more pragmatic about the way I view things, my advice is to maintain exposure to the group in the hope that higher rates have only a modestly deleterious effect on REIT operations. But part of being a pragmatist is to view the other side of the coin as well. And you should too.
Disclosure: I am long ARCP, LHO, NRF. I wrote this article myself, and it expresses my own opinions. I am not receiving compensation for it (other than from Seeking Alpha). I have no business relationship with any company whose stock is mentioned in this article.
Additional disclosure: Disclaimer: The above should not be considered or construed as individualized or specific investment advice. Do your own research and consult a professional, if necessary, before making investment decisions.