Apple's (NASDAQ:AAPL) recent huge run seems to have stalled out over the past couple of weeks. After rising more than $125 a share from its nadir in late June, AAPL seems to have stalled out in a very narrow range at the $520 level for most of November (See Chart).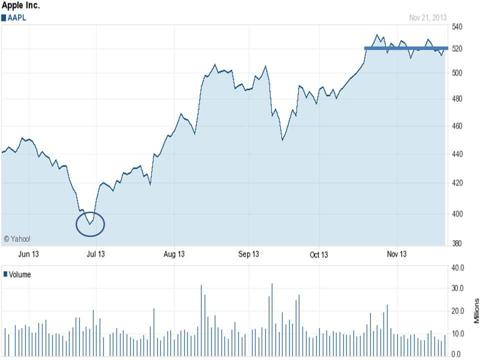 I have heard from lots of readers commenting on some of my previous Apple columns that are wondering whether this is healthy consolidation or is it time to take profits after a massive rise in the stock price. Others insist the next leg up will be triggered when the long rumored distribution deal with China Mobile (NYSE:CHL) is completed.
I believe Apple stock is currently undergoing a healthy consolidation. I also think a long-term deal with China Mobile will be signed soon. The latest rumor was triggered the other day when China Mobile said it plans to introduce a new brand for mobile services on Dec. 18, raising expectations of an imminent start to its iPhone sales in the country.
Although a completed deal with China Mobile and its 700mm subscribers would obviously be a huge positive for Apple, I think investors are overlooking a recent deal with NTT Docomo (DCM) that has given a huge boost for Apple in its most important foreign country by revenue. The impacts of having access to NTT Docomo's 60mm plus subscribers in a very high end consumer country full of technophiles is big. It is a deal that is already having very positive results and does not get much attention in the press. For right now, Apple shareholders should think Japan not China.
Impacts:
First, even before the recent deal with NTT Docomo; Apple was growing rapidly in the Land of the Rising Sun. Total iPhone sales for the fiscal year ending in September were up 27% Y/Y to $13.5B. At the end of September the iPhone had 37% of the overall smartphone market and the new iPhones were not even released in the country until September 20th.
NTT Docomo has already garnered a one third market share of iPhone sales in the country even as its CEO admitted they don't quite know how to sell the new products yet.
The NTT Docomo deal is accelerating Apple's dominance in Japan. In a just completed survey, various versions of the iPhone occupied all ten slots of the top ten selling smartphones in Japan.
Apple sold some 6mm iPhones in Japan in 2012 and is on track to double that to 12mm in 2013. Some analysts believe with the new NTT Docomo deal and the launch of the new versions of the iPhone, that figured will come in at 20mm for 2014.
The new iPhone also is boosting the company's brand value throughout the country and seems to be providing a "halo" effect to iPad sales as well where it already has ~50% of the overall tablet market.
Finally, one of the key reasons Japan is more important than just its overall sales is that Apple's core products routinely garner ~50% margins in the country due to their popularity compared with 35% margins in the rest of the of world. This means Apple sales in Japan have an outsized contribution to earnings.
So while Apple investors fret that a deal with China Mobile remains elusive, shareholders should look to the huge sales explosion in Japan and hope that the deal with China Mobile will be a similar catalyst to growth in the Middle Kingdom.
In the meantime, Apple is still cheap at under 8x forward earnings after subtracting its over $100B cash hoard. The company is returning nearly $10B a quarter to shareholders in dividends and stock repurchases. Most importantly it has several substantial growth drivers ahead of it (Ex, Japan and China) of which Japan is already showing huge gains year over year. STRONG BUY
Disclosure: I am long AAPL. I wrote this article myself, and it expresses my own opinions. I am not receiving compensation for it (other than from Seeking Alpha). I have no business relationship with any company whose stock is mentioned in this article.