Revlon (NYSE:REV): A Cheap Stock with a Classy Controlling Shareholder
Classy Man, Cheap Stock
Ron Perelman was recently profiled in a Financial Times weekend piece entitled "Lunch with the FT: Ron Perelman". The subtitle of the article is "Over sole at a Michelin two-star restaurant the pugnacious dealmaker talks about love, leveraged buyouts, and litigation." Putting Mr. Perelman's infamous pugnacity and long history of litigation aside momentarily, one thing is clear: this billionaire oozes class.
You may wonder how one positively identifies a man of class. There is a sophisticated test: Does he order $100 Dover sole plates and only eat a quarter of the main course? Does he donate hundreds of millions of dollars to the University of Pennsylvania or a similar Ivy League institution? Does he wear "funky" reading glasses-- the funkiest ones he can find? Most importantly, does he own 78% of a $2.4B mass market cosmetics company?
If the answer to all these questions is yes, then you have a winner-- especially if the name of that cosmetics company is Revlon, an underfollowed and undervalued stock. We're not here to discuss fancy lunches though, we're to talk investing-- so let's jump right into some of the recent events that lead us towards a bullish view on Revlon.
Recent Classy Events
Mr. Perelman has so much class, that until early last month, he had his very own share class (Class B shares) entitling him to ten votes per share, versus one vote per share for the more common Class A shares. But one can never have too much class, so in October Perelman did what any class-maximizing agent would do-he converted all 3.125 million of his Class B shares to Class A shares. By eliminating the dual class share structure as well as redeeming all outstanding preferred shares, Revlon has simplified its capital structure. All that's left now are Class A shares, low coupon (5.75%) senior notes, and bank debt. The public owns the other 22% of the company on a pari passu basis with Perelman. This more egalitarian capital structure is nice to see from a "best practices" perspective, although make no mistake, Perelman still controls the board. One benefit to the conversion is that minority shareholders are now protected from Perelman's eternal control in the (unlikely) scenario that Perelman sells his stake down to a minority position.
On October 9th, the company closed an acquisition of The Colomer Group (TCG) from private equity firm CVC Partners for a purchase price of $660 million (9.2x trailing 12 month adjusted EBITDA of $72 million) that gives them a top-notch consumer product CEO, expands their international presence (60% of TCG's sales are outside the U.S.), provides a classy new distribution channel, salons, and will result in $25 million in annualized cost savings by the end of year two. One-time synergy and integration costs include $27 million of expenses in 2014 and $13 million in 2015, resulting in approximately a two-year payback. Finally, bank loan covenant terms were loosened significantly to allow for the acquisition.
Following the announcement of the acquisition, Revlon revealed the resignations of its CFO and CEO on June 19th and October 2nd, respectively. On October 31st, Revlon announced that TCG's CEO, Lorenzo Delpani, would replace Alan Ennis as REV CEO. Delpani had been CEO at TCG since 2007. Prior to that he held roles at Reckitt Benckiser plc, Johnson and Johnson, and Procter & Gamble. The reason for the departures remains an unsettled matter. Ennis was former CFO of Revlon, while Delpani's experience is in marketing. With the company on strong financial footing, perhaps Perelman wants a manager who could better build Revlon's brand in order to compete with the larger competitors like Procter & Gamble and L'Oreal. Delpani is uniquely qualified to simultaneously integrate the companies and improve Revlon's marketing efforts. Given the sale of TCG to Revlon, he also brings the experience of selling a smaller company to a larger strategic acquirer, which Revlon may eventually need to call upon. In summary, while there has been a significant amount of turnover at the top, the tumultuous executive management situation at the company can only improve from here.
MacAndrews & Forbes, Ron Perelman's wholly owned holding company, recently registered 12.2 million shares for sale on behalf of one of its lenders, UBS. These shares will not be sold unless the bank forecloses on Revlon shares following a covenant breach, an event we view as highly remote. In the past, when Perelman has pledged shares against debt, he has shown strong financial backing for the company (more on that later). So, this is not Ron Perelman selling shares. This is Perelman being classy, and registering the shares as a normal course of business.
Ron Will Do Anything for Love… Yes, even "that"
To connect the forward-looking implications of some of these recent events, we should try to understand Perelman's history with Revlon. Why did he buy Revlon in the first place? How has he reacted to various situations in the past? Are his motives purely economic? Answering those questions is a necessary step to help us predict Perelman's game plan for the company, and our quest for truth begins in 1985, the year that Mike Tyson KO'd Hector Mercedes in the 1st round of his first pro fight, Gary Kasparov became world chess champion, and VH-1 began to broadcast. This was not just any year-- this was 1985 and historical events were playing out by the hour. One of these events would cause the world of junk bonds and mass market cosmetics to collide in a way that even Mohammed El-Erian never could have conceived.
Ron Perelman took over Revlon in November of 1985, merging in into Pantry Pride, a MacAndrews & Forbes subsidiary (WSJ, 3/6/87, Ann Hegedorn, "Possible Revlon Buyout May be Sign of a Bigger Perelman Move in Works"). The in-depth WSJ piece reported that Perelman's intention was to use Revlon as a vehicle for even larger takeovers. Shortly after acquiring the company, Perelman pursued acquisitions of Gillette and CPC International, stakes he later sold for a tidy profit of $34 million (LA Times: "Perelman's Bid for Gillette Co. Is Razor-Sharp") and $73 million (NYT: "Perelman is Said to Sell CPC Stock"), respectively. Regardless of his initial intentions for the company, Revlon at same point became something more important to Perelman than just a corporate entity.
An extremely well done December 17th, 2000 New York Times article titled "Perelman's Endless (and Costly) Love" analyzed Perelman's motivation for doing "that" -- purchasing approximately $250 million zero coupon bonds between 15-70 cents on the dollar as the company racked up quarter after quarter of losses, taking control of $630 million bonds by face value. Those bonds had been secured by almost half of his Revlon stake. Perelman was under no obligation to pour more equity into the company though, as highlighted by the author: "He could have simply turned over his Revlon shares to bondholders and walked away. Instead, he went to great personal expense to hold on to a lackluster stock with unclear prospects."
So what did Perelman see, in addition to a huge equity stake that might be rendered worthless in the case of a bankruptcy filing? Perelman is quoted from an interview: "It's one of the great consumer brand names in the world. It produces a product that makes people happy, and it's got the guts to be a great operating company." The journalist adds: "Whatever his other reasons for hanging on to Revlon, Mr. Perelman has clearly relished the social aspects of owning a cosmetics company whose public image has been intimately entwined with supermodels like Cindy Crawford." Perelman had an emotional connection (arguably a rational one given the perks) to this company, and was even willing to do "that" to save it.
Ron may have loved Revlon, but he is a classy capitalist who does sometimes entertain the possibility of selling. According to the NYT, in April of 1999 he hired investment banks Goldman Sachs and Lazard Freres to seek bidders. Perelman was seeking $50/share, but there were no offers higher than $35/share, so instead, Perelman ended the sale effort and replaced the CEO. The new manager from Neutrogena cut costs, sold assets, and helped turn around the business. Although there have been no public reports of any efforts to sell Revlon, and the company is not necessarily in need of a turnaround, could a sale be back on management's agenda? Perelman has brought in Delpani to inject some new life into the business, and will either enjoy the benefit of capital structure debt converting to equity as Revlon pays it down with free cash flow, or sell it to a strategic acquirer for a control premium, plus value from synergies.
The 1999 stock price, capital structure, and market are not comparable to today's stock price, so we can't map today's price to Ron's $50/share goal, but the takeaways are that (1) despite his affinity for the company, Perelman is still one of America's great capitalists and will sell for the right price, and (2) if he does sell the company, Perelman is likely to demand a significant premium. We note that these events occurred nearly 15 years ago, and that while the business and market conditions have markedly changed, there is little to suggest Ron Perelman's reaction function is much different now than it was then.
What's Next?
There are two likely paths for Revlon.
The first is what we will call the "slow and steady" course. The company works on its integration with TCG over the next 2 years. In doing so, it realizes cost synergies that allow the combined company to expand towards a 20% EBITDA margin, putting it on par with L'Oreal and Procter & Gamble, which command EV/EBITDA (2014E) multiples of 15x and 12x, respectively. Revlon continues to grow their presence internationally, particularly into emerging markets in South America and Asia. Even with very conservative overall company growth assumptions (see model assumptions below), we see Revlon de-levering at approximately a half a turn (0.5x) per year from a starting point in 2013E of approximately 5.0x net leverage. Owning Revlon is essentially participating in a public LBO, of the management buyout variety led by Mr. Perelman.
We will call the second path "the endgame," where a strategic acquirer decides that they can get better value for Revlon at 9x EBITDA than they can as REV's multiple expands closer towards cash flow generating peers with much higher multiples as the acquisition becomes closer to integration. This path may cross the "slow and steady" path at any point, but the sooner it happens, the better deal the acquirer will get. In this scenario, a large international consumer staples company sees value in the Revlon brand, with pro forma international sales accounting for 47% of revenue thanks to TCG's 2012 contribution of $305 million in international sales out of $500 million in total sales. The acquirer realizes significant opportunity for synergies in areas related to corporate overhead, input purchases, distribution, marketing, and research & development. In the "endgame", we believe the control premium Revlon receives would be substantial, and see 60% upside to the current stock price of $24.45 at 11/20/13 (see below for methodology).
What's Revlon Stock Worth?
Most recently trading at $24.45 (close on 11/20/13), Revlon is a mass market cosmetics company with virtually no Wall Street analyst coverage trading at a big discount to intrinsic value. There are four reasons why we think it's trading at a discount:
Average volume over the last 3 months has been about 64,000 shares a day, a fairly illiquid level on a $24.45 stock. Assuming a trader does not exceed 10% of the volume per day, to buy (or sell) $1 million of Revlon stock would take 6.4 trading days.
Ron Perelman has a reputation as treating shareholders unfairly, for example, when he convinced investors to swap from common to preferred shares when an independent advisor determined that a take-private deal would be unfair to minority shareholders. This cut off significant upside to investors, who later watched Revlon shares double after they reported better than expected results. The SEC recently ruled that Perelman hid information from investors and fined him $850,000, which is immaterial to his personal wealth, but highly material to his reputation and legacy. We (and others) think this fine keeps him from pursuing further shenanigans.
The stock has almost no Wall Street coverage, with only one major firm rating the shares (which had a market perform and $29 price target, representing 19% upside). In addition, the stock is going through a transaction with the Colomer Group, Bloomberg data does not yet reflect the combined capital structure or operational data, and the analyst at that one bank has not yet rolled out a model on the combined entity. FYI, the best info on the combined entity is in the company's bank debt presentation.
Looking across different valuation methodologies, we analyze what we think it should and eventually will be trading at:
The closest comps for REV are Estee Lauder, L'Oreal, L'Occitane, Amorepacific, Coty, and Procter & Gamble. While Revlon sells to a different market than prestige brands (in the case of the first four companies), with trailing 12M EBITDA margins of 18.4%, REV is only 40 basis points behind this group average of 18.8%. We exclude Elizabeth Arden (9.0% EBITDA margin) and Avon Products (9.1% EBITDA margin) because despite selling similar things to a similar mass market demographic, EBITDA margins are less than half that of REV. It is earnings power and free cash flow generation that determine value, not demographic target-- therefore those two companies are poor comps. Applying the 11x median EV/EBITDA ('14E) multiple of the six earlier mentioned comparable companies yields a valuation of $36/share. Discounted that one year forward EBITDA multiple valuation result back to the present at a WACC of 7.5% brings the value to $33.50, representing 37% upside.
For intrinsic valuation, with pro forma net leverage for the TCG acquisition of 5.1x 2013E EBITDA, we use an adjusted present value DCF model to better account for the changing capital structure (relative to a simple DCF) as the company pays down debt. An APV analysis implies a value of $32.50/share at a conservative 9% equity risk premium, representing 33% upside. This higher equity risk premium (ERP) is consistent with historical ERP for small cap stocks, with lower ERPs for large caps (many use 6% for modeling purposes). Our valuation accounts for a projected $155 million in NOLs for FYE 2013, and a capital structure that de-levers to about 3.2x by 2018 using our conservative operating assumptions. Note that at a more aggressive 8% ERP, discounting future cash flows back to the present at a lower rate, the intrinsic value of REV rises to $41, representing 68% upside.
Key model assumptions (from 2014 and out) are as follows:
Rev Growth: 0% in 2014, 1% in 2015, 1% in 2016, 2% in 2017, 3% in 2018 and into perpetuity
EBITDA margin: 18.1% in '14, 18.2% in '15, 19.3% in '16 and into perpetuity
Capex: 1.2% to 1.3% of sales from 2014 into perpetuity, plus an additional $40 million-$50 million of purchase of permanent wall display fixtures from 2014 into perpetuity
Annual pension contribution of $20 million from 2014 into perpetuity
Unlevered beta of 0.63 based on two-year beta using daily market data
Risk free rate: 2.79%, the 10-year treasury yield on 11/20/13
Let's look at a transaction comp-- what would Revlon be worth if someone wanted to acquire it? TCG was purchased last month by Revlon at a 9.2x multiple, and this is the best transaction comp available given its recent occurrence and complementary product mix. However, with one of the most recognizable global brands, higher margins than standalone TCG (by over 400 basis points) and larger combined size, we think REV with TCG (post acquisition) would fetch a multiple in a takeover of at least 11x, two turns higher than its current trading level on trailing 12 month (T12M) EBITDA at 9/30/13. At 11x that T12M EBITDA level of $354 million, the company would be worth more than $39/share in a takeover, assuming $1,836 million of combined Revlon and TCG debt, representing 61% upside. The takeover price could be even higher depending on potential synergies and the control premium offered. Procter & Gamble (which owns CoverGirl, a direct brand competitor to Revlon) or Unilever (which stated in their 2012 annual report that the Personal Care segment is a "strategic priority") could both be potential acquirers.
Assigning 1/3 weighting to our comp analysis ($33.50/share), 1/3 weighting to our intrinsic analysis ($32.50/share), and 1/3 weighting to transactional comps (11.0x, $39/share) yields us a target price of $34.65/share, or 42% upside to the closing price on 11/20/2013 of $24.45. Note that this blended price target is 2/3 composed of methodologies that don't include control premiums, and only 1/3 including a control premium (the transaction comp). The appropriate price target will depend on which of the two scenarios plays out, as we described. Either way, we see significant upside in REV shares.

Sources: Bloomberg, Revlon company reports, own estimates.
Note: Revlon sales and EV is pro forma for TCG Acquisition.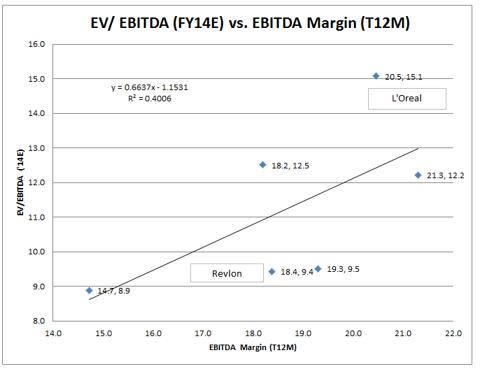 Disclosure: The author is long REV. The author wrote this article themselves, and it expresses their own opinions. The author is not receiving compensation for it. The author has no business relationship with any company whose stock is mentioned in this article.
Additional disclosure: Armored Wolf is currently long Revlon on behalf of its clients.