Cisco's (NASDAQ:CSCO) move into the video conferencing market through its acquisition of Tandberg is being countered by a recently announced partnership between Juniper Networks (NYSE:JNPR) and Polycom (NASDAQ:PLCM) whereby the two companies will sell their products jointly.
Together the two companies intend to provide customers with less expensive, open standards-based video conferencing equipment that leverages network equipment (routers, switches) from Juniper and video conferencing terminals from Polycom.
Below we discuss how the Juniper-Polycom partnership makes both companies more effective competition for Cisco and how it could impact Juniper and Cisco's stocks.
Serving a Customer Need
Juniper and Polycom will together compete more effectively with Cisco by offering customers a better solution to two important problems with existing video conferencing systems:
1. High Bandwidth Requirements for Video Conferencing
Video conferencing requires much more bandwidth than typical Internet usage. Unfortunately, many network systems used to transport internet data do not distinguish video conferencing data from other types of data. As a result, the network continues to allot bandwidth normally which can result in delays and frozen screens for video conference participants.
By working together, Polycom and Juniper will offer interoperable "smart" systems where the video conferencing terminal (from Polycom) can communicate with the network equipment (from Juniper) to improve transmission of video conferencing data.
2. Dedicated Video Conferencing Networks are Expensive
The Juniper-Polycom solution to problem #1 is a less expensive solution than the main alternative today, which is to construct a dedicated network for video conferencing. Dedicated networks involve additional hardware costs which can be a waste if video conferencing is not used frequently.
Although both Cisco and Juniper benefit by providing the network equipment used for building dedicated networks, Cisco's Tandberg acquisition gives it the ability to offer its customers an alternative to dedicated networks by improving the way Cisco video conferencing terminals operate in conjunction with Cisco network equipment. This is the reason why the Juniper-Polycom partnership is important for both companies to remain competitive.
Impact on Enterprise Router Market Shares
Juniper-Polycom could have an impact on market shares of Cisco and Juniper within the $5 billion enterprise router market. Enterprise routers are used by medium to large businesses ("enterprises") for their internal networking and communication needs. For example, data (such as an e-mail) sent from one large company to another is likely to travel through the enterprise routers of those companies which will route them to the correct destination within company.
Juniper can offer customers smart enterprise routers that can direct video conferencing traffic more efficiently resulting in better performing video conferencing systems (from Polycom). (Click charts to enlarge)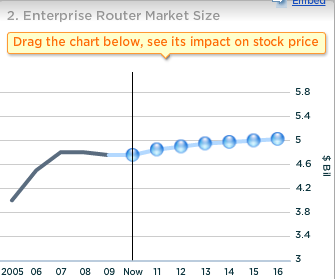 Cisco currently dominates the enterprise market worldwide with about 70% market share. In comparison, Juniper has only about 5% share within the enterprise router market.
Juniper: Boost to Enterprise Router Market Share

Juniper-Polycom's bundled solution, which includes network gear and video conferencing equipment, will be a cheaper option for many businesses. This can lead to a boost in Juniper's market share in enterprise routers.
You can modify our forecast for Juniper Market Share in Enterprise Routers here to see how Juniper's stock would be impacted by higher share.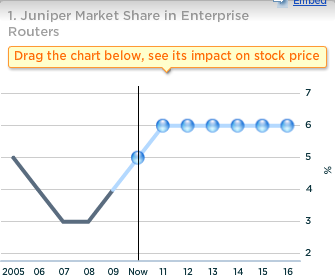 Cisco: Negative Impact on Enterprise Market Share
Juniper's gains in the enterprise router market are likely to be Cisco's losses. However, Cisco's acquisition of Tandberg has provided it with a larger customer base that the company can leverage and thereby penetrate deeper into the video conferencing market. We believe it's unlikely that Cisco will lose significant market share within the market; however, from Juniper's perspective, a 1-2% market share loss from Cisco to Juniper can be very meaningful.
You can see here how Cisco's stock would be impacted it if lost share within the enterprise router market.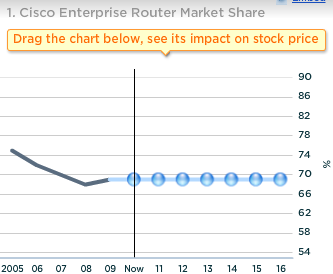 Disclosure: No positions