The fallout from Commercial Real Estate exposures for banks has yet to run its course, in Standard & Poor's opinion.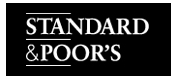 Although many of the problems are already evident in the homebuilding sector, and are well underway in commercial construction, these are the smaller sectors, S&P says in an Industry Outlook. "We believe the problems in the larger mortgage and multifamily sectors are yet to be felt because for now low interest rates and still-adequate cash flows make debt servicing possible. As rates rise and rent rolls decline further, we believe that delinquencies will rise in this sector as well, and prices will fall further, complicating the refinancing of these portfolios."
We see no reason to believe the impact of this credit cycle in CRE will be less severe in terms of losses banks incur than that of the 1990s.
"However, this time the smaller banks have the heavier concentrations in CRE. They also have healthier capital cushions that could help them weather the painful cycle. Our stress tests show that most rated banks are able to absorb the associated losses without eroding capital below 4% of tangible common to RWA, as long as the losses are spread over a few years. We believe that downward pressure on the ratings will continue, however, as the banks that appeared to be better positioned in terms of their portfolios or capital cushions prove to be more vulnerable, or fail to maintain their business-generating power."
The report includes a table of the combined commercial real estate loans, CMBS and CRE equity investments shown as the banks' exposures as a multiple of their tangible common equity. Below are the banks with TCE ratios in excess of 4%.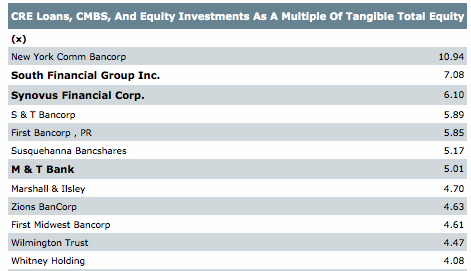 Even for the most heavily exposed banks, underwriting varies, S&P says. For example, New York Community Bancorp Inc. (NYB) focuses on rent-controlled New York City apartment houses, which produce steady cash flow and do not experience significant vacancies, and where nonperforming CRE loans were only 2% of CRE loans at Sept. 30, 2009. Synovus (NYSE:SNV), on the other hand, with a high proportion of construction loans, has 10% nonperforming assets (NPAs). Some, banks such as Zions Bancorporation,(NASDAQ:ZION) have portfolios whose average LTVs at origination were in the mid-50% area, whereas others aimed for 80%.