Carbon fiber has been a hot topic for investors recently (for good reason) and it appears to have just gotten hotter. According to Businessweek, BMW (OTC:BAMXY) is betting big on carbon fiber with a $100 million facility in Washington State to produce the material for its electric vehicles. Carbon fiber, which is stronger and lighter than steel, is being used to lighten BMW's electric vehicles, enabling them go further on a single charge.
While carbon fiber has received a lot of attention in recent years as a possible pathway to greater fuel efficiency, BMW's announcement is the strongest indication to date that the auto industry sees this as a viable route to meeting fuel targets. While certainly not all (or even most) car brands will turn to carbon fiber, there is a strong chance that many electric vehicles and high-end brands will incorporate more carbon fiber into their vehicles. Businessweek's article indicated that Audi (OTC:AUDVF) currently mixes and matches materials (including aluminum and carbon fiber).
Carbon Fiber: Quick Background
Carbon fiber is a light and extremely strong industrial material that is produced by bonding together many thin (5-10 microns) strands of carbon fiber. Carbon fiber is used in applications where its strength and lightness outweigh its cost disadvantage (about 20x the price of steel). Some of its main applications include:
Aerospace (commercial aircraft, helicopters, spacecraft)
Wind turbines
Sports equipment (bicycles, skis, golf shafts, etc.)
Military (aircraft, missiles, helmets)
Strong growth is expected in the carbon fiber industry, with Smithers Apex projecting an annual growth rate of 16% through 2017 and Research and Markets projecting a 12% annual growth rate through 2016. The carbon fiber market is relatively concentrated, according to a 2011 report by the Rocky Mountain Institute. In 2011, 6 companies controlled over 93% of the world's carbon fiber capacity. Zoltek recently announced that it would be acquired by Toray, further concentrating the industry.
Carbon fiber world market share by company
Company
Market Share
Toray
30%
Toho
18%
Mitsubishi
18%
Zoltek
17%
Hexcel
7%
Cytec
3%
Others
6%
How to Play The Carbon Fiber Market
Two of the easiest ways to play the carbon fiber market are Hexcel (NYSE:HXL) and Cytec (NYSE:CYT), both of which are traded on the NYSE. These two companies are the most accessible public companies for which carbon fiber makes up a substantial proportion of their sales.
| | | |
| --- | --- | --- |
| Company | Cytec | Hexcel |
| Revenue | $1,926 | $1,639 |
| EBITDA | $285 | $286 |
| EBITDA Margin | 15% | 17% |
| Market Cap. | $3,090 | $4,330 |
| Trailing P/E | 24.13 | 24.98 |
| Forward P/E | 15.17 | 20.6 |
| Revenue Growth (1 yr.) | 20% | 6% |
| Dividend Yield | 0.57% | 0.00% |
(Note: Forward P/E, fye 12/31/2014, source: Yahoo! Finance)
Hexcel
Hexcel is a "leading advanced composites company" and one of the largest US carbon fiber manufacturers. Its LTM revenue as of 2013Q3 was $1.6 billion (6% YOY growth), with a gross margin of 27% and net income of $178 million. As the chart below shows, Hexcel has done a good job growing revenue and income over the past 3 years.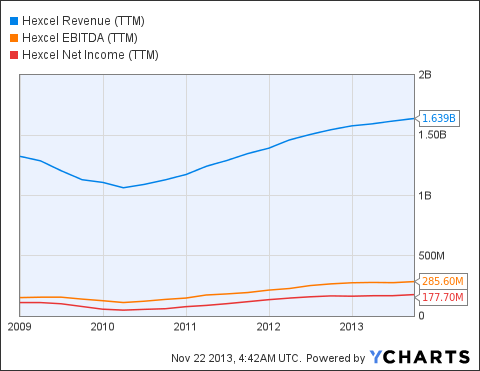 HXL Revenue (TTM) data by YCharts
Hexcel has seen very strong growth in its commercial aircraft segment, and will see further growth with the huge backlog in Boeing (NYSE:BA) and Airbus (OTC:EADSF) airplane orders, both of which are large customers of Hexcel. While the stock has surged 70% over the past 52 weeks and trades at nearly 25x LTM earnings, the stock has great long-term value for believers of the carbon fiber growth story. Any dip in the price may be a good time to buy this stock.
Source: Hexcel November Investor Presentation
A more thorough Seeking Alpha analysis of Hexcel can be found here.
Cytec
Cytec is a provider or chemical and specialty materials with operations in aerospace and industrial materials, mining, and plastics industries. Cytec is more diversified than Hexcel and thus offers less exposure to the carbon fiber market. Carbon fiber products are included in its aerospace materials ($236 million and 51% of revenue in 2013Q3) and industrial materials ($71 million, 15%) segments. Cytec shares have risen 28% in the past 52 weeks and the stock trades at 25x LTM earnings.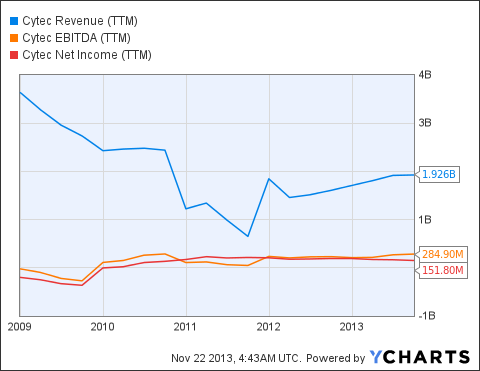 CYT Revenue (TTM) data by YCharts
A more thorough Seeking Alpha analysis of Cytec is provided here.
Conclusion
Carbon fiber is an industry that will show strong growth for the next decade and BMW's planned investment in the material is a clear indicator that the automobile industry will add to carbon fiber's growth. While it seems that the market has adjusted upward for the strong growth projections of carbon fiber, the growth story behind carbon fiber is strong and may justify further price increases for Hexcel and Cytec.
Note: Please invest at your own risk. There are many factors that go into selecting investments, most of which have not been addressed in this article.
Disclosure: I have no positions in any stocks mentioned, and no plans to initiate any positions within the next 72 hours. I wrote this article myself, and it expresses my own opinions. I am not receiving compensation for it (other than from Seeking Alpha). I have no business relationship with any company whose stock is mentioned in this article.