We update our comprehensive outlook for crude oil and natural gas prices on an annual basis, and the 2013 edition highlighted Continental Resources (NYSE:CLR) and EOG Resources (NYSE:EOG) as two of our favorite M&A candidates. Continental Resources is the largest leaseholder in the Bakken (1), while EOG Resources is the largest leaseholder in the Eagle Ford (EOG has a nice position in the Bakken as well). Both firms recently reported third quarter results. Let's get an update on underlying performance.
(1) The Bakken field of North Dakota and Montana is one of the premier crude oil resource plays in the United States. It has been described by the United States Geological Survey ("USGS") as the largest continuous crude oil accumulation it has ever assessed. Estimates of recoverable reserves for the Bakken field have grown from 4.3 billion barrels of crude oil, as published in a report issued by the USGS in April 2008, to potentially 11 billion barrels of crude oil in North Dakota alone, as reported by the North Dakota Industrial Commission ("NDIC") in January 2011. In October 2011, the USGS began a study to update its 2008 assessment of recoverable reserves for the Bakken field to include reserves from the Three Forks formation and take into account improved well performance due to advances in drilling, completion and production technologies. Results of the USGS study may be announced in late 2013. Source: CLR 2012 10-K (page 10)
It was all about execution in Continental Resources' third quarter. The company posted record EBITDAX (earnings before interest, taxes, depreciation, amortization, and exploration) of $798 million, a 13% increase on a sequential basis and a 62% jump from the same period a year ago. Production also set a record in the third quarter (141,900 Boe per day), a 5% sequential ramp and 38% higher than the third quarter of last year. Net Bakken production increased 7% from the second quarter of 2013 and represents approximately two thirds of total production at the firm. Management noted that "there is more oil to be recovered (in the Bakken) than previously perceived…and the news in the Bakken just keeps getting better." We continue to be big fans of Continental Resources.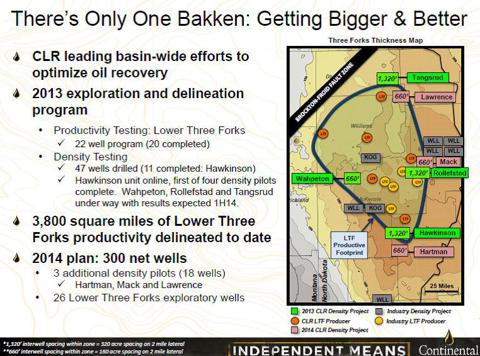 Image Source: Continental
EOG's third-quarter results were equally impressive. The firm delivered a 39% year-over-year increase in total crude oil production thanks to "stellar" economic results from the Eagle Ford, Bakken/Three Forks and Leonard plays. Earnings per share leapt 49%, discretionary cash flow increased 29%, and adjusted EBITDAX rose 27% compared to the same period a year ago. EOG continues to execute nicely and raised its full-year crude oil and condensate production growth target for the second time in 2013 (now 39%, was 35%). EOG reported its top well to date from its western Eagle Ford acreage (Kaiser Junior Unit #1H) and indicated its "exceptional" Eagle Ford results were replicated in the North Dakota Bakken/Three Forks. EOG plans to increase the level of drilling activity in the Bakken/Three Forks formations in 2014.
Valuentum's Take
Continental Resources and EOG Resources continue to execute nicely. We like both as M&A targets and would not be surprised to see a major take a stab at either one to mitigate their own earnings pressure. We see valuation upside to $148 per share in Continental and $196 per share in EOG Resources on the basis of their respective fair value estimates. However, investors should be cognizant of the volatility of energy prices and the large impact they may have on Continental's and EOG's respective intrinsic value estimates. In any case, these two energy ideas are among the most exciting in the oil and gas space, in our view.
Disclosure: I have no positions in any stocks mentioned, and no plans to initiate any positions within the next 72 hours. I wrote this article myself, and it expresses my own opinions. I am not receiving compensation for it (other than from Seeking Alpha). I have no business relationship with any company whose stock is mentioned in this article.