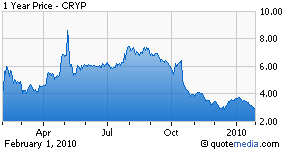 CryptoLogic Limited (NASDAQ:CRYP) is once again trading for roughly three dollars after trading for over seven bucks just five months ago. This company that brands and licenses online betting software and games is still a recovery story and is once again a nice buy - in my opinion.

Quarterly numbers for CryptoLogic have come in below expectations during the global economic downturn - due to the fact that potential gamblers are not willing to spend quite so much, and also due to the fact that the licensee companies have been crunched by the economy. However, as the global economy normalizes and CryptoLogic continues to license its brands, I think CRYP could be a good bet to at least double for the mid term.

For the long term, CRYP has the potential to more than double - although a lot of potential for the gambling software companies has to do with whether or not lawmakers in the United States will allow online gambling at some point in the near future.

The issue appeared to be headed to the floor of the House last year, but it's unlikely, in my opinion, that we'll hear of any regulation regarding online gambling anytime soon with everything else that needs to be taken care of in DC.

That said, once this administration sniffs the potential tax revenue that could be had by legalizing online gambling, Congress could act quickly. I wouldn't hold my breath for too long on that one, but CRYP could be a nice play for 2010 and beyond even without approval in the US.

Disclosure: No position.