Every so often, we see speculative investments that need our attention more than any hot stocks we'd normally cover. This type of investment is often something outside the normal "coverage" issued by analysts, and therefore require someone give it to you straight.
And that's what I'm here to do with Bitcoin...
For those who don't know what a Bitcoin is, it's a virtual currency used for online peer-peer transactions. It's been labeled a "cryptocurrency", as it's the first virtual currency that can't be spent twice (as all transactions using the Bitcoin are recorded in a public ledger).
Just know that there's lots of security and lots of folks out there working to make this a more legitimate currency. There are even multiple exchanges on which you can trade your Bitcoins. In fact, many witnesses in a United States Senate committee vouched that Bitcoin is a legitimate financial service.
But now for the bad news...
For me, I simply can't get past the fact that Bitcoin was first made popular on a role-playing fantasy card trading website.
This website, Mt. Gox, became the first and largest Bitcoin exchange that quoted prices and kept an active market. Not surprisingly, Mt. Gox was found to be involved in some black market activity and assets belonging to the Mt. Gox exchange were seized, and the Silk Road drugs market was shut down.
Additionally, over the past couple of year a number of Bitcoin exchanges have either been hacked, victimized by theft, or completely shut down… costing investors millions of real dollars in the process.
If you're skeptical about putting your "fiat currency" dollars into the form of Bitcoins, I'd say you're on the right track. Given the limited online use of the currency, the potential for theft from your "online wallet", and the shady background- I'd be hard pressed to ever get involved in the virtual currency world.
But that's not the really bad news… enter the world of Bitcoin speculation!
A number of speculators are buying and selling Bitcoins, like day traders trading penny stocks.
If you're set on trading your hard earned cash into a virtual currency like Bitcoins in hope for some heavy returns, think again. To know what I'm talking about, you need to see the chart the traded value of a Bitcoin.
Keep in mind, this currency was practically worthless when it first started out, trading for fractions of a penny. Two years later, and a literal frenzy of trading and speculators inflating the value of a Bitcoin- and it would cost you more than $572 for a single Bitcoin (price as of publication)!
Take a look at the chart for yourself...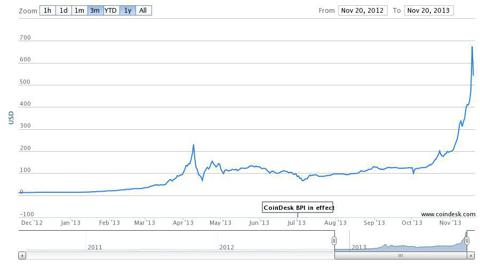 No, you're not seeing things… a Bitcoin is now worth more than a share of Apple (AAPL).
Now here's where I feel the need to guide you greed-blinded, techno-geeks that own lots of these Bitcoins.
In reading through a variety of blogs and Reddit feeds, I see helplessly greedy investment neophytes thinking they need to hold onto their Bitcoins for even bigger gains.
And my advice to every single one of them is this...
Sell all of your Bitcoins immediately.
This is a massively overbought condition in a technical sense, and you need to take your chips down off the table RIGHT NOW.
If you're holding out for more gains, I'd say you need some fundamental reason to do so... but all that's causing the price to spike is a headline.
Trust me, holding a single Bitcoin right now would be insanity. You need to understand some basic fundamentals of trading.
When hitting a triple-digit gain in just a month, you need to trust that you really did well. In the end you need to know how to take a profit, it's the only way to make money. And as the old saying goes, no one ever went broke taking a profit.
Think about it this way, if Bitcoin prices remain this volatile, they're certain to fall as fast as they rise.
Then you can buy low again...
And sell high again...
Over and over- right?
But holding everything right now thinking Bitcoins will hit some crazy price like $40,000 is pure insanity. There's nothing fundamental pointing to this happening.
Instead, I'm suggesting we'll see $250/Bitcoin by the end of this month.
If you are still blindly bullish, think twice. I'm basing my price target on technical analysis. I'm using a simple mean regression to get there.
If you're still bullish, I'd say you really believe Santa Claus will show up with a $1,000 price tag on your Bitcoins.
Best of luck with that...
For all my regular readers, believe me when I say cashing out for a huge gain, (if you held since $200 or less per Bitcoin) would be an easy home run in any pros book. But I never would have suggested, nor do I now, that you put any money into this crazy game call Bitcoin speculation.
Keeping you one step ahead.
Disclosure: I have no positions in any stocks mentioned, and no plans to initiate any positions within the next 72 hours. I wrote this article myself, and it expresses my own opinions. I am not receiving compensation for it. I have no business relationship with any company whose stock is mentioned in this article.