Internet information providers are facing immense competition from within. Yahoo (YHOO) is a popular company in the technology sector but over the past several years the company has been losing its market position to other giants in the industry.
Major threats to the company are the industry leaders in their respective domains: Google (NASDAQ:GOOG) and Facebook (NASDAQ:FB). These companies are expanding at an enormous pace both in different enterprises as well as building within their respective industries. To counter this competition Yahoo has initiated different strategies, some of have been fruitful while some were in vain. The company is currently way behind Google and now, according to research conducted by Emarketer, Yahoo only possesses 7.7% of the global online ad market in 2013; this is 0.9% lower than its market share in the previous year. The research also indicates that 2013 is probably the last year that Yahoo will be ahead of Facebook in digital advertising.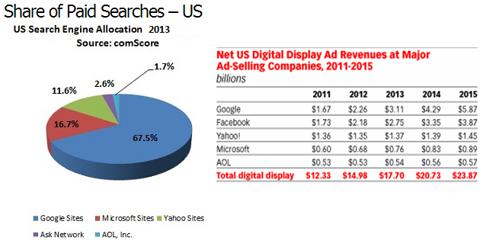 In this article I will highlight the company's strong points and major drivers of value.

Recent Performance
Before going into the nitty-gritty of the analysis I would like to highlight the company's past so that I can strengthen my case that the upside rally of the company's share during the year was not because of its core operations.
During the third quarter of fiscal year 2013 the company reported revenues of $1139 million reflecting a decrease of 5% compared to the same period of the previous year. A major portion of the revenue was contributed by two business segments, display and search. During the third quarter the display segment contributed $470 million whereas the search segment contributed $435 million. The display segment experienced a drop of 7% and the search segment experienced an 8% drop in contribution to revenues compared to third quarter results of fiscal year 2012.
The reason for this decline in revenue was a 7% decline in price per-Ad and a 4% decrease in price per click.
The prices for ads and clicks are exclusively dependent upon the visitor base. Yahoo's visitor base has not been increasing as fast as its peers.
Moreover, increasing traffic acquisition costs, an increase in other operating expenses and a setback in top line growth have caused lower profits during the same quarter. In the third quarter of fiscal year 2013 income from operations was $152 million reflecting a decline of 39% compared to results of the same period of the previous year.
Yahoo has been aggressively buying its shares to sugar coat its EPS but has not been successful. During the third quarter of fiscal year 2013 its EPS was $0.28 reflecting a decline of 89% compared to last year's EPS.
Yahoo's Stake in Alibaba
The company owns a 24% stake in the Chinese company Alibaba. This stake in Alibaba cannot be ignored and is offsetting the poor performance of the company's core operations as well as supporting the upside rally of Yahoo's shares.
Alibaba is the biggest and most popular e-commerce site in China and is one of the leading online Mega Malls in the world. Through its subsidiaries, Alibaba offers various services, provides buying and selling platforms for luxury, consumer, wholesale and low-cost goods, cloud computing services, logistics and an e-commerce payment platform. In short, Alibaba is a multi-faceted company seeking to fulfill its customers' needs.
Alibaba's Current Market Position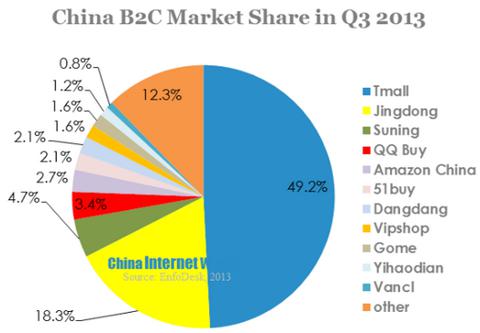 TMall, one of the wholly owned subsidiaries of Alibaba, is a shopping site that offers over 70,000 luxury brands from around the world. According to recently conducted research, TMall is the most preferred site of Chinese consumers for online shopping and occupies 49.2% of total market share. Moreover, in Q3 2013, the market scale of Chinese advertising platforms in Q3 reached USD 4.7 billion (28.77 billion yuan) reflecting an increase of 24.2% more than Q2 2013. Baidu has a 30.8% share of the advertisement market share by revenue, and Alibaba ranked second with 15.9%, while Google came in the third place with 5.5%.

Alibaba's business to business segment retains 46.6% of total market share in terms of revenues. The company is way ahead of its competitors and will certainly benefit the most in the coming future as demand for products in China is increasing in response to increasing consumer spending. Moreover Alibaba's third party payment services are undoubtedly the most trusted. Approximately 72.6% of total e-commerce payments are currently routed through the Alipay platform.
The Future of Alibaba
Alibaba's domestic market has huge potential and is expected to reach $576 billion by the end of 2016. Moreover, international acceptance of e-commerce is also increasing so it is expected that the company will capitalize on this potential growth opportunity.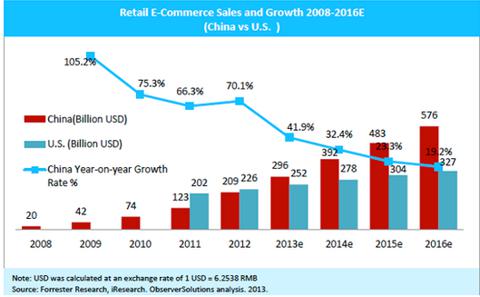 What will be the effect of Alibaba's IPO on Yahoo?
Currently Yahoo has a stock market capitalization of $36.07 billion and owns a 24% stake in Alibaba. Alibaba is planning to go public and many research firms have estimated the value of the company ranging from $75 million to $125 million.

If the value of Alibaba is at the low end of that range, $75 billion, then Yahoo's stake would be worth $18 billion or approximately half of Yahoo's total market value whereas if the IPO is worth $125 billion then Yahoo's stake in Alibaba would be worth $30 billion. This would imply that the rest of Yahoo's enterprise is worth $6.4 billion which is 16.7% of its current value.
Yahoo has recently announced that it will be required to sell only 208 million of its Alibaba shares when the company goes public. This was a positive amendment to the previous agreement to sell 261.5 million of Alibaba's shares. This means that Yahoo will get a significantly bigger return from any increases in Alibaba's value.
Conclusion
Unless Yahoo comes up with a revolutionary innovation it is unlikely that it can catch up with market leaders and the company will continue to lose its market share. I think that except the company's stake in Alibaba and Yahoo Japan operations there is nothing attractive for investors.
Therefore, I would recommend buying stock in Yahoo only because of its stake in Alibaba.
Disclosure: I have no positions in any stocks mentioned, and no plans to initiate any positions within the next 72 hours.
Business relationship disclosure: The article has been written by a Blackstone Equity Research research analyst. Blackstone Equity Research is not receiving compensation for it (other than from Seeking Alpha). Blackstone Equity Research has no business relationship with any company whose stock is mentioned in this article.