Overly pessimistic investors may be missing an opportunity for significant appreciation in the nation's largest boat dealer, MarineMax (NYSE:HZO), as personal spending climbs. The company's recessionary inspired cost cuts offer investors margin upside as spending shifts from used to new and smaller to larger boats. That margin opportunity could mean shares are undervalued by as much as 100%.
Here's why.
Investors appear to be under-appreciating MarineMax's opportunity to exploit inefficiencies tied to highly fragmented competitors. Those inefficiencies include:
Inventory -- MarineMax's strong balance sheet allows it to have a deeper and broader selection of high demand boats than competitors.
Pricing -- MarineMax's balance sheet and buying power gives it an advantage in negotiating with vendors and consumers.
Services -- A larger footprint allows the company to offer repair, accessories, and to source parts globally; services smaller competitors can't offer.
This boating "big box" strategy worked extremely well through the middle of last decade, allowing the company to generate over $1 billion in annual sales and $2 per share in earnings. However, that capacity punished the company during the recession as industry unit volumes were cut in half and consumers shifted away from new boats to lower priced used boats.
But, higher home values, equity prices and job creation have buyers returning, and that's providing margin leverage against fixed costs; which had been cut during recession. That combination means sales growth may offer significant earnings upside over the next three years. Particularly since the industry has shrunk from 5000 dealers to 3500, according to the National Marine Manufacturers Association, NMMA.
The recovering market for yachts and boats
Boating is a luxury and even the wealthiest buyer stepped aside for fear of sending the wrong message during the financial crisis. But, with equity markets recovering and corporate profits at new highs, both recreational and luxury buyers are returning to showrooms.
According to data compiled by Statistical Survey's Inc, sales of powerboats were 18.9% higher in July versus last year and year-to-date are up 3.1%. Sales of both smaller and larger craft boats have been improving, with boats under and over 30 feet in length growing 13% and 9.3% since 2010, respectively.
The strong summer showing continued through the quarter as Marine Products Corporation (NYSE:MPX), which makes recreational boats including the 4th largest brand -- Chaparral -- posted sales growth of 9% year-over-year in Q3. Solid results were also delivered by Brunswick (NYSE:BC), which saw sales of its Mercury motors segment climb 5% through the first nine months, prompting the company to target 4% overall sales growth this year.
That growth has come even as bank lending standards have remained tight. However, that's changing as banks with excess low cost deposits look to increase loan books to boost profits.
The financing thaw is coming at the perfect time for consumers, who feel increasingly positive. The NMMA reports a high correlation to both consumer confidence, which has been rising, and GDP, which continues to recover. The University of Michigan Consumer Sentiment survey has moved significantly higher from its recessionary low.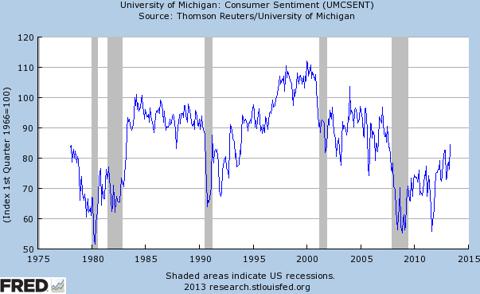 That's got boat makers boosting production. Brunswick announced in the third quarter its upping capacity to meet demand. And, it's also gotten MarineMax's attention, prompting them to carry more brands and models.
Demand for those new brands will likely benefit from the shift back to new boats from used boats. Similar to what happened with autos; consumers focused more on second hand boats during the recession. As a result, the percentage of used boats sold climbed to 82% of all sales, up from 72% prior to the recession, according to the NMMA. With the average age of boats in service rising beyond 20 years, the shift back to new units is likely to mirror the recent recovery for auto makers. That shift is good news for MarineMax given it suggests fewer incentives and more pricing power.
According to data from the Bureau of Economic Analysis, spending on new and used watercraft has been increasing steadily since 2010.

Source: PCE, Bureau of Economic Analysis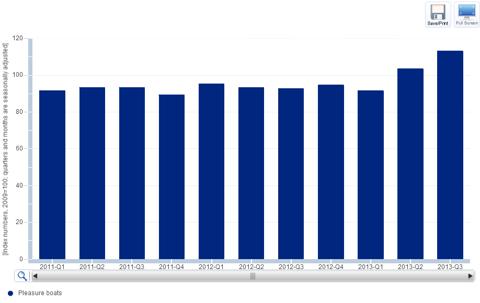 And, there's plenty of running room given spending on boats remains well below the mid 2000's peak. In 2006, the industry sold 306,000 new units. In 2011, the industry sold just 140,000. That translates into just 17% of all boat sales being new units, a decade low and substantially below the 27% in the mid 2000's.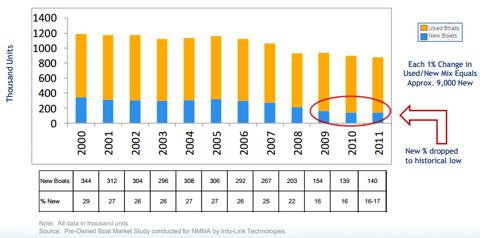 Source: MarineMax Investor Presentation
Sales growth is translating into profit
Investors are likely to start paying more attention to the company given the pickup in sales at MarineMax has been significant.
In the third quarter, sales increased 9% year-over-year to $149.7 million. Same-store sales were up 7%, which came on top of an 18% year-over-year gain a year ago. Those results brought fiscal 2013 sales growth to 11%, or $584.5 million, on same-store sales growth of 11%; that came on top of an 11% year-over-year gain in FY'12. For comparison, MarineMax's current stores generated more than $1 billion a year in 2006 and 2007, generating approximately $2 per share in trailing 12 month EPS in that period.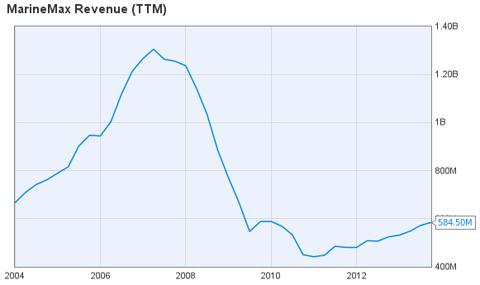 Over the last three years, MarineMax has been able to leverage increasing revenue against fixed costs for margin expansion. In Q3, operating margin of 3.14% was the highest in five years. More importantly, those operating margins could improve more given pre-recession levels were nearly double what they are currently.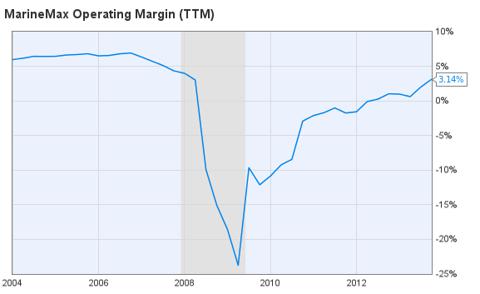 Margin improvement generated $15 million in net income in the quarter and that helped earnings per share grow to $0.60 over the past twelve months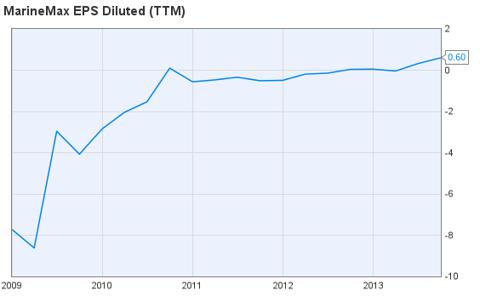 Yet, analysts arguably remain too timid. While they've boosted their outlook for 2014 earnings to $0.56 from $0.50 sixty days ago, they've taken their 2015 estimates from $1.07 to $0.94. That disconnect is creating an exploitable opportunity. Particularly when we recognize the company has beaten their forecasts in three of the past four quarters by a median 47%.
| | | | | |
| --- | --- | --- | --- | --- |
| Surprise % | 12-Dec | 13-Mar | 13-Jun | 13-Sep |
| HZO | 14.30% | -91.70% | 80.60% | 625.00% |
Even more interesting is the fact that analysts expect MarineMax's earnings per share will still climb to $1.58 in fiscal 2016.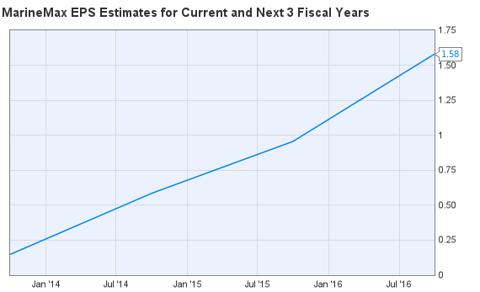 This suggests if MarineMax investors pay the midpoint between trailing and future earnings at some point over the next three years, shares may head to $31.54, up 109% from current levels.
| | |
| --- | --- |
| Metrics | MarineMax |
| Trailing P/E | 23.9 |
| Forward P/E | 16.02 |
| Current Share Price | $15.06 |
| Forward EPS Estimate | $1.58 |
| Target P/E | 19.96 |
| Target Price Forward EPS * Target P/E | $31.54 |
| Potential Return | 109.41% |
Some final thoughts
There's little question investors have been getting increasingly comfortable with the company. In 2009, few thought it would survive. As a result, investors were paying less than 0.10 times sales for shares. Now, they're paying 0.61 times sales and those sales are climbing, not shrinking. At the same time, investors remain cautious in modeling forward growth given the P/E to growth ratio is reasonable 1.17 and investors are paying just 16 times forward earnings estimates.
Investors should recognize short sellers still remain over-exposed to MarineMax too. Despite the recovery, they're sitting on 8 days of average volume short. Given the company doesn't have any long-term debt and has considerable operating leverage, investors who think the economy will continue to grow rather than shrink may find MarineMax a compelling addition to small cap portfolios. Particularly, if sales and earnings head back toward pre-recession levels.
Disclosure: I have no positions in any stocks mentioned, and no plans to initiate any positions within the next 72 hours. I wrote this article myself, and it expresses my own opinions. I am not receiving compensation for it (other than from Seeking Alpha). I have no business relationship with any company whose stock is mentioned in this article.