Amazon (NASDAQ:AMZN) recently unveiled a higher royalty rate plan for authors and publishers that is designed to stimulate a larger availability of e-books on Amazon and to help drive sales of its Kindle e-reader device. Below we discuss how the higher royalty rate helps drive Kindle sales and what the impact could be on Amazon's stock.
Author Royalty Rate Goes from 35% to 70%
Amazon is now offering authors 70% of the list price of each e-book sold, net of delivery costs (which typically run about 6 cents for an average book). This is up significantly from the 35% previously offered. The new royalty rate is restricted to e-books priced between $2.99 and $9.99; however, many e-books on Amazon are already priced within this range and those that are priced higher may adjust their pricing downward as a result of the higher royalties.
Higher Royalties for Authors Means More e-Books Available on Amazon
Amazon's rationale behind the higher royalty is to keep e-book prices low while letting authors and publishers make more money, which in turn will encourage more authors to publish in the e-book format. The new royalty rate will reduce Amazon's margins on e-book sales but help it to sell more e-books and high-priced Kindle devices.
More e-Books on Amazon Makes Kindle a More Attractive e-Reader
Amazon can develop a large catalog of e-books which will make it more competitive in the e-reader market. The Kindle already competes with Sony's (NYSE:SNE) e-reader and Barnes & Nobles' (NYSE:BKS) Nook. Apple (NASDAQ:AAPL) recently introduced the iPad, which can function as an e-reader and offers similar economics (70% royalty rate) for authors that distribute e-books through Apple's electronic bookstore.
Kindle Contributes $2.6 billion to Amazon's Value
We forecast that Amazon will be able to sell about 2 million Kindles in 2010 and that this will increase to nearly 10 million by the end of the Trefis forecast period. We believe that Amazon's new royalty rate will help it to remain competitive against the iPad and the economics offered to authors by Apple.
We estimate that Amazon's Kindle business constitutes about 5% of the stock's value, or $2.6 billion of Amazon's overall value. You can modify our forecast for Kindle Units Sold here to see how much Amazon's stock would be impacted if Kindle sales were higher than our forecast.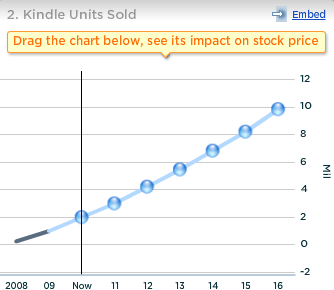 Disclosure: No positions