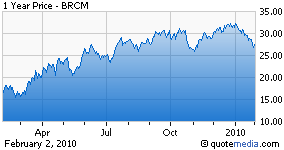 Broadcom Corp. (BRCM) is expected to report Q4 earnings after the market close on Wednesday, February 3, with a conference call scheduled for 4:45 pm ET.
Guidance
The consensus estimate is 44c for EPS and $1.32B for revenue, according to First Call. In mid-December, the company raised its Q4 revenue guidance to $1.32B to reflect stronger-than-expected demand from its broadband and corporate networking customers. The company saw product gross margins up 100 bps vs. prior guidance of up 20-50 bps.
Analyst Views
FBR Capital believes Broadcom's revenues are tracking at, or slightly above, management's guidance. The firm believes sequential growth in the broadband and enterprise networking segments should more than offset a modest decline in the mobile and wireless business. For Q1, FBR thinks revenues will decline only modestly as seasonally lower wireless shipments are offset by continuing strength in its enterprise shipments, and by new program contributions. Gross margins in Q1 should improve further due to greater enterprise mix, says FBR. Specifically, the firm currently forecasts Q1 revenue and EPS of $1.25B and 37c, respectively, in line with the consensus estimates of $1.24B and 36c.
Goldman thinks Broadcom is likely to guide Q1 revenue moderately above the Street with stronger-than-expected gross margins. But they think the report is unlikely to be strong enough to drive the stock higher despite the recent selloff. The firm thinks there is likely to be less upside to sales guidance for Q1 relative to peers given negative trends in Bluetooth and set-top boxes, plus seasonality in handsets and consumer electronics. Also, an elevated operating expense run rate, due to continued litigation expenses, is like to weigh on the stock in the short-term. Consensus for Q1 is 36c on $1.24B in revenue.