(Editors' Note: This article covers a micro-cap stock. Please be aware of the risks associated with these stocks.)
The readers of my previous articles probably have noticed by now that I specialize in bringing to the attention of the investment community "under the radar" stocks with significant upside. But another common denominator, is that in each case, some significant recent event has occurred that will act as a major catalyst for sustained gains. In fact, I firmly believe that the longer you hold the stocks that I recommend, the greater your gain percentage-wise will be. Obviously nothing goes straight up, and there will inevitably be peaks and valleys on their upward trend.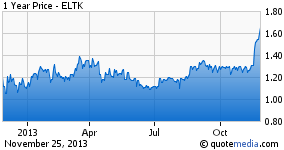 This brings me to Eltek Ltd. (NASDAQ:ELTK). ELTK has traded sideways in an amazing narrow range for almost 5 years. Amazingly, the stock did not appreciate at all despite the fact that it has reported 10 consecutive GAAP-profitable quarters! You will notice however, that in recent days ELTK's trading volume has up spiked significantly with a simultaneous rise in share price. You will see in the following paragraphs that there are several very good reason for it.
On August 19, 2013, Eltek announced that Nistec Ltd. ("Nistec"), a leading provider of Electronic Manufacturing Services ("EMS") and design services based in Israel, had signed an agreement to acquire a majority share of Eltek Ltd. The agreement called for Nistec to invest $4.2 million to buy 3,532,655 ordinary ELTK shares at $1.19 per share. The same announcement stated that Nistec would acquire all of the holdings of Eltek's major shareholder, Mr. Yossi Maiman (24.1%), for $2.3 million, or $1.45 per share. This meant that upon completion of the transactions, Nistec will hold the majority of Eltek's issued share capital (50.5%).
When the Nistec announcement was made, the trading volume spiked up significantly along with the share price. But "mysteriously," the trading pattern and volume resumed their sideways, unremarkable pattern of the last 4 years - until last week. Even when the deal was closed as announced on November 1, 2013 the volume and share price did not move. I believe that the reason for the recent surge is the upcoming 3Q 2013 earnings announcement scheduled for Wednesday, November 27, 2013, before the market opens. I also believe that a few savvy investors started buying in anticipation that Eltek will provide more color about the effect of the Nistec cash infusion and majority ownership going forward in the earnings release and subsequent conference call.
Eltek Ltd, established in 1970, manufactures and supplies technologically advanced, custom made circuitry solutions for use in compact electronic products. The Company provides specialized services and is a solution provider in the PCB business, mainly in Israel, Europe and North America. Eltek's largest markets are: 1) defense and aerospace, 2) medical equipment , 3) industrial, 4) telecom, and 5) others.
Nistec, founded in 1985, is a leader in the delivery of innovative electronics manufacturing & design services. The company serves more than 300 customers in diverse industries such as telecommunications, RF, medical, defense and aerospace. Nistec's unique suite of solutions spans the entire product lifecycle - from design, manufacturing and systems integration, to order fulfillment and after-market services. For more information, visit Nistec's web site at nistec.com
You can see that there are many synergisms between the two companies that will likely benefit each other going forward.
Now, I would like to give you my take as to what I think the "Nistec Factor" will be in Eltek's future. I believe Nistec will have a significantly positive effect on Eltek's revenues and profitability while providing a strong safety net going forward.
The 2013 -2014 "Nistec Factor:
During the last two conference calls Eltek stated that it was losing revenue/income opportunities because of capacity and efficiency limitations with its existing manufacturing facilities. In the 2Q 2013 earnings release, Arieh Reichart, president and chief executive officer of Eltek commented: "For three consecutive quarters Eltek has seen growing demand from its current customer base, but production capacity constraints prevented the full exploitation of this potential. Our customers continue to see the value proposition of our products and have a great deal of trust in our company. Specifically, in our local market, we have seen greater interest from our local customers, reflecting the continued market recognition of our high quality and reliable products."
Mr. Reichert concluded, "We are pleased with Nistec's decision to invest in Eltek. This significant investment is an important validation of our vision and achievements and will support our long-term growth plans. This investment will enable Eltek to fully realize its growth potential as well as other opportunities in the diverse markets we serve."
When asked about how the significant Nistec cash infusion will affect the operations going forward, Mr. Reichert responded that in the interim, or until about a year from now, Eltek will be able to invest in equipment and supplies that will debottleneck current constrained capacity as well as providing more efficiency. This in turn will increase revenues and gross margins. Additionally, removing current constraints will enable Eltek to execute quick deliveries to customers. In the current high-demand climate, Eltek's customers usually pay a premium for quick deliveries in case they need them.
The 2015 and beyond "Nistec Factor":
As stated in the 2Q 2013 earnings release and conference call, Eltek has been running at maximum capacity on its 30-year old manufacturing line. Replacing this line with a brand new higher capacity/higher efficiency line will take about 12 months after it's ordered. Essentially, Eltek has already engineered and specified the new line and as soon as the funds are available it planned to order the new line - this presumably has already occurred since the Nistec acquisition has closed on November 1, 2013.
I hope that it's becoming clear by now that the balance of 2013 and all of 2014 Eltek will realize higher revenues and higher income that the relatively flat performance of the last 2 years. And starting at the end of 2014 fiscal year, revenues and net income will ramp up significantly with the new more efficient manufacturing line.
But the long-term "Nistec Factor" goes far beyond manufacturing capacities and efficiencies in my opinion.
Mr. Yitzhak Nissan is the founder and CEO of Israel's Nistec Group and has Joined Eltek as a director in November 2013. Mr. Nissan is a leader in the Israeli electronics market, having served as a Presiding Member of ILTAM (Israeli Users' Association of Advanced Technologies in Hi-Tech Integrated Systems) between 2008 and 2009, and as a Presiding Member of the Israeli Association of Electronics and Software Industries since 2012. Mr. Nissan also established the VPs Operations Forum, which brings thought leadership to 200 VPs of operations from diverse hi-tech companies in Israel.
Mr. Nissan runs Nistec as one of the jewels of Israel's manufacturing industry. The company's plants, methods, procedures, and employee-satisfaction ratings have won several awards from various Israeli trade and government organizations. I believe Mr. Nissan's management style and influence will have a significant positive effect in Eltek's operating results going forward.
The Nistec deal has increased Eltek's share count of outstanding shares to about 10.1 million. When considering Nistec's ownership and the current institutional holdings, the current public float is approximately 4 million shares. This means that with all the new dilution, ELTK is still significantly undervalued trading at about 0.3 times sales. If one considers the potential Nistec-influenced growth, the share price could potentially double or even triple to get anywhere near fair valuation.
Conclusion:
I believe ELTK is a safe investment with potentially significant upside if the company can successfully executes its short and long-term plans. The improved balance sheet and expected revenue, gross profit, and net income gains going forward as a result of capacity and efficiency gains resulting from Nistec's cash infusion/influence are reasons why I think the downside is minimal. But as with any investment in the stock market, there are risks involved in buying ELTK stock. Investors considering buying this, or any other stock, should always read carefully the risks and uncertainties as spelled out in the company's 10-K and 10-Q filings.
Disclosure: I am long ELTK. I wrote this article myself, and it expresses my own opinions. I am not receiving compensation for it (other than from Seeking Alpha). I have no business relationship with any company whose stock is mentioned in this article.