CVR Refining (NYSE:CVRR) has had quite a volatile year, thanks largely to shifts in refining margins and crack spreads. CVR Refining had its IPO early in 2013 during a period where crude oil differentials were wide and crack spreads were massive. In essence, a perfect storm for inland refiners such as CVR Refining. CVR Refining's distribution has varied greatly quarter to quarter, from a high of $1.58 per unit back in May 2013 to a low of $0.30 for November 2013. Several factors have impacted CVR Refining's' distribution, including but not limited to reduced throughput (volume) related to equipment failures and unfavorable crude oil differentials.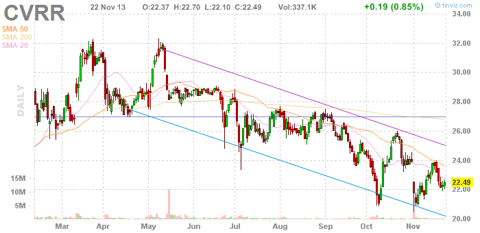 Company Overview
For those not familiar with CVR Refining, the company is a downstream, or refining, MLP with a variable rate distribution. A variable rate distribution basically has the company paying out nearly all of its earnings quarter to quarter, with little left over for weaker time periods. This may mean that in quarters where margins are thin or unplanned expenses occur, that the distribution could be eliminated. This scenario occurred recently in Q3 with Alon USA Partners (NYSE:ALDW), which is also a downstream MLP.
CVR Refining owns two of the seven refineries operating in Group 3 of the PADD II region. CVR Refining's largest refinery is located in Coffeyville, Kansas, about 100 miles away from Cushing, Oklahoma, which is a vital transportation intersection for oil pipelines. This gives CVR Refining some access to price advantaged crude oil feedstock.
Do note that CVR Energy (NYSE:CVI) owns nearly 71% of the limited partner interest in CVR Refining along with 100% of the general partner interest. Also note that Icahn Enterprises (NYSE:IEP) owns about 82% of CVR Energy.
Q3 2013 Results
Net income: $86.0M

Adjusted EBITDA: $33.9M

Cash available for distribution: $44M

Quarterly distribution: $0.30 per unit

Average total throughput: 160,700 BBLs/D

Average refining margin: $8.21 per BBL
On November 1, CVR Refining reported its Q3 2013 results. Overall, the company posted very poor results. Net income fell over 74% to $86M compared to $319M last year. Adjusted EBITDA, arguably a better metric for determining profitability for MLPs, dropped to only $33.9M, down an incredible 93% from $447.1M last year.
As I noted in the intro, CVR Refining's results were mostly impacted by two factors. The first and most significant was a weakening in crude oil differentials in the quarter. WTI prices surged during Q3 while Brent prices remained mostly flat. Also during the quarter, CVR Refining lost its crude feedstock price advantage as the discount to WTI pretty much vanished. For Q3 2013, CVR Refining's average discount to WTI was merely $0.37 per barrel compared to $2.76 per barrel in Q3 2012, down roughly 87%.
The second factor was an unplanned downtime related to the damaged catalytic cracking unit, or FCCU, at the Coffeyville refinery. Coffeyville volumes fell to about 79,400 barrels per day, down from the typical 115,000 barrels per day. As a result, total throughput volumes for CVR Refining fell to an average of only 160,700 barrels per day, from 192,500 barrels per day last year.
These two factors greatly impacted CVR Refining's margins per BBL. For the quarter, margins came in at only $8.21 per BBL, down 76% from $33.44 per BBL last year.
Lastly, as a combined result of the quarter's weakness, CVR Refining's cash available for distribution collapsed to $44.0M, or $0.30 per unit. However, this metric should be taken with a grain of salt as the company "released" $60M in excess cash reserves in the quarter. CVR Refining typically accumulates cash to fund operating expenses, maintenance, and for turnarounds. Adjusting for this one time item, CVR Refining's cash available for distribution would have been negative $16M.
Refinery MLPs have had a rough year
While some may argue that CVR Refining has lagged YTD, its performance is mostly inline with its peers in the downstream, or refining, MLP sector. Below is a chart of the performance of several other stocks in the sector, such as Northern Tier Energy (NYSE:NTI), Alon USA Partners, and Calumet Specialty Product Partners (NASDAQ:CLMT).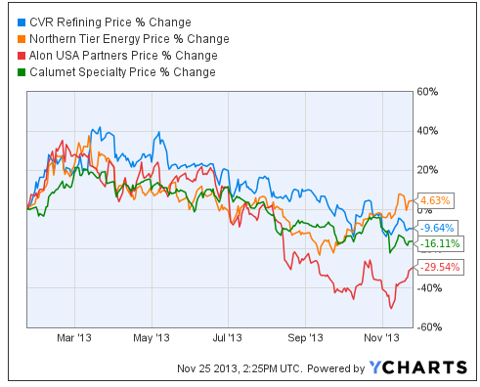 As can be seen, with the exception of Northern Tier Energy, the sector has had a very poor 2013. The reason for the decline is rather simple however. Late 2012 and early 2013 were a golden age of sorts for refiners. Margins were elevated due to cheap WTI-based feedstock sources, RIN prices, which are basically a biofuel tax for refiners, were essentially zero, while crack spreads were near decade highs.
Many took advantage of this situation to IPO refinery MLPs, which offered 20% plus yields at a time where income stocks were priced at a premium. Of the stocks mentioned, all saw their IPOs during this period except for Calumet Specialty Product Partners.
However, the situation has since reversed. RIN costs exploded higher and were at one point up 2000% in 2013. WTI reached near parity with Brent, which greatly impacted crack spreads. Meanwhile, inland WTI-based feedstocks saw their discounts disappear as transportation bottlenecks were alleviated.
All these factors led to a sharp decrease in profitability for the sector. This resulted in multiple massive distribution cuts for all the names except for Calumet Specialty Product Partners.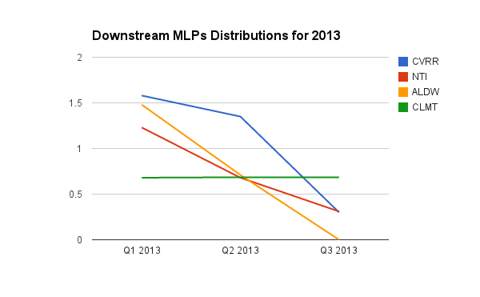 Guidance regarding the Q4 2013 distribution
Below is the key quote regarding CVR Refining's Q4 2013 distribution:
CVR Refining's third quarter cash distribution brings the cumulative cash distributions paid or declared for the first nine months of 2013 to $3.23 per common unit.

CVR Refining also updated its 2013 full year distribution outlook to $3.45 to $3.70 per common unit, which includes 18 cents from the pre-IPO period of Jan. 1, 2013, to Jan. 22, 2013. The updated outlook is a result of current market conditions, primarily the decrease in the Group 3 2-1-1 crack spread.
According to the updated guidance, CVR Refining's Q4 2013 distribution is likely to come in between $0.04 to $0.29 per unit. Using the midpoint for the FY 2013 distribution, CVR Refining TTM yield would be about 15.75% at current prices.
As noted earlier, CVR Refining posted negative cash available for distribution in Q3. I doubt that CVR Refining will be "releasing" any more excess cash this quarter, so most of the distribution should come from operating results. Therefore, the updated guidance implies a large increase in profitability for the quarter.
Final Thoughts and Conclusion
CVR Refining was wise to use its excess cash to pay the $0.30 per unit distribution in Q3. I cannot imagine where the stock price would be if the distribution were cut to zero. A look at rival Alon USA Partners' stock price may give a clue as to how the stock would have performed.
Q3 2013 was rough for nearly all refiners, especially CVR Refining. However, things are looking better for Q4. While profits, and thusly distributions, are unlikely to return to earlier levels anytime soon, I do think they will peter out to have CVR Refining yielding slightly less than 10% going forward. However, given the unstable nature of its distribution, I would not recommend CVR Refining for income.
Disclaimer: The opinions in this article are for informational purposes only and should not be construed as a recommendation to buy or sell the stocks mentioned. Please do your own due diligence before making any investment decision.
Disclosure: I am long NTI. I wrote this article myself, and it expresses my own opinions. I am not receiving compensation for it (other than from Seeking Alpha). I have no business relationship with any company whose stock is mentioned in this article.