By Carla Fried
GMO, the $112 billion investment management firm led by chief investment strategist Jeremy Grantham is out with its latest quarterly letter (novella is more like it) and the news remains the same: stocks, in general, are not at all compelling. The firm forecasts a -1.3% inflation adjusted annual return for the S&P 500 over the next seven years.
Conservative, value-oriented investors? Of course. But ignore them at your own expense. You don't manage $112 billion being wrong over full market cycles. And that's the key: GMO is the rare firm that is focused on delivering through full market cycles, invariably by participating on the upside and outperforming on the downside.
For what seems like eons, GMO has been focusing on high quality large cap firms as a pocket of (relative) value. Quality being a mix of solid profits and growth generated on a consistent basis, without high debt levels. Over the past five years the GMO Quality mutual fund has managed to capture three quarters of the market's upside while absorbing one-third less on the downside according to Morningstar's "capture ratio" data. (Full Disclosure: Morningstar is an investor in YCharts.) Similar funds captured all of the upside and 103% of the downside. If you like swinging for the fences 24/7, GMO is not the team you're gonna draft. If you happen to care about not losing your shirt and positioning yourself to outperform during periods of market stress, this is a portfolio worth paying attention to.
GMO Quality's latest filing is only to September 1. A bit dated, but given annual turnover is just 34%, the portfolio today is going to likely look quite similar to a few months ago.
The top five holdings as of the latest filing were Johnson & Johnson (NYSE:JNJ), Microsoft (NASDAQ:MSFT), Google (NASDAQ:GOOG), Oracle (NYSE:ORCL) and Coca Cola (NYSE:KO). At 5.2% of assets, Johnson & Johnson is the largest holding, but in the latest quarter, GMO actually trimmed a little bit. The four other positions were all added to in the quarter.
The obvious common thread is that all are global market leaders with well-established wide moats. In fact, Morningstar notes that 80% of the portfolio is in stocks Morningstar characterizes as wide moat. Just 46% of the S&P 500 is rated wide-moat by Morningstar.
In terms of profit growth, only Johnson & Johnson is a bit of an outlier, given its recent stumbles through 2012 … which seem to have been rectified.
JNJ EPS Diluted (TTM) data by YCharts
That said, in terms of quality, Johnson & Johnson has one of the cleanest balance sheets around; it is one of four companies with a AAA rating from Standard & Poor's. Microsoft, ADP (NASDAQ:ADP), and Exxon Mobil (NYSE:XOM) are the others. ADP is the only one of those four not in the GMO Quality portfolio.
JNJ Debt to Equity Ratio (Quarterly) data by YCharts
While GMO was giving a slight haircut to its Johnson & Johnson stake, it doubled its stake in Merck (NYSE:MRK) to near 2% of assets in its latest quarter, and added a small slice to its Pfizer (NYSE:PFE) position, which now accounts for about 4.5% of fund assets. The pharma stocks are worth a look using equity research tools.
About 30% of the fund is invested in the health care sector, more than double the average for similar large cap funds. Another 30% is in the consumer defensive sector. The technology sector is the other significant overweight at more than 25% of fund assets.
Another layer of downside protection is the fact that many global market leaders are stellar at paying out dividends, and raising that payout over time, and who doesn't like dividend growth? Of the top five holdings, only Google doesn't pay a dividend, and Oracle has yet to distinguish itself as a committed dividend payer/grower. With the other three you're getting yields still ahead of the 10-year Treasury:
JNJ Dividend Yield (TTM) data by YCharts
And a track record of paying-and increasing-the dividend through good times and bad.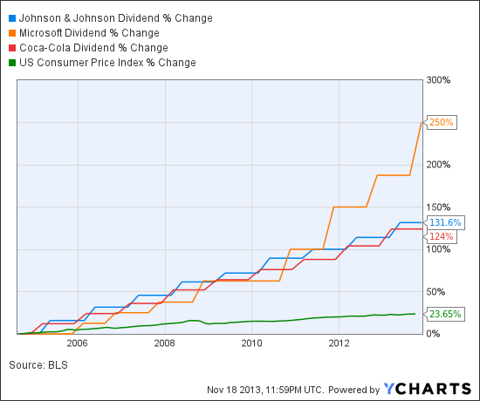 (Click to enlarge)
JNJ Dividend data by YCharts
Other dividend stalwarts in the portfolio that were added to in the latest filing and recently had Treasury-beating yields include McDonald's (NYSE:MCD), Chevron (NYSE:CVX) and Philip Morris (NYSE:PM).