IBM (NYSE:IBM), Intel (NASDAQ:INTC), and Cisco (NASDAQ:CSCO) are three companies on the Dow Jones that are all elite leaders in the world of technology. They all currently trade at very attractive P/E ratios, and should at least be on the radar for most every type of investor. Over the last decade, only one of them has rewarded shareholders well: IBM. Yet, out of the three, that is the stock in which I have the least faith for the next few years.
Click to enlarge images.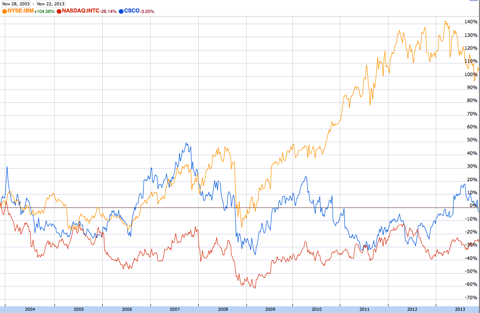 While IBM has more than doubled in the last decade, Cisco has remained flat and Intel has lost over 20% -- all excluding dividends, which would hardly change the story anyway. The reasons for this can be found in the following charts:
Revenue

Income

Profit Margin

Earnings Per Share


The stories that these charts tell are wildly different, and paint IBM in quite a good light. Its earnings per share have grown so incredibly well during this period that I can't even let IBM share that chart with the other two! But we can't assume the future to look like the past, though it certainly can give us some reasonable hints.
IBM has been fantastic about retiring shares, and that has allowed it to keep growing its EPS, while its growing margins have allowed mediocre revenue growth to translate into substantial income gains. Cisco's results look quite good over the last decade; it has had consistently solid revenue growth year over year, and its margins have at least been sustained. There have been some wild quarterly swings, but that's primarily due to the cyclical nature of its business. Intel is the same way, and its swings have been every bit as wild. Even though the overall market for computers and devices keeps climbing rapidly, Intel's growth has been quite chaotic. Everything has been in decline for Intel since 2012, and its guidance for 2014 has recently left investors disappointed. Still, I believe that both Intel and Cisco make compelling cases as strong buys currently, and for similar reasons.
The Case
Intel and Cisco are both leaders in their fields with strong specialties. Intel makes a wide array of computer and device components, while Cisco is a world leader in networking and routers. IBM is a global leader in information technology, with a far wider scope of services among its five business segments. That variety empowers IBM with the stability that comes from diversification, though it also expands the fronts on which IBM must continue fighting to remain relevant in the hypercompetitive world of technology. And while Cisco and Intel have both done appropriate jobs of increasing their R&D budgets over the last decade, IBM has left its flat for the last nine years. This may be in part due to IBM's desire to keep its earnings growth in line, which, if true, would be a short-sighted maneuver.
R&D Budgets

Intel failed to be prepared for the popularity of tablets and smartphones, losing market share to competitors like Qualcomm (NASDAQ:QCOM). Thankfully, it appears as if Intel has been working to rectify that mistake. Its array of chips coming out in 2014 appear to be competitive, especially the 14nm Cherry Trail and the newly announced Knights Landing. Intel's road map for 2015 includes the modular Broxton, another impressive indication that Intel understands what the future will require for it to become competitive in mobile. Although big market share improvements may not come immediately, I do believe that accumulation will begin before those sales kick due to the quality of Intel's product line.
Cisco has been far more consistent than Intel on just about every front, though the market hasn't treated its shares very optimistically over the last decade, and especially as of late. Recent NSA revelations have clearly been off-putting to Indian and Chinese businesses, though I think this may work to shareholders advantage. I believe that many companies are choosing to delay their network upgrades, rather than choosing a competitor like Huawei or ZTE. If I were a Chinese CEO, I'd rather let my networks' information be stolen by the Americans, since the Chinese could do all the same things and worse with it. Some delay in purchases could help Cisco pull a slight surprise above its guidance throughout 2014, rewarding shareholders every quarter. Finally, its efforts to become more like IBM, offering software and consulting services that are coordinated with its networking equipment, is a smart maneuver for long-term growth as Cisco seeks to become leaders in the Internet of everything; this only spells more competition for IBM.
Another final factor that might boost both Intel and Cisco is dividends. Intel has stuck with the same dividend for six quarters now, but it should grow at some point in 2014. Intel's dividend growth over the last decade has been excellent -- from 16 cents a year in 2004 to 90 cents in 2013 -- and it has a very attractive ratio of 3.81%. I expect that Intel will raise it to $0.2375/quarter starting with its next dividend, though if Intel delays the increase until the third quarter, it should be even larger.
Intel Dividends 2004-13

Cisco's dividend is also quite good at 3.18%, and it was only initiated back in 2011. In that time, the payouts have already gone from six cents to 17 cents quarterly, and shareholders should be in for another large raise at some point in 2014, to 20 cents or perhaps more quarterly.
Cisco Dividends 2011-13

IBM is no slouch either in this category, going from 16-cent quarterly dividends at the start of 2004 to 95-cent quarterly dividends currently. Shareholders may be expecting another dime raise in 2014, but could be disappointed with just another nickel. IBM could certainly afford even more, but with IBM's focus on share buybacks I foresee this factor being a greater risk than potential reward over the course of the next year. And with a mediocre 2.12% dividend ratio, investors are buying IBM stock more for the dividend growth than the current payout, so any perceived delay in growth may be treated irrationally by the market.
IBM Dividends 2004-13

Conclusion
All three of these companies are world-class leaders that are currently trading well below their 52-week range. While I believe that IBM is currently priced quite fairly, I don't like to buy companies at fair prices, but rather at substantial discounts due to market shortsightedness and fear. I believe that IBM may present some good opportunities for traders in 2014 if its shares drop between $130 and $160, and I may pick up shares incrementally between those prices.
Cisco and Intel both have signs of a company that I want to buy shares of immediately. They are leaders in markets which I can strongly suspect to see substantial growth in over the foreseeable future. They both have cyclical businesses that are currently facing dips, which include strong catalysts that will create opportunities for shares to climb higher over the next two years. They've been growing their R&D expenditures and are reaching into new markets where growth is likely. They have above-average dividends in a still-weak bond environment, which can be reasonably expected to grow in the near future. And their shares have been heavily beaten down, trading at some of the lowest P/E ratios among blue-chip stocks. Although their short-term growth guidance might be weak, their long-term prospects are still strong, making both Intel and Cisco relatively low-risk buys with strong reward potentials.
Disclosure: I am long CSCO, INTC. I wrote this article myself, and it expresses my own opinions. I am not receiving compensation for it (other than from Seeking Alpha). I have no business relationship with any company whose stock is mentioned in this article.