After my article last week on Realty Income (NYSE:O) I responded to a few readers regarding the falling share price of "The Monthly Dividend Company". It seems that a handful of people are negative on the "blue chip" REIT because all they see is a falling share price.
Of course that's understandable. There is a lot of emotion when it comes to investing and even though we all try to strip away the obfuscation and superficiality, the bias - good or bad - is always existent. After all, if the present price is based on a mix of unpredictable factors, many of which pertain more to emotion and mass psychology than anything else, how could anyone expect to predict future prices accurately?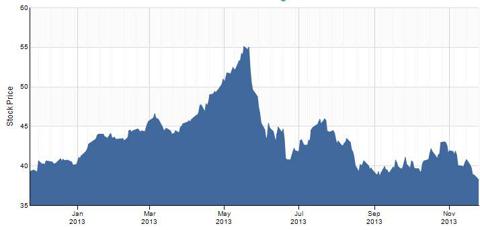 Unfortunately, many investors get turned off when a stock like Realty Income is down. The sentiment of a falling knife gives many investors a glazed over feeling and they become more like a "deer in headlights". That negative bias oftentimes turns people off at the time that they should be investing.
Many investors often underestimate or are unaware of the affects that their emotions have on investments. As a result, many well educated investors lose money everyday due to trading on anxiety and emotions.
It's common a theme for fear to cause investors to exit the markets too early causing a loss of otherwise attained profits. Investors suffering from fear are afraid that the price will decrease further so they get out before the timing is correct, instead of letting the trade play out. In my recent article I explained:
Needless to say, the scared money concept was one of the most valuable lessons in my life. There's definitely a correlation between "scared money" and Mr. Market - or commonly referred to as the "crowd.
The whole point of my article was to provide insightful analysis on Realty Income and allow investors to decide whether or not the company is attractive, unattractive, or indifferent. I like using Ben Graham's commentary because his thought processes has proven to be logical and never outdated. As the Intelligent Investor explained:
You are neither right nor wrong because the crowd disagrees with you. You are right because the data and reasoning are right.
Why Ben Graham?
Another reason that I often cite Graham is because he is "old school". I don't know many people who lived through the Great Depression except my grandmother. She is now 97 years old and as sharp as tack. I can only imagine her life and how she and my grandfather saved pennies to pay for the bare essentials - food, shelter, and clothing - while budgeting for a very large family.
In large part I'm thankful that I was raised by a humble household who enabled me to behave rationally - that ingrained behavior that prepared me to avoid making impulsive decisions that I would regret. However, even with proper training, I've made some bad decisions and the trick is to limit them to a few.
By following the advice of some of the world's best investors, including Graham, I have learned to focus on fundamentals. It's important for me to surround myself with investors with superior intellect and Graham's success can be summed up as follows:
Adversity is bitter, but its uses may be sweet. Our loss was great, but in the end we could count great compensations.
Graham's early (in life) severe economic hardship left a deep and permanent impression upon his star student, Warren Buffett, as the Oracle from Omaha explained:
He (Graham) emerged from those first hard years with an absolute drive to become very, very rich. He thought about it before he was five years old. And from that time on, he scarcely stopped thinking of it.
One important thing that Ben Graham learned during his formative years that also became his defining trait that shaped his entire life was a steely determination to attain financial success. Accordingly, Graham explained:
The years of poverty since Father's death had touched me only lightly. They had developed in my character a serious concern for money, a willingness to work hard for small sums, and an extreme conservatism in all my spending habits.
So Why I Am Buying More Shares in Realty Income?
I have already explained (in the previous article) my "warm feeling" for Realty Income shares. The company, priced today at $38.28, is clearly trading at "sound" value and the fact that the share price is continuing to fall does not alarm me in the least. For a variety of reasons (some known and some unknown), Mr. Market has placed a negative bias on the shares and that has led me to my attraction to buy more.
I have recently come up with my own hypothesis as to why shares of Realty Income have become negatively biased. According to Robert Shiller, professor of economics at Yale University, investors would benefit from understanding behavioral finance because it offers an intuitive understanding of what motivates certain buy decisions.
For example, according to the theory, investors are inclined to buy stocks in companies that advertise or are constantly in the news. As we all know, Realty Income has a well know brand summed in four simple words: The Monthly Dividend Company. For years the Net Lease REIT has been the darling for dividend investors and it is still widely recognized as a "sleep well at night" stock that delivers monthly mailbox money.
The core message for Realty Income and the reason that investors have been willing to pay more for the shares is for sustainability, reliability, and repeatability. In fact, the predominant reason that most investors own shares in Realty Income is for the durability of the dividend income.
So when a company like Realty Income becomes the subject of attack, the emotion drives the share price down. For example, on November 4th (2013) Barron's published the following research report from Ladenburg Thalmann:
Simply put, given the strong possibility of the Fed tapering next year, and the demonstrated negative sentiment towards net lease REITs when interest rates rise, it is hard for us to see the market assigning a premium multiple to Realty Income versus the average REIT despite its larger size and long-term track record…
The analysts went on to say:
Realty Income could have a hard time growing its earnings and dividends if acquisition volume does not materialize via larger portfolio deals. As a result, investors that desire more growth in their income stream could begin to favor smaller or mid-cap net lease REITs that can more easily move the earnings needle and therefore increase dividends at a faster rate.
So while Realty Income has been successful for nineteen years defending its beloved dividend, Mr. Market has put The Monthly Dividend Company under the magnifying glass giving investors an opportunity to decide whether or not the company can continue to maintain its crown jewel record. As I alluded to at the outset, the emotions (now magnified) have turned to anxiety (for some) and the negative bias seems to be screaming opportunity.
Remembering that during the Great Recession Realty Income was one in just a dozen REITs that managed to pay and increase its dividend. The primary reason that the company was able to do so was because of (NYSE:A) a conservative payout ratio, (NYSE:B) a strong balance sheet, and (NYSE:C) a well-balanced (diversified) portfolio. These fundamentals have not changed AT ALL and if anything they are much better (S&P rating is now BBB+).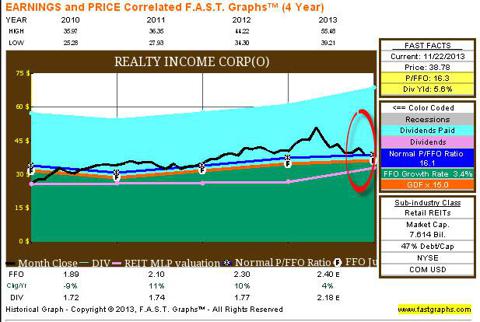 There will continue to be haters and lovers for every stock. As I have learned over the years, the haters became more vocal when shares get cheap (i.e. Digital Realty) and the lovers get more vocal when shares get expensive. I can't control the market emotions but I can control mine because it's now part of my DNA. Ben Graham sums it up:
An investment operation is one which, upon thorough analysis, promises safety of principal and satisfactory return. Operations not meeting these requirements are speculative.
In closing, Palladium31 wrote an excellent research report (Instablog) on Realty Income. All of his facts are sound and in the very worst scenario outlined, Realty Income has ample credit to finance future acquisitions. I have no doubt that Realty Income will be able to meet or exceed 2014 acquisition guidance and I believe that all credit metrics will remain strong.
In summary, it's the value investor's job to be content with results that, in any given year, are likely to be strong but not necessarily spectacular. I am continuing to recommend Realty Income for its durability that equates to the stability that comes with being a conservatively managed REIT. I'm not looking for a fast grower, just a steady payer. That may be old school, but the 5.6% dividend yield is really cool. Good luck and Happy Holidays.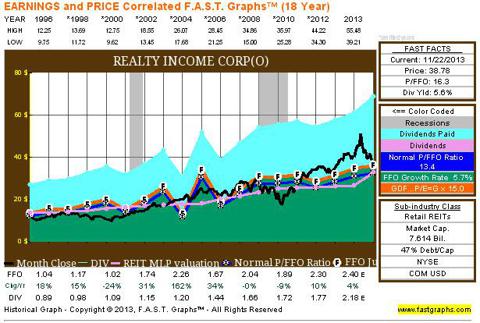 Check out my monthly newsletter, The Intelligent REIT Investor and my NEW 3D portfolio (coming in December).
Source: SNL Financial and FAST Graphs
Disclaimer: This article is intended to provide information to interested parties. As I have no knowledge of individual investor circumstances, goals, and/or portfolio concentration or diversification, readers are expected to complete their own due diligence before purchasing any stocks mentioned or recommended.
Disclosure: I am long O, ARCP, GPT, CSG, VTR, HTA, ROIC, STAG, CBL, UMH, DLR. I wrote this article myself, and it expresses my own opinions. I am not receiving compensation for it (other than from Seeking Alpha). I have no business relationship with any company whose stock is mentioned in this article.