After the economic problems in Dubai last December, Greece followed suit with its own macroeconomic problems. Greece's ballooning debt sent shockwaves through the global financial community. However, the Greek situation in 2010 is certainly quite different from what it was in 2005. As a matter of fact, the early 2000's will be remembered as golden years for this country.
During the intervening years, Greece has seen its GDP per capita reach the levels of Spain and Italy. Moreover, having adopted the single currency early in the process, Greece was in a position to attract external financing with an ease not seen in its recent history. With hindsight, we can say that those years were in fact a period of violating rules, cheating on figures and financing consumption by huge borrowing. Everything has a price: The country will now need to find solutions to its huge debt, which amounts to almost $420 billion.
The solution is likely to be a hard one: Austerity measures, socially unpopular reforms, privatizations, increasing foreign ownership, etc. A difficult process similar to the one that Hungary followed in 2008 & 2009 is likely to repeat itself. In my opinion, the Greek situation is much more difficult. Whereas Hungary was able to cope thanks to a combination of factors like IMF help , currency depreciation and fiscal adjustments; Greece's room to maneuver is more limited.
The EU will never let Greece obtain IMF loan, as they will see this as a blow to the credibility of the Union and to its single currency. Furthermore, the option of Greece leaving the monetary union is not a real option because this will simply mean the collapse of the Greek economy. In sum, the only reasonable (and inevitable) solution for Greece is to receive help from the ECB and Germany to put things in order.
However, Germans will probably do this unwillingly. For example, Otmar Issing, who was one of the founding members of the European Central Bank, told the BBC that Greece should not get bailed-out. Although this is nice pro-market rhetoric, it is not realistic. The EU will have to bail out Greece because the viability of a single currency could be at stake. Thanks to being an EU member, Greece cannot and will not default.
The Greek situation offers a rare opportunity. If one looks at the CDS spreads, the market is rightly concerned about Greek debt. (See the graph below) Currently, 2011 and 2012 EUR denominated Greek bonds are offering a yield of 5.5% - 6.0%, which is high by all standards. Knowing that the Germans won't let Greeks default, purchasing the Greek bonds seems to be a free lunch for risk-takers.
Click to enlarge: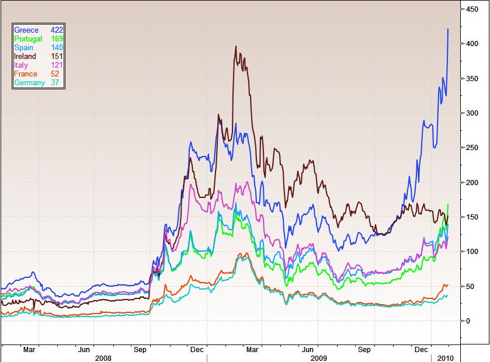 Disclosure: No ownership of the positions at the time of the writing