Over the last several years, Coca Cola (NYSE:KO) stock has significantly outperformed PepsiCo (NYSE:PEP). In fact since 2005, Coke's stock price has gained 35%, while Pepsi eked out only a marginal 3% gain. If you take into account dividend payments, Coke delivered a 52% return to investors while Pepsi's 13% return paled in comparison.
However, as we enter a new decade, many on Wall Street believe that the tide is now turning in favor of Pepsi. Coca Cola's market cap is currently 33% higher than Pepsi's. eDividendStocks.com has performed the following analysis of the business fundamentals of the two consumer stocks.
Revenue Analysis
Pepsi currently generates over 40% more revenues than Coca Cola. This gap will widen further in 2010, when Wall Street expects Pepsi sales grow to more than double Coca Cola's revenue growth. It's also important to note that there is less risk to Pepsi's revenues given their more diversified product portfolio.
Advantage: Pepsi
Dividend Analysis
Pepsi and Coke both offer similar dividend yields of 3%. Although Pepsi's dividend payout ratio is slightly lower than Coca Cola's, the difference is marginal.
Advantage: Neither
Valuation Analysis
Coca Cola's currently trades at 16x consensus 2010 earnings estimates. However, Pepsi's shares trade at less than 15x 2010 EPS consensus. While Wall Street is expecting both consumer giants to grow earnings at a similar 12% rate in 2010, Pepsi's stronger revenue growth provides more opportunity for upside surprises.
Advantage: Pepsi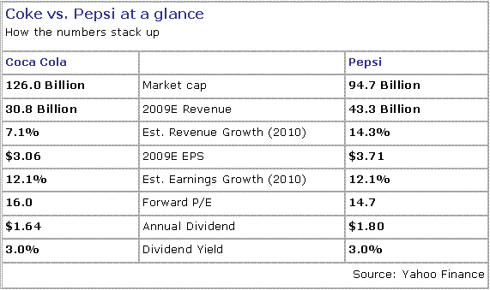 While both Pepsi and Coke stand to benefit from a recovery in consumer spending, it appears that Pepsi has stronger fundamentals. For investors looking for safe dividend stocks with strong growth potential, Pepsi looks like the better choice.
Disclosure: No positions