ARM Holdings Inc. (NASDAQ:ARMH) has had a lock on the smartphone and tablet market for a while now, while Intel (NASDAQ:INTC) has dominated conventional personal computers (PCs). Some observers think this trend will not only continue but accelerate.
Wikibon author David Floyer published this interesting chart on November 7, 2013.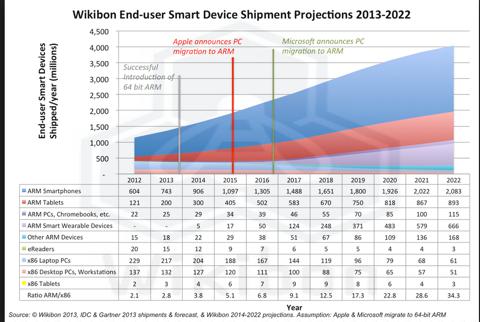 It is easy to predict the impact this will have on ARM and Intel if you believe it. Intel's x86 architecture will pretty well die out, with ARM ruling the world. By 2017, over 2 billion devices will have processors built around ARM's low cost RISC designs while only slightly more than 300 million will be powered by Intel. By that year, ARM based processors will outnumber Intel by 9.1 to one and by 2022 by 34.3 to one.
This dramatic shift is ushered in by Apple's successful introduction of a 64-bit ARM chip, its very powerful A7 processor.
Floyer is evangelical about the dire outlook for Intel and strong prospects for ARM, and not without some underlying factual support. ARM processors dominate mobile today.
But his emphasis on 64-bits as the "breakthrough" stretches credibility. 64-bit processing has been around for a decade, and Apple's use of it in iPhones and iPads today is a bit more hype than current performance. Very little iOS applications code is written for 64-bit although developers will certainly begin to take advantage of the larger data chunks a 64-bit processor can gobble up in response to calls from programs.
Windows OS programs have been written for 64-bit for years and Intel processors have provided 64-bit processing since 2005 if not earlier. If demand for 64-bit was the key, you would not have found ARM based processors on any devices until October 2013.
What Apple's A7 and its expected Android OS ARM based ilk offer is lower priced 64-bit processors. Today, of course, you can't get lower priced anything from Apple (NASDAQ:AAPL) so rule that out. But as other ARM based manufacturers move to 64-bit systems, you can expect to see lower priced devices with 64-bit support.
That is, if manufacturers stay with ARM as their mainstay architecture. They might, but not without some competition from Intel. Intel is already taking steps to make sure x86 processors are available at all price points.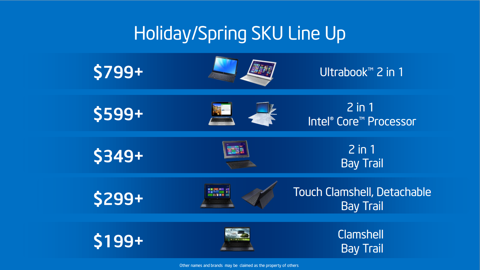 And, while only the Intel Core processors in the Ultrabook and 2 in 1 category are 64-bit, Intel will have 64-bit Bay Trail in the market by January.
Qualcomm (NASDAQ:QCOM), after initially seeing one of their executives call Apple's 64-bit hype a "gimmick" seems to have backtracked. And ARM is planning to provide 64-bit support for the Android Open Source Project as has Intel for its Bay Trail processor. Android OS does not support 64-bit processing today, but these indications suggest that it will before too many quarters go by and Android manufacturers will by that time have a clear choice between ARM and Intel processors.
Users wanting to take advantage of 64-bit processing in their tablets in early 2014 will have a choice between a $400 iPad and one of the $199 to $349 Bay Trail devices. Moreover, the Bay Trail device will run their legacy Windows programs. I have no doubt some people will choose Bay Trail, and I will be among them.
Floyer prognosticates that Apple followed by Microsoft will soon announce "migration" to ARM for PCs. Maybe, but I would not bet a lot of money on that happening now or any time soon.
Long Intel and Microsoft and short Apple, all through calls.
Disclosure: I am long INTC, MSFT. I wrote this article myself, and it expresses my own opinions. I am not receiving compensation for it (other than from Seeking Alpha). I have no business relationship with any company whose stock is mentioned in this article.
Additional disclosure: I am long Intel and Microsoft and short Apple through options