Shares of microcap clothing and accessory retailer, Bon-Ton Stores (NASDAQ:BONT), have been in strong rally mode this week. Since hitting a 52-week low under $10 per share in early October, shares are currently trading nearly 70% higher following a sharp, volume-aided breakout from a low-level base.
The primary cause of the bullish run appears to have been the anticipation and release of the company's Q3 earnings report. The report, as narrated by CEO-rockstar, Brendan Hoffman (rumor has it that Hoffman is being considered to run JCP), blew way past the expected number by 24 cents per share (-0.05 vs. -0.29). This is especially remarkable given that, in the last quarter, the weather was unseasonably warm, gas prices were high, and the government was wrestling with the debt ceiling debacle. Topping off the EPS blowout was an upgrade from Credit Suisse, from underperform to market neutral.
There may, in fact, be something to the magic of the Hoffman aura. In his reign at Bon-Ton, the company has lowered its PE ratio from nose-bleed levels (200+) down to a more peer-matching 33. With EPS growth pegged at +202% for next year, shares of BONT wield a much slimmer-fit forward PE of only 12.
The recent EPS report wasn't all satin and lace, however. There were a few wrinkles that marred the otherwise cheery announcement. For example, the company reported a decline in same-store sales of 2.8%. Cost-cutting measures - Hoffman's trademark - likely saved the day; but forward guidance of $0.15-$0.75 EPS, a range so wide as to be meaningless, did not help bring any clarity.
There are additional seams of worry woven into the narrative:
earnings have been tailored down 73% below where they were last year,
the company's PE, though much lower than it used to be, is an XL-size relative to industry peers,
and nearly 40% of the float is held by those very out-of-fashion short sellers.
Digging deeper into the company's balance sheet, we find a number of glaring rips in the fabric. Using the famed F-score ranking system developed by Chicago Business School Professor, Joseph Piotroski, we see that Bon-Ton ranks in the bottom third of all publicly traded companies across a spectrum of accountancy metrics, with a score of 3 out of 9: an indication of the sort of imbalances that, according to Piotroski, can precipitate sharp contractions in earnings (if not worse). Rising debt, an expanding float, and decreasing returns on assets are hardly a formula for investing confidence.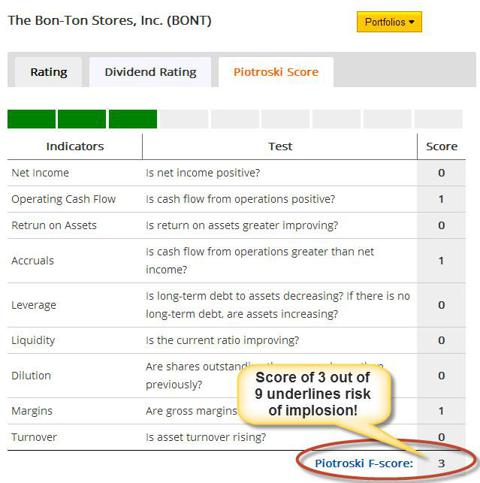 It is therefore difficult to make the case that the recent rally is anything more than a classic "short squeeze." Moreover, other apparel retailers (e.g., Kohl's (NYSE:KSS), Ross (NASDAQ:ROST), Nordstrom (NYSE:JWN)) along with Wal-Mart (NYSE:WMT) and Target (NYSE:TGT) have warned of a dismal upcoming holiday shopping season, with "aggressive measures" in price rollbacks their only hope for luring in customers. Why would Bon-Ton be exempt?
Still, shares popped, and popped big-time! Volume was at levels not seen since March of 2012, a sure sign that hedgies have been tucking and gathering their way into core positions. With an 82% institutional sponsorship, it may well be that professional money sees something about Q4 that goes beyond the numbers. Perhaps Hoffman, who masterfully pulled a struggling Lord and Taylor (private retailer) through the crash of 2008, has a few more tricks up his sleeve.
On the technical side, judging by the chart below, we see a lot of volatility. Shares of BONT have long had a reputation for being one of the greatest trading stocks of all time. Recent price movement has only served to underline that status. The stock rallied in Q2 this year on strong momentum once news of Hoffman's EPS improvement measures began hitting the wires. It turned out that the enthusiasm was premature. After hitting a high in late-May, the 2Q earnings release showed not as much improvement as expected. Shares fell sharply to hit a new 52-week low. The current rally suggest, therefore, that Q3′s report may indeed be the much anticipated sign of a mature turnaround.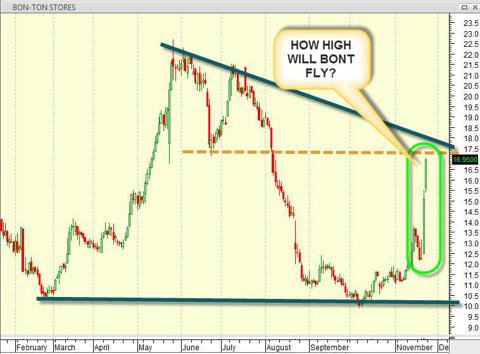 What then can we conclude from this techno-fundamental dressing-down of Bon-Ton? The fundamentals are still scary enough here to be wary of a stall in momentum at BONT's current price of $17.10, a full $2.10 over the one-year estimate given by Credit Suisse in last week's upgrade. And with Thanksgiving pushed back a few days, shortening this year's Christmas shopping season, it is perhaps pushing the Hoffman-as-Savior thesis to its limit to hope for another estimates-beating quarter like the one just posted.
If you are bullish on Bon-Ton, I suggest waiting for a clean price break on volume above the down-sloping resistance line of the large-base consolidation pattern (see chart above). Somewhere north of $17.50, a price which coincides with the support low-pivot in June, should do the trick. From there, resistance should not come into play until $21 per share. If price can get above the June high (not likely), the pattern targets $26 - $27 per share, a price has not traded at since 2007.
Any further rally, of course, will depend largely on factors Hoffman cannot control - namely, economic stability and strong consumer sentiment - in addition to those he can control. Beyond that, in very short order the chart itself will likely offer us either a ready-to-wear breakout above resistance, or a hand-me-down of shares back to support.
*Figures taken from Finviz.com.
Disclosure: I have no positions in any stocks mentioned, and no plans to initiate any positions within the next 72 hours. I wrote this article myself, and it expresses my own opinions. I am not receiving compensation for it. I have no business relationship with any company whose stock is mentioned in this article.