CAMAC Energy (CAK) has been developing the Nigerian Off Shore oil fields for the past few years, partnering with Allied Energy the drilling of wells in Oyo blocks 120 and 121. On November 20th, CAK made an announcement that it would be acquiring all the interest in the Oyo fields 120 and 121 from Allied. For the past few years, CAK has been developing the fields, including one failed oil well work over, and striking two fields with one well in the last month.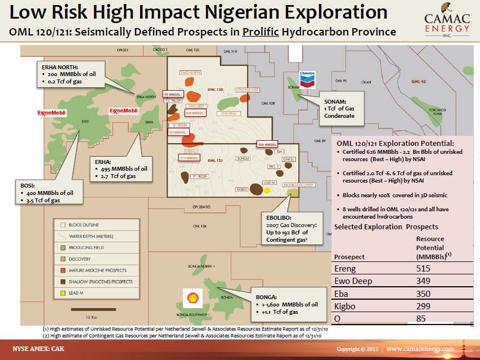 Before diving too far into the announcement and determining if it will be good or bad for investors, it's important to first understand the relationships between all the entities.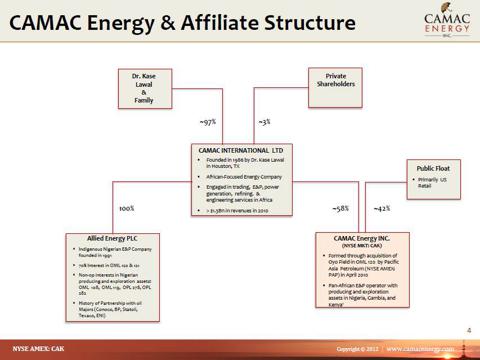 While the slide may be a year old, the structure is still the same. Dr Lawal owns 97% of CAMAC Energy Holdings Limited (or CAMAC International LTD). CAMAC Holdings Limited acts as a funding vehicle for Dr Lawal and family to invest in both Allied Energy (which is 100% owned by CAMAC Holdings Limited) and CAK.
Asset transfer
For the first part of the release, Allied will transfer all of its interest in the Oyo fields 120 and 121 to CAMAC. For Dr. Lawal, this means he will have less exposure to the profits from the field. Before he owned close to 100% of the Allied interest, and now he will own 58% of the field based on his share of CAK. However, in return, CAK will issue to Allied (Dr. Lawal) 497,454,857 shares, pay $170 million, and issue a $50 million convertible subordinate note.
CAK currently has 157,000,000 shares outstanding, with 62,400,000 shares being floated, and has a market cap of $166 million, $435,000 in cash, and net receivables close to $9,000,000.
In order to raise the funds and pay for transaction, CAK announced it entered into a definitive agreement with the Public Investment Corporation (SOC) Limited ("PIC") of South Africa for a US$270 million equity investment through a private placement of 376,884,422 shares of common stock. So after all the shares are issued, ownership should look something like this:

Another major part of the deal was the stock dividend for current outstanding shareholders. The dividend comes in the form of 1.435 additional shares per outstanding share. Once the deal is finalized, Allied and CEHL will own approximately 57% of the company with just 715,703,517 shares and public shareholders will own 13% with a total 163,693,467 shares.

What does this mean for everyone?
At first glance, this looks like serious dilution for investors. They go from owning almost 42% of the company, to somewhere around 13% of the company. But the upside comes from the 100% ownership of the Oyo fields. Profits go from about 10% of 2000 bopd to 100% of an estimated 14,000 bopd. If the company can reach the 14,000 bopd, at roughly $100 per barrel, the company will go to $1,400,000 per day vs the current 350 bopd or $35,000 per day. Investors will also own 13.03% of a company with $100 million in cash.
For Dr. Lawal, he has just transferred ownership from Allied to CAK. Since he still controls the company through Camac Energy Holdings, he hasn't lost control of it and has received almost 500 million shares, $170 million, and a $50 convertible note.
The company has stated they are actively looking for a larger oil and gas producer to come in and participate with them in the production of the field. However, based on this move, the company has enough cash to continue exploration in the oil field.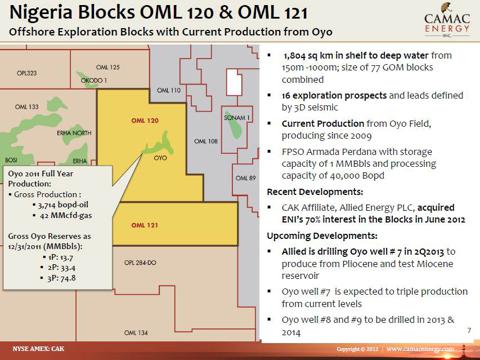 There is still one big question that remains. Originally Allied was paying for all the drilling costs for the Oyo field. With this transfer, can we assume those costs will now fall on CAK? CAK had an aggressive drilling schedule for the next year for Oyo #7, #8, and #9, and $100 million might not be enough for a rig that runs at just over $300,000 per day. Unless the company can bring in a partner, they may issue debt to pay for the costs.
Conclusion
Dr. Lawal stated that this "strategic acquisition is a transformational event for our company, and significantly increases our current production and cash flow. With this acquisition, we will be transitioning our company from a minor economic interest holder into a significant growth platform targeting the prolific Pliocene and Miocene reservoirs in this region."
I do believe this has transformed the company significantly. The company did their homework and has developed the Oyo fields into a huge production potential, and investors are now being rewarded. Investors should look now for partnerships with other oil and gas producers in the region. I also believe they are showing more potential for institutional investors to begin acquiring.
Disclosure: I am long CAK. I wrote this article myself, and it expresses my own opinions. I am not receiving compensation for it (other than from Seeking Alpha). I have no business relationship with any company whose stock is mentioned in this article.