Iran and the six world powers reached a deal yesterday to temporarily curtail Iran's nuclear program in exchange for limited sanction relief. Crude oil futures yawned in reaction to the announcement, with the front-month contract actually closing in the positive territory. Oil producer equities, on the other hand, were down in the U.S., pretty much across the board.
Is the calm reaction from the commodity market rational?
There is a simple explanation to the lack of oil price volatility following the news. The announcement, despite its major political importance, is largely "yesterday's news." The breakthrough in the negotiations between Iran and the P5+1 group was acknowledged by the market more than two months ago when the information of the Iranian Government's decision to come to the negotiation table was broadly publicized. The futures curve reacted quickly to the development: the eight-year backwardation contracted sharply, from ~$30 per barrel as of mid-summer to ~$15 per barrel as of yesterday (the graph below). The contraction occurred in a matter of several weeks. The commodities market - which has a very keen eye as it relates to developments in the Middle East (Iran, Syria, Libya, etc.) - has largely discounted the impact of the warming in Iran relations into the oil price. It is worth noting that the change has occurred almost exclusively within the front year of the curve, with the back end remaining essentially unchanged over the past several months.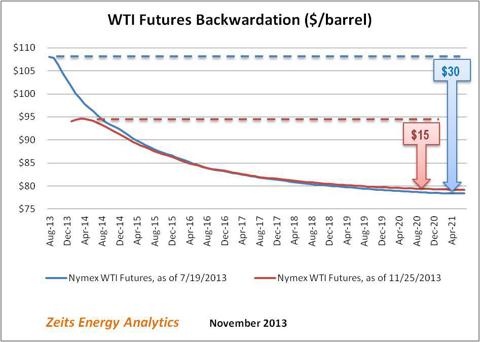 (Source: Zeits Energy Analytics, November 2013)
Also important is the fact that the Iran deal will not lead to a material increase in the world's crude supply in the immediate term. For the next six months, the 1 million barrels a day limit imposed on Iran's oil exports by the sanctions will remain in force. The European Union and the U.S. will continue to prohibit crude imports from Iran. Given the high effectiveness of the sanctions - currently there are only six international customers purchasing oil from Iran (China, India, South Korea, Turkey, Japan and Taiwan), down from 23 a year ago, - Iran's export volumes will likely remain close to the limit amount.
According to International Energy Agency's November 14 report, while Iran exported only 715,000 barrels per day in October, export volumes actually averaged 1.1 million barrels a day during the first nine months of this year. While the pact may lead to a less strictly policed sanction environment and facilitate a gradual increase in export volumes, six months from now supply from Iran is unlikely to be substantially higher than this year to date. Even if average export volumes increased moderately, a 200,000-300,000 barrels a day year-on-year increase in supply will hardly make a difference for crude oil prices.
In the longer term, expectation of a strong impact from Iran's exports on world oil supply would also be strongly overstated. Assuming a permanent agreement is reached and sanctions are fully lifted, it may take some time before Iran's export volumes reach their pre-sanction levels. In reality, Iran may not even have the same export capacity it did prior to the imposition of the sanctions. The U.S. and European Union bans have reduced Iran's oil exports from ~2.5 million barrels a day three years ago to less than 1 million barrels a day currently.
Finally, it would also be incorrect to take estimates of Iran's future export volumes out of the general context of OPEC's supply. With the call on Saudi Arabia's production being at an elevated level, any significant increase in Iranian exports would be an opportunity to Saudi Aramco to give its over-extended fields a "rest."
While a step up in supply from Iran does not appear to be a major risk to oil prices, particularly given the steady expansion of the global economy, the reduction in political tensions with Iran and stabilization of the situation around Syria do impact the political risk premium embedded in the oil price. The sharp contraction of the backwardation spread in oil futures in the past several months provide clear evidence.
What are the deal's terms?
The agreement addresses the most urgent concerns about Iran's nuclear program and will remain in place for six months while negotiations continue. It essentially freezes the most critical components of the nuclear program and rolls back the stockpile of enriched uranium.
Iran has agreed to dilute or convert its entire stockpile of 20%-enriched uranium. Iran currently has about 200 kilograms of 20%-enriched uranium that could be relatively quickly enriched towards a nuclear weapon. Under the agreement, Iran will have no 20%-enriched uranium in six months.
Iran has agreed to suspend all enrichment of uranium above 5%.
Iran will not increase its stockpile of 3.5% lower-enriched uranium over the next six months, and it will not construct additional enrichment facilities.
Iran will not manufacture centrifuges beyond those that are broken and must be replaced.
Importantly, Iran will not commission or fuel the Arak heavy-water reactor, an unfinished facility. If Arak became operational, it would provide Iran with an alternative plutonium path to a nuclear weapon.
To ensure that these commitments are met, Iran has agreed to submit its program to close monitoring. International inspectors will gain daily access to Iran's key facilities. This should help to determine more quickly and with greater certainty than ever before that Iran is complying.
In return for the significant steps that it has agreed to take, Iran will receive partial sanctions relief for a period of six months.
The U.S. and EU crude oil ban will remain in effect and Iran will be held to approximately 1 million barrels per day in sales. However, Iran will be permitted to repatriate $4.2 billion from those sales, that would otherwise be destined for an overseas account restricted by the sanctions. The agreement will allow current purchasers of the Iran's oil to continue buying their average amounts of crude.
The deal includes some relief of EU sanctions on oil shipping insurance. The measure makes it easier for customers to transact with Iran and should be important to Iran's ability to quickly step up its exports to the full quota volume.
The agreement also allows specified foreign banks to release Iranian oil revenue that has been frozen in Teheran's foreign accounts to pay for food, medicine, medical devices and other humanitarian goods for domestic use in Iran. The vast majority of Iran's approximately $100 billion in foreign exchange holdings have been inaccessible or restricted by sanctions.
Certain sanctions on imports of goods from Iran will be suspended, potentially providing Iran with about $1.5 billion per month in additional export revenues.
The relief would allow Iran to resume some trade in select industrial sectors.
The agreement is viewed by both sides as the first step on the way towards a comprehensive agreement regarding Iran's use of nuclear technology and sanction lift.
Implications for Oil Stocks
Given the dominance of NOCs in the world oil supply and very long (sometimes, decade-long) lead times for the largest oil projects that define supply-demand balance in the global oil market, there is no simple marginal economics math that would help derive equilibrium price for oil. As a result, equity investors often have little choice but take guidance from current oil prices to form a view on stock values in the oil sector.
The rapid contraction of the backwardation spread in the crude oil futures seen recently may be forcing equity investors to pay greater attention to the longer end of the curve and test their valuations against much lower crude price assumptions than implied by the current oil price. The result of such stress-testing is often less than comforting and highlights the intrinsic riskiness of investing in upstream equities.
Disclaimer: Opinions expressed herein by the author are not an investment recommendation and are not meant to be relied upon in investment decisions. The author is not acting in an investment advisor capacity. This is not an investment research report. The author's opinions expressed herein address only select aspects of potential investment in securities of the companies mentioned and cannot be a substitute for comprehensive investment analysis. Any analysis presented herein is illustrative in nature, limited in scope, based on an incomplete set of information, and has limitations to its accuracy. The author recommends that potential and existing investors conduct thorough investment research of their own, including detailed review of the companies' SEC filings, and consult a qualified investment advisor. The information upon which this material is based was obtained from sources believed to be reliable, but has not been independently verified. Therefore, the author cannot guarantee its accuracy. Any opinions or estimates constitute the author's best judgment as of the date of publication, and are subject to change without notice.
Disclosure: I have no positions in any stocks mentioned, and no plans to initiate any positions within the next 72 hours. I wrote this article myself, and it expresses my own opinions. I am not receiving compensation for it (other than from Seeking Alpha). I have no business relationship with any company whose stock is mentioned in this article.