Overview:
During trading yesterday, November 25, Camtek Ltd., (NASDAQ:CAMT) surged to fresh highs on no material news. After a bullish SA piece came out regarding the company and its new products, coupled with a plethora of tweets on Twitter (NYSE:TWTR), shares skyrocketed. It is my opinion that this company may be the target of a pump and dump scheme. In turn, I have decided to offer readers a viewpoint on the other side of the trade. This article will go through different justifications for the increase in the company's share price to try and find a solid reason for the surge - if there is one.
Tweet and Dump:

Super-trades.com is the beneficiary of many good trading calls. Although if past history is any indicator of future returns, both Spherix (NASDAQ:SPEX) and ARC Group Worldwide (NASDAQ:ARCW) surged before cratering.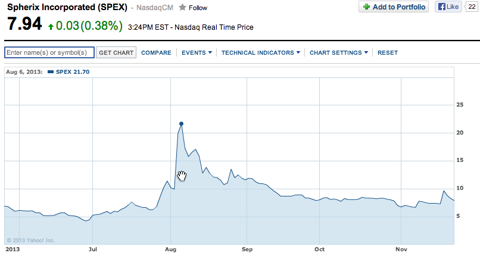 Super-trades also had an article out prior to the jump in Spherix on July 8, prior to the drive up to $21 before falling back down to earth.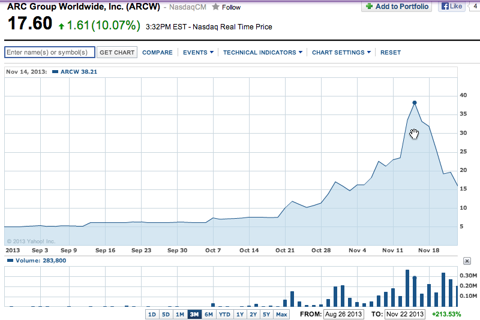 Super-trades also had an article out on October 30 before the jump in ARC Group Worldwide, and the inevitable fall back down.

The article yesterday on Camtek coupled with the huge increase in tweets touting the company have led to massive gains today for traders and investors in the company. It is my opinion that real investors in the company should head for the exits, before they are holding onto a dream that may never return to prices seen today.
Financials:
I have nothing against a company that improves its financials over time and then rewards shareholders with a premium for the investment they took part in early on. Although a company that has nearly doubled in one trading day on less than amazing financials - that is cause for concern.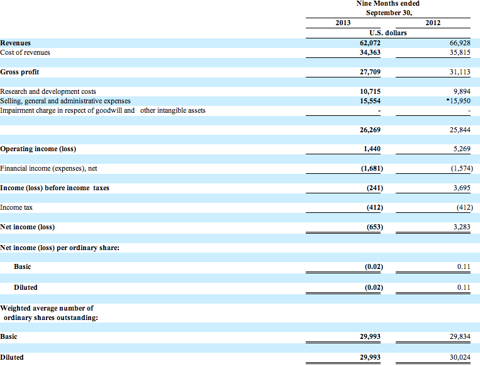 For the nine months ending September 30, 2013 in comparison to the same nine months ending September 30, 2012, Camtek saw some pretty startling data in comparison to the recent appreciation in share price:
Revenues down $4.856 million
Gross profit down $3.404 million
Operating Income down $3.829 million
Net Income down to a negative $653,000 from a positive $3.283 million
Net income per share basic and diluted at (0.02) from a positive $0.11.
All the while Camtek's share price has increased 89% since today of last year - much of the gain is attributable to today's price action. This is a very questionable gain, as the company's financials have obviously not kept up in pace with the company's share price. This type of pricing error can be reminiscent of a pump and dump, as a simple market mispricing error to create an opportunity for an investor long or short does not reveal itself with a gain of nearly 80% on one article and a few tweets.
A Recent SEC Filing:

Yesterday, Camtek's parent company Priortech LTD issued a report at the request of the Israel Securities Authority. Priortech announced, via 6-K, that it had no knowledge of any events leading to the sharp increase in share price of Priortech or Camtek during the past two trading days. Moreover, Priortech stated that the rumor surrounding a tender offer by Priortech for purchase of Camtek's shares is false. This filing shows that nothing of significance has happened at either Camtek or Priortech over the past few days - so the recent increase in share prices is not related to company events, data or news.
Short Squeeze:
Some Twitter users have posted that the reason for the share price being where it is today is due to the shorts who have been squeezed out on the way up. This would justify the recent staggering moves in CAMT's share price.

The problem with this explanation is the short percentage of Camtek's shares is extremely low. This low percentage of short shares negates the proposition that a short squeeze is what has led to the increase in Camtek's shares, and this squeeze justifies the recent share price. Here's the short interest data from Yahoo Finance:

New Products
On the company's recent earnings call, Camtek announced a new product for 2014. The company announced a 3D printer that can create printed circuit boards, also known as PCBs. The company will target the commercial market with this product as it will be the world's first printer of its kind for printing circuit boards.
This is a very good development for the company moving forward, as the company's CEO Roy Porat has stated that this increases the company's addressable market by $600 - $700 million with this product.
The caveat with this product annoucement: it occured on November 11. This means that this product announcement does not justify today's huge increase in share price, as it already occurred.
A Crazy EPS Figure: Lets Put This New Printer Into Perspective
An article on 24/7 Wall Street has included an analyst's estimates of $0.25 EPS for 2014. In Super-trade's article, he states that this most likely does not include revenues from its 3D printer launch. He is most likely right, as this analyst offered his estimate prior to the announcement of this printer's development.
The share price Super-trades offers of $12.50 to $75 -- based on this EPS figure -- would value the company between $375 million and $2.25 billion in 2014. This would be an insane EPS and market capitalization growth over this year for a company that has no current P/E ratio since they reported a negative EPS number for the nine months ending September 30, 2013.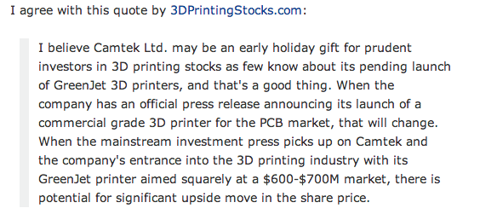 The above is a screenshot of a quote on super-trades article today on Camtek. Lets assume, ceteris paribus, that the company's operations outside of this new printer see neutral or small growth over 2014. Let also assume that Camtek was able to obtain 25% ownership over the target market at the high end of $700 million in revenues for its new printer. Now lets assume that the company has profit margins on the printer close to 3D Systems (NYSE:DDD) of 13%. This would lead to revenue of $175 million (700 million x 25%).That would relate to an operating profit of $22.75 million (175 million x 13%) for Camtek. Now lets also assume that this is subject to corporate taxes in Israel of 25%, putting net income at $17,062,500. Now lets assume this all goes to profit for the year.
At a target value share price of $12.50 to $75, this would relate to a P/E of 22x to 132x just for this unit alone. Now keep in mind that this is assuming that the company is able to obtain 25% of the target market at the high end and that they can do this all in 2014. I hope this example puts the company's new printer into perspective as Super-trades's recent article touts the idea of it.
Keep In Mind:

A key item to keep in mind is that the company has a negative trailing twelve months EPS of (0.13). The above example proves that even if the company's printer was wildly successful, the company would still be overvalued. Although keep in mind that this printer is not selling yet, has not generated any revenues and is still a ways away from being up for sale in the commercial marketplace. The example was just meant to provide readers with a "what if" scenario if the company started selling its product extremely quickly, it was a wild success, they were able to obtain 25% market share of the target market and had a profit margin along the lines of 3D Systems (even though they are new to the product line). I hope this "what if" scenario puts the company's new product in some more perspective.
Conclusion:
I would like to make it clear that I am not stating that Camtek is going to fall to $0, just that recent events are reminiscent of a pump and dump and real investors in the company should be informed so they can protect themselves. With $21 million in cash and only $817,000 in debt, the company is not going anywhere anytime soon. When will the pump and dump scheme end and how high will the stock go in the meantime and how low afterwards? I have no idea, the promoters and makers of this scheme are the only ones who know the answers to these questions. Although it is proactive to be informed of the reasons, or lack of reasons as described in this article, for a surge in a company's share price to be protected for the aftermath. Just like buying Medical Marijuana (OTCPK:MJNA) at its high of $0.50, buying Camtek at these prices or higher could lead an investor to be holding the bag in a few weeks or months from now.
Medical Marijuana and Camtek's new products share a common theme that lead to massive gains - an innovative new product that seems, from a distance, likely to be a hit. That success, though, is predicated on future developments; the only thing that gets hit in the interim is the share price. MJNA's multiple trips down this path can be seen at this website. With regard to Medical Marijuana, the company still has some hills to overcome, although it may be a real winner when a better buy price can be achieved. I was in MJNA at $0.00246 until I got out before the blast upwards, although I am glad that I was not a part of the blast downwards either.
(source)

This image below defines each symbol above - for more clarity on what has transpired in MJNA's shares.

My advice and article are meant only to emphasize that investors and traders should always be informed. For any long term investors on Camtek, I wish you luck - although this is a company I will stay far away from.
Disclosure: I have no positions in any stocks mentioned, and no plans to initiate any positions within the next 72 hours. I wrote this article myself, and it expresses my own opinions. I am not receiving compensation for it (other than from Seeking Alpha). I have no business relationship with any company whose stock is mentioned in this article.
Additional disclosure: This article is informational and is in my own personal opinion. Always do your own research and contact a financial professional before executing any trades or investments as this is not a recommendation to buy or sell any security.