Senvest (OTCPK:SVCTF) is the top performing hedge fund this year at +59% through October and one of the best performing hedge funds over the last 15 years, delivering 20% compound annual returns to investors since inception in 1997. The shares of publicly traded Senvest Capital represent an opportunity to buy into this performance at a 25% discount to a liquid portion of NAV (95% stocks and bonds), and further benefit from a very valuable stake in the rapidly growing, fee generating management company which gets paid a 1.5% management fee and 20% performance fee and as we will describe below, appears to be setting itself up for a growth initiative.
Below is a list of the top performing hedge funds of 2013 excerpted from HSBC's Investment Funds Performance Review for the week of November 4, 2013. Senvest is outperforming a strong stable of notable investors this year by a significant amount, including David Tepper's Appaloosa (Palomino Fund), John Burbank's Passport Special Opportunities, Larry Robbins' Glenview Capital, and Jeff Altman's Owl Creek.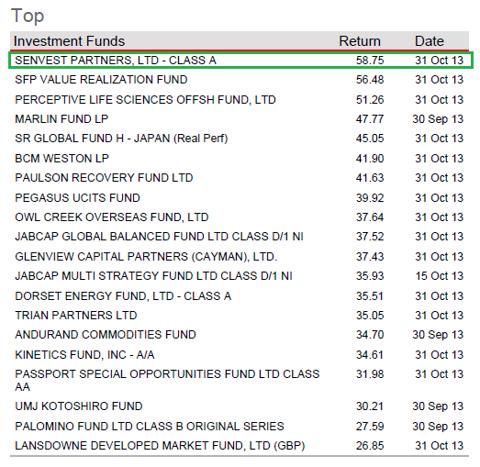 Senvest's long-term track record is even more impressive. The fund has not only trounced broad market indices by a wide margin, it has also far outperformed both Greenlight and Warren Buffett.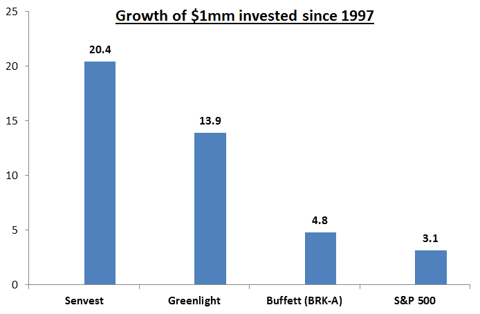 Also from HSBC's Investment Funds Performance Review for the week of November 4, 2013:

A look at comparable publicly traded vehicles of hedge fund managers, reveals that Senvest trades at a meaningful discount to its peers despite Senvest's long-standing outperformance. This discount is especially unjustified in light of the fact that unlike the others that do not participate in fee income, Senvest collects management fees on $850mm of AUM.
The rapidly growing asset management business is a source of hidden value that is easily overlooked yet provides tremendous upside opportunity in the shares of Senvest. Thus far, the Mashaal family that founded Senvest has been the largest investor in the fund, accounting for over half of the invested capital. But the recent hire of a Rory Bacon to run business development activities leads us to believe that Senvest may be preparing to ramp up its fundraising efforts.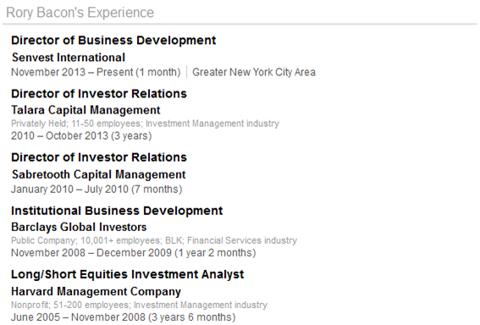 Given Senvest's status as the top performing hedge fund of 2013, and their long-term track record, the company has the critical elements in place for successful fundraising. We believe raising an additional $500mm would be very achievable and combined with the value attributable to the investment manager's fee income, could provide more than 100% upside from the stock's current price.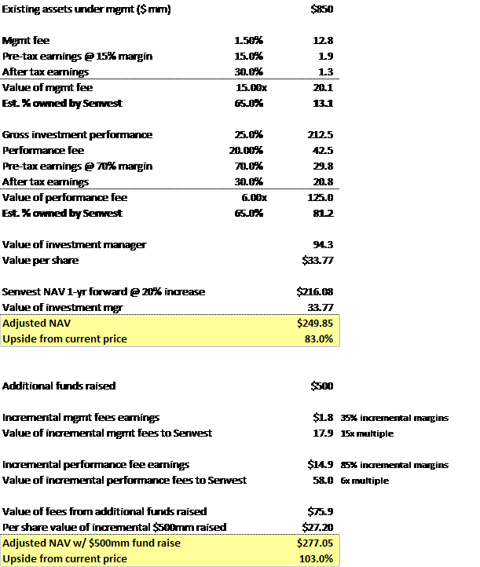 We believe the shares of Senvest Capital represent a unique opportunity to invest in a top performing hedge fund at a significant discount to NAV, with substantial upside from a growing stream of fee income. Senvest shares would return over 30% if they traded to NAV, and over 60% if they traded in-line with peers-and these levels don't give any credit for the asset management business. If Senvest raises an additional $500mm, the shares could have over 100% upside. And as another investor suggests, Senvest shares could be worth more than $400, representing approximately 200% upside if there is continued success on the fundraising front. Senvest apparently agrees that its shares are cheap as it has repurchased 47,600 shares in the latest quarter, utilizing over 35% of the company's latest share repurchase authorization that was just granted in June.
Disclosure: I am long OTCPK:SVCTF. I wrote this article myself, and it expresses my own opinions. I am not receiving compensation for it. I have no business relationship with any company whose stock is mentioned in this article.