By Jennifer Coombs
We've just entered the most wonderful week of the year! It's the week where piles of sales fliers are shoved in your mailbox with 50% of this, 60% off that and are a 100% pain-in-the-butt to recycle. It's the week when your email inbox is flooded with more sales ads than friendly correspondence received at any other time of the year. Buy this, shop here, traffic jams galore – it's the commencement of a new season of unbridled consumerism at the same time people are celebrating and giving thanks for all the blessings in their life. Black Friday really excited me when I was a kid because I would head to the mall with my mom at 8 in the morning and pick through the obliterated shelves at Kaufman's for unique gifts to give the rest of the family. Nowadays I'm content to sprawl out on the sofa in a turkey-induced coma and watch football. However, I'm not "most Americans" and it's a certainty that many will be flocking to malls (and their laptops) this week in an effort to save some money in spite the 6-day shorter holiday shopping season thanks to a late Thanksgiving (on 11/28).
As hundreds of companies make their giant push at year's end to turn their sales from the red into the black, we highly encourage you to partake in their success by owning stock in quality retail names. Despite a troubled economy, consumers will continue to bust out their credit cards, evidenced by numerous sales previews. Even with a shorter shopping season this year, retailers have set themselves up for success in the last few quarters and analysts are optimistic for another quarter of record earnings. While many get their seasonal workouts dodging mall shoppers, you can't ignore Cyber Monday and the ease at which consumers are extending the season online. History is expected to be made in the form of record package volumes this holiday season. This quarter will be a giant test of resilience for one retailer in particular: J.C. Penney (NYSE:JCP) - whose very survival depends on shattering last years' sales comps. Aside from JCP, I'll provide two additional retail recommendations from our team.
The goal of this piece is not to tell you where to shop (or not to shop) on Black Friday, what stores to avoid or where you'll find all the hot deals. Our ultimate hope is to shed some optimism on the fact that despite the shorter holiday season and still troubled economy, retail stocks should post strong sales results this holiday season and their stocks should outperform the broader market.
Thanksgiving Dinner "To Go"
Some of my best memories when I was young happened at Thanksgiving-time: I remember gathering at my grandparents' house in western Pennsylvania for a huge family feast, and after eating the family grouping back at the dinner table for a game of Scattergories or Trivial Pursuit. These days, it seems like the kids will have to entertain themselves as the ladies in their family head to the malls after dinner and the guys pass out in front of the football game. It's hard to say if this will become the new norm, but retailers are majorly milking the shopping season for all its worth.
It's undeniable the planning and effort retailers have gone through to make this shopping season a successful one. According to the National Retail Federation, holiday sales are expected to grow 3.9 percent this season to $602 billion – this is even higher than the normal average increase of 3.3 percent of the last 10 shopping seasons. Below is a table of the new Black Friday hours for major retailers this year: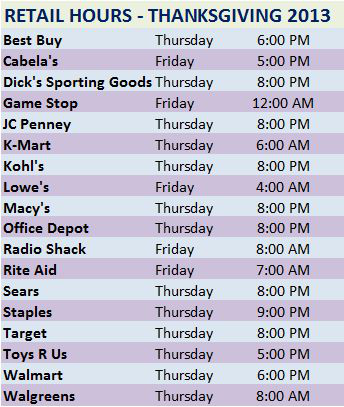 The comparison chart below lists most of the big-name retailers you know and where consumers are most likely to put their money this holiday season. Year-to-date returns for many of these retail names are incredible – look to Best Buy (NYSE:BBY) and Zales (NYSE:ZLC) which are up more than 200%. Though many of the bellwether retail names do not provide sales guidance, overall the sentiment was mixed for this quarter. Many analysts consider the retail space to be "sandbagging" in their outlook and the actual sales results will be far better than we expect, especially since they were well aware of shorter shopping time and have designed strategies accordingly. Note that sales growth estimates are average estimates and give general sentiment on these names. Based on forecasts DSW (NYSE:DSW), Michael Kors (NYSE:KORS), lululemon (NASDAQ:LULU) and Urban Outfitters (NASDAQ:URBN) are best poised to profit from this holiday quarter.
Frugal Consumers? Think Again.
Despite high unemployment, Fed taper anticipation, inflation fears and concerns around having to buy insurance on the Affordable Care Act exchanges, the American consumer is a resilient beast and these factors won't stop them from spending money. In a recent Gallup poll, Americans noted that they plan to spend an average of $704 on gift giving this year. Last year consumers only planned to spend $770 on gifts but ended up spending more, at an average of $786. Retailers are really banking on the fact that consumers will end up spending more again this year. When asked how their spending patterns will compare to last year, 57% said they plan to spend about the same, while 26% plan to spend less and only 15% plan to spend more. The following table is a composite of the last 7 years from the National Retail Federation in their annual releases for Black Friday sales figures (Note: these are only sales figures for Black Friday weekend). As indicated in the table, a later shopping day in 2008 still resulted in higher spending than the year before and America was at the start of a huge recession.
Though consumers believe they will spend less this holiday season, they should actually have slightly more disposable income when you consider the price of a gallon of gasoline compared to a year ago. Nationwide, the average price per gallon of gasoline at the end of November 2012 was $3.44 while the current average is approximately $3.20 per gallon – a decrease of about 6.7 percent. According to the U.S. Department of Transportation, during the 6-days surrounding Thanksgiving the number of long-distance trips (more than 50-miles to and from) increases by 54 percent and during the Christmas/New Year's period holiday traffic rises by 23 percent – evidence that people will spend more time driving around to and from malls at Thanksgiving time compared to Christmas. Also during Thanksgiving, 56 percent of drivers will travel at least 100 miles with the average long-distance trip around 214 miles. News networks are flooded with clips of busy train stations and crowed airports on the Wednesday before and the Sunday after Thanksgiving. However, the majority of the travel occurs on Thanksgiving Day itself and 91 percent of the long-distance travel is via personal vehicles.
Although this is not a major factor, this is still pretty amazing: when Americans do their own cooking, the average cost of a Thanksgiving dinner to feed 10 people costs about $49.20 – that's less than $5 per person! Not a whole lot of penny-pinching necessary!
Count On Cyber Monday
Every year is a "Battle Royale" for retail stores and while we remain optimistic on their stocks, we know it won't be easy. Especially when you consider that the weather for this week across most of the U.S. will be rather precarious. If it turns out that weather will deter shoppers from leaving their houses, millions will flock to their home computers instead. The competitive environment among retail stores should give momentum to e-commerce names, especially Amazon (NASDAQ:AMZN), eBay (NASDAQ:EBAY), and Overstock.com (NASDAQ:OSTK), and to retailers with a strong online presence. Research firm Pacific Crest believes that we can expect "okay" e-commerce sales this holiday season. Overall, trends were soft in the third quarter and growth slowed year-over-year compared to the second quarter. Based on this, they expect e-commerce sales to be flat to slightly down compared to the 13 percent y/y growth in the third quarter. Below is a comparison of the major e-commerce stocks and their most recent performance – as you can see, the projected sales growth is incredible.
Shop.org (the online retail research branch of the National Retail Federation) created comprehensive forecasts based on government data, consumer confidence numbers, consumer credit, disposable incomes and sales from previous months. According to their estimates, online sales are expected to grow between 13 and 15 percent for the 2013 holiday season – an increase of $82 billion over 2012. Last year the U.S. Department of Commerce announced an increase of 15.5 percent in e-commerce sales during the fourth quarter of 2012. According to their analysts at Shop.org, mobile shopping via apps and a larger online presence are greatly helping major retailers better compete with the likes of Amazon and eBay:
"Online and mobile continue to be a leading area of growth for retailers. In this economy savvy, cost-conscious consumers go to the web to do their research and get the best bang for their buck…in addition to researching what their peers are saying online about products and gifts this holiday season, consumers will use the buy online pick-up in store option, retailers' apps and mobile websites to find something special for their loved ones."
"Brown Paper Packages Tied Up With String …"
One of everyone's favorite things is certainly coming home to find packages from loved ones waiting at their door. Parcel and airfreight company forecasts are some of the best indicators for the health of the holiday shopping season and so far they are anticipating a dynamite shopping season.
FedEx (NYSE:FDX) noted in a press release back on October 23rd that they expect Cyber Monday 2013 to be the busiest day in FedEx history. On Cyber Monday alone, FedEx forecasts more than 22 million shipments to move globally. During this incredibly busy week (December 1 – December 7), FedEx anticipates more than 85 million shipments to move across its global networks – a 13 percent increase in volume compared to last year's busy week. However, in addition to e-commerce FedEx expects personal consumer electronics, apparel and luxury goods to drive the increase in retail volumes this year.
The United Parcel Service Inc. (NYSE:UPS) also expects an impressive holiday season with peak season daily volume to increase by about 8 percent compared to 2012. On the peak holiday shipping day (December 16) they expect to move 34 million packages globally. On Cyber Monday, UPS expects that pick-up volumes will eclipse 32 million packages, which is an increase of 10 percent compared to the same day last year. Due to the five fewer delivery days, UPS plans to hire 55,000 seasonal employees across the U.S.
New Hope for J.C. Penney
Like many investors, we had been waiting to become optimistic on shares of J.C. Penney and after its third quarter earnings results, we are comfortably positive on the stock when up until a few weeks ago it was on "death watch" by multiple media sources.
As expected for the quarter, JCP posted a loss of $1.81 per share, which was $0.04 worse than consensus' estimate of a $1.77 loss. Additionally, revenues fell 5.1 percent year-over-year to $2.78 billion, which was just slightly worse than the $2.8 billion consensus estimate. Comparable store sales estimates declined 4.8 percent for the third quarter but represented a sequential improvement of 710 basis points compared to the second quarter of 2013. For the month of October, JCP touted a positive 0.9 percent sales gain compared to last year, and many analysts are now expecting gains to continue momentum into the heart of the holiday shopping season. Probably more impressive were the online sales through jcp.com, which brought in $266 million for the third quarter – that's a 24.5 percent increase versus the same period last year. Gross margins improved sequentially but compared to last year's promotional pricing strategy they came up short year-over-year.
Despite these blasé results, JCP presented a fourth quarter outlook that gave many investors new hope for their future. Management expects store sales and gross margins to improve both sequentially and year over year. They plan to slightly increase inventory for the quarter but not much more than they usually do during preparation for the holiday season. Most encouraging were the words of CEO Myron Ullman, who reiterated optimism on their earnings call:
"Our strategies to reconnect with customers are beginning to take hold, and this became increasingly clear as the quarter progressed. We are proud of the Company's October sales performance, encouraged by the early weeks of November, and believe we are making strides toward a path to long-term profitable growth."
Below is a chart with the year-to-date returns of JCP's stock compared to the S&P 500, and though it's had a rough year so far, the return from mid-October gives some hope that JCP has hit the bottom and is on the rebound. Just how large that rebound will be remains to be seen, but for the moment we remain convinced that JCP is focused on boosting sales and obtaining better pricing. As noted in the earlier profile of the average American shopper, the average consumer won't favor low-end versus luxury brands this holiday season, and will likely favor easy online shopping alternatives – we see J.C. Penney as a happy median.
Our Gift To You …
In addition to our optimistic stance on J.C. Penny shares, we recommend buying and holding the following names through the holiday season:
Nike Inc. (NYSE:NKE) – New athletic shoes often top many teen and health-nuts' Christmas lists and we expect to play this space best with shares of Nike. NKE has had some fantastic year-to-date returns but we believe it can go higher – the stock's one year chart is phenomenal, in a perfect inline since the beginning of the year and well above its 50-day moving average. Sales for this quarter are expected to increase 8.1 percent compared to a year ago and annual sales should exceed 8.7 percent higher than last year.
Tiffany & Co. (NYSE:TIF) – As consumers look to spend slightly money this season we feel it is important to have exposure to the luxury retail space. We continue to favor shares of TIF, as the name surprised to the upside on earnings in the last three quarters, plus it sees sales growth accelerating. TIF is expected to bring in sales 4.3 percent higher in this current quarter compared to last eyar and annual sales 5.7 percent higher than last year. Earnings estimates have also creeped higher in the last 3 months. The stock also continues to trend well above its 50-day moving average, indicating that it is still in a bullish trend.
"And They're Off!"
Wether you plan on hitting up the mall this season, doing the majority of your shopping online, or just staying out of the fray altogether, it is our hope that you'll look to the stock market to make some phenomenal returns - this is our hope for every investor who peruses our site. It is clear that all the stars are aligning for record sales results for Black Friday and Cyber Monday despite the shorter season and we encourage you to profit from their forecasted successes. From all of us at Wall Street Strategies, we would like to wish you and your family a very happy and safe Thanksgiving!